Interview with Josh Boyd: by Owen Kelly

First Published for TTIreland (July 2003)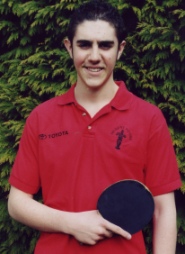 Continuing with our series of interviews we have our first with a "youngster" even though he wouldn't thank me for the term! Josh Boyd is one of the new crop of players coming out of the north. In recent years there has been some what of a revival. How has this come about? Are we likely to see Ulster take the Junior Interpros Title for the first time soon? Josh is a dedicated player who would like to turn professional if the opportunity presents itself and taking up a place at Grantham College for the next two years might just be one way to achieve this. I hope we will get the chance to talk to him again after he settles in and sees how things pan out.

Josh is 17 years of age and lives in Bangor , County Down. He plays for the Coates' Engineering Club in the Bangor and District Table Tennis League and occasionally for Carnmonney 97, Co Antrim's leading table tennis club, in the Antrim League. Josh is coached locally by Tom Donnelly, the Bangor League's Development Officer and Jing Yi Gao (China), the Ulster Branch Junior Squad Coach. He learnt the basics at the Bangor and North Down Integrated Table Tennis Scheme on many a cold Thursday evening. Table tennis runs in his blood as Josh's great uncle, Colin Senior and second cousin Karen Walker (nee Senior) were both successful Irish Internationals, with Karen being the first Irish player to play professionally in Germany. Josh trains regularly at the Glenburn Club in Belfast.

Hi Josh, I believe you started playing at an early age, what attracted you first to table tennis?

I first became interested in Table tennis at the age of 10. My dad played for a team in the Bangor and District League in division two at the time and one night I decided to go along and see what all the commotion was about. From the first time I saw a proper match I was hooked. I think what attracted me to the game was the speed at which you could hit the ball and how exciting the rallies were!

Were you and are you still interested in other sports as well?

Yes I really enjoy all kinds of sport. I am a keen Man United fan and have been a loyal supporter for around 8 years! I really enjoy tennis, probably due to the fact it is a racquet sport! I used to play cricket and rugby in school but eventually I had to decide whether to play table tennis or rugby at the weekend and when it came down to it I'd far rather have been in a Table Tennis hall than in the rain!

When did you first play in the Irish Rankings? What if any impression did it make on you?

I played in my first Irish ranking tournament when I was 11 at the IWA, in Dublin. My first impressions were that the hall was packed and that all the players took their matches very seriously!

I believe you played for Ireland Primary Schools in April 99, was that you first Irish Schools Cap? What were your impressions, you played in the Isle of Man, was that your first trip abroad to play table tennis?

Yes that was my first Irish Schools Cap and my first trip out of Ireland. The English players were of a much higher standard with determined coaches. The Irish standard of play was similar to that of the Scottish and Welsh teams. However we managed to finish up a very creditable 2nd place.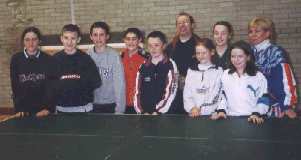 You reach No.3 in the Irish Cadet rankings, with fellow Ulster Cadet Peter Graham finishing in 2nd. Do you feel it has helped you having someone of Peter's ability to push you on, or is it frustrating?

Yes, I definitely feel that having someone of Peter's ability has helped me. Peter is a valued friend and a good practise partner! We have had many exciting matches over the years.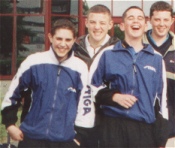 You went out to the International Youth Cup in Hasselt, Belgium in 2001, what was that like as an experience?

It was the first time I had played European players of a decent standard and I really enjoyed it. The highlight of the trip was when I played the Japanese No.3; even though I lost it was a valuable experience. Eventually he went on to win the cadet boys competition.



There has been a noticable improvement in overall standard in Ulster what would you put that down to?

In the last few years I believe that the overall standard in Ulster has improved due to a number of important factors. The most important of these is that we have not only a great Ulster Junior coach, in Jing Yi Gao, but also good practise partners; for example Liu Na. These people are not only good players but dedicated to helping each individual player reach their potential. Ulster has also improved due to schemes, which involved bringing over Chinese coaches and Ryan Jenkins during the summer. Another reason why Ulster has improved is through the setting up of the "POETT Scheme" by Gilbert Graham, Ulster Branch and the Sports Council. This allows Ulster's top juniors to train together on a regular basis while also sending teams to summer camps in England and Sweden. I believe that by enabling a few of the top juniors to practise against some of the experienced Ulster senior players it has helped to raise the playing standard dramatically. Overall I feel that the main reason why Ulster has improved is due to good organisation, regular training and good coaches.

Do you think that Ulster will be able to win the Junior Interpros Title in the next couple of years? What do you put Leinster's dominance in this area?

I definitely believe that Ulster will be able to win the Junior Interpros Title in the next few years. The reason I say this is that Ulster have such a wide range of up and coming players in all age groups not only in the boys but also in the girls events. With players such as Patrick Guy, David Button, Marcus Maxwell, Claire Nelson and the Knox brothers Gervis and Keith I think that the future of Ulster Junior table tennis is safe in their hands. The older players such as Amanda Mogey, Peter Graham and myself will hopefully be able to carry success into the Ulster Senior teams. I feel that the reason why Leinster have been so dominant in the Juniors is down to their good club system and the fact that they have a larger population to draw players from. In Ulster there is now a good system running in Primary Schools which aims to get children interested in the game and also in the development of young players in each region of Northern Ireland. Clubs such as Glenburn are also very dedicated and allow the top Juniors to practise together every week and throughout the summer with the best coaches and practise partners.

What would you consider to be the "highlight" of your table tennis career so far?

So far the highlight of my playing career would have to be winning the Ulster Junior Open Cadet Boys title in 2001, beating one of my best friends Peter Graham in a close final.

I believe you are going to Grantham, can you tell me what may have lead to that decision and what you hope to get out of it?

I am going to be attending Grantham College in England for the next two years. I came to this decision based on the fact that I want to improve my table tennis while still maintaining an education. By going to Grantham I am able to do both, which is great. My dream is to be a Professional table tennis player and this gives me the chance to see if I've got what it takes. I will be playing for 2/3 hours every day with some of the top Juniors in Britain. The coach is Bradley Billington ex-commonwealth games champion and former ETTA Women's coach. At the same time I am able to study Sports Science and gain a diploma, which will allow me to go to University if I choose to. I will play in both English and Irish, Senior and Junior tournaments next season. Hopefully I will gain experience, a qualification and at the same time improve my greatly table tennis skills and not come back with an English accent.

If you were giving any "tips" to new players just starting out, is there anything that you would think particularly important?

If I were to give any tips to new players just starting out I would have to say that there are 5 important factors to remember-
· Aim High, stick with it and eventually you'll get there
· Practice as you would play in a match i.e. full concentration
· Play as much as possible since table time is the only thing that will help you to improve quickly!
· Find a good technical coach that you can look up to and get on with.
· Watch and study as many top players as possible