---





VOTE



Results & News
2005-2006



News 2003-2005 / News 2002-2003
News 1999-2002
Coach Education
Arthur Brett, Irish Ladies National Coach and ITTA Coach of the Year 2005 delivered a very interesting and informative coach education session at Beech Hill TTC over the last weekend in July.

A number of Munster Coaches attended the two days with some players invited to help put things into context. The weekend enabled Munster Coaches to discuss the future development of coaching as well as provide a welcome opportunity for coaches to gain coaching experience. The main focus was on player analysis and breaking down the main fundamentals in order to provide a technically sound foundation for the improvement of players. However there were a considerable number of insightful "tips" given by Arthur from his many years of coaching Irish athletes.

I for one was disappointed that I was unable to make the second day but by the feedback I had from a number of coaches the weekend was considered very worthwhile.

Munster EGM
The following were elected to the Munster Branch.
Chairman - Martin Herley
Secretary - JJ Buttimer
Treasurer - Noelle Buckley
Marketing - Kim Sin Yap.
Children's Officer - Bernie Reck
Committee - Alan Hurley, Mary Spitere, Geraldine Hegarty, Rory O'Connor, Marie McKenna , Alice-Anne Oliver, Ivan Shorten.

Munster Matters
Munster Fails to Elect Branch
The Munster Branch held their AGM on May 10th. There were more people there than at the last AGM I attended with both Limerick and West Cork representatives making the long trip to Ballincollig.

The discussions were lively, the reports seemed all in order and there had been definite progress on both performance and participation and even the accounts look significantly healthier. There had been a number of problems but all in all I was left with the impression that the Chairman, Secretary, Treasurer and PRO had done a significant amount of work and achieved a number of goals set out in the season plan.

The ups being the increase in participation in the schools the low, not being in a position to send a Senior Interpros team.

However the AGM could not be termed successful as when it came to selecting a new committee not one person was willing to be nominated for a position on the branch. Quiet simply each officer found the amount of work extremely demanding both in its nature and in the amount of time it took up.

So there is an EGM being held on the 24th May and a letter has gone out to try and get some more people on board, hopefully reducing the amount of work. Starkly the letter said:

It must be pointed out to parents, players and coaches that, as things stand at the moment, there will be:

· No Munster Branch next season.
· No Munster training camps next season
· No Munster rankings next season
· No Munster teams for the Inter Provincials next season
· No plans can be made for future development
The players will suffer as a result

Munster AGM
The AGM of the Munster Branch of Irish Table Tennis Association will take place on Wednesday May 10th at 8pm in The White Horse Inn, Ballincollig (upstairs meeting room).

It is imperative for the good of table tennis in the province that each club be represented at this meeting and that the clubs propose members interested in the game to serve on the committee. We particularly invite and encourage parents of all players to attend. Could clubs please inform parents and players of this meeting.

Proposals must be submitted in writing to the secretary before 5th May 2006 - Alice-Anne Oliver, 101 Beech Park, Ballincollig, Co. Cork or by e mail to munstertt@eircom.net

Hope to see you all there.
Alice-Anne Oliver

Munster Junior Interpros Team 2006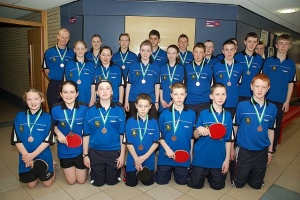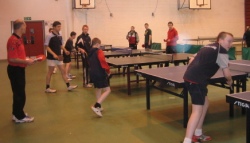 Munster Junior Squad Training 25/3/06
The Munster Junior Squad has been preparing for the Junior Interpros in Belfast April 1st. Munster's overall performance has slipped over the last couple of years but following on from their successes at the All Ireland Schools Competition the squad is optimistic leading up to this years premier junior competition.

Cork Sportsability Day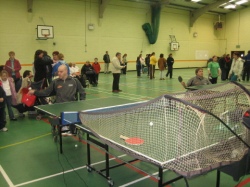 Sport is for …Everyone!
The Co. Cork Sports Partnership in association with a number of different agencies and groups are hosting Cork's first "Sportsability Day" at the Cork Institute of Technology on Saturday March 25th from 11.00am to 3.30pm. Kicking off the event was a demonstration of table tennis with Munster Special Olympic Head Coach Owen Kelly top Munster player Gary Noonan, Irish Wheelchair Squad member Patrick Murphy. and SO Athlete Michael Cummins. with ITTA/SO Coach Terence McSweeny assisting.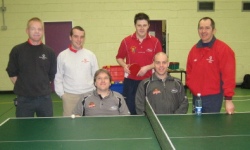 Table Tennis is an ideal sport that can include "everyone." Special Olympic table tennis is very popular in Munster and there is a growing interest in Wheelchair and Paralympic table tennis as well. Table Tennis can be played by nearly everyone without any special adaptations. Special Wheelchair tables are available but it is still possible to train and play on the regular tables and there have been a number of wheelchair athletes who have played in mainstream events in Munster. At Munster's most prestigious event the Munster Open in 2002 Paralympic Bronze medallist Fredrik Andersson from Sweden won the U21 event and reached the final of the Men's Open only to be beaten by his fellow team mate.

The sportsability day will not just be about watching how it is done, there will be plenty of opportunity to "give it a go." A table tennis robot will be provided to give everyone a chance to see why table tennis is one of the most popular sports in the world.

Throughout the morning there will be a number of stands and other demonstrations available with a wide range of information from sporting and disability organisations. Why not come along and lend your support.

Munster Junior Top 8

| | | | | | |
| --- | --- | --- | --- | --- | --- |
| | U17 Boys | | U14 Boys | | U12 Boys |
| 1 | Ruairi Oliver | 1 | Kevin O'Keefe | 1 | Ben Aherne |
| 2 | Ian Shellard | 2 | Gary Houben | 2 | Darragh Foley |
| 3 | Andrew Reck | 3 | Scott Shellard | 3 | Declan O'Brien |
| 4 | Leon Reid | 4 | James Herley | 4 | Alex Cooney |
| 5 | Conan O'Hara | 5 | Ian Brown | 5 | Jason Hickey |
| 6 | Joe Kelleher | 6 | Donnacha Gleeson | 6 | David Gillen |
| 7 | Noel Gillen | 7 | Aidan Grabbe | 7 | Sean Hennessey |
| | | 8 | Darragh Buckley | 8 | Evan Twomey |
| | U17 Girls | | U14 Girls | | U12 Girls |
| 1 | Evelyn Mullane | 1 | Sinead Hennessey | 1 | Aisling Healy |
| 2 | Katie McSweeney | 2 | Rachel Kavanagh | 2 | Amy Buttimer |
| 3 | Andrea Shorten | 3 | Lisa Cronin | 3 | Clare Manahan |
| 4 | Emily D'Arcy | 4 | Naiomi McCarthy | 4 | Kimberlee O'Brien |
| | | 5 | Deirdre Murphy | 5 | Stephanie McKenna |
| | | 6 | Danielle Riordan | 6 | Roisin Kelleher |
| | | 7 | Joy Mulcahy | 7 | Cliodhna Kelly |
| | | | | 8 | Becky Dineen |
Ballincollig Open 2006
by Owen Kelly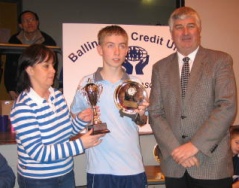 Gary Houben made it 4 out of 4 in the Munster Rankings when he took the U14 Ballincollig Title. Gary is from the Thurles TTC which has struggled after lossing its mentor and coach Anthony Condron to his new school in Waterford. However Gary has not missed a stride and continues to take on all comers with his consistent and powerful style.



No Mean Feat
Meenkilly TTC has achieved remarkable success following from last season. This one table club, on the boarder of Kerry and Limerick, has produced a string of players that have consistently taken on clubs bigger and better provided for. Relying heavily on table time based in their own homes they claimed a silver medal at the 2005 Community Games final as well as representing Munster at the All Ireland Schools Finals.

At the beginning of the year they took both the U13 and U15 Munster Schools Cup titles and will challenge once again to represent Munster at the All Irelands next weekend when Scoil Mhuire take the long trip up to Abbeyfeale. This time it will be St. Joseph's Secondary School who will represent Limerick County.

While the club struggle to find a venue, this does not appear to have held them back as once again they took a couple of titles at the most recent Munster Rankings at the Ballincollig Open.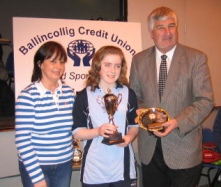 Eamon McCarthy, who recently attended an ITTA Level 1 course in West Cork, is also the proud father of three girls playing in the Munster Rankings. Naomi McCarthy who has played consistently this season took her first Munster Title when she won the U14 event and nearly caused a major upset when she took the No.1 U17 seed Andrea Shorten to the fifth set in a nail-biting match, Naomi eventually finished 4th. Not to be out done younger sister Jemima won the ever-expanding Girls U10 event repeating her previous performance at the Munster Junior Championships.

Meenkilly had more reason to celebrate as Aoife O'Connor took second place leaving the two girls on equal points in the rankings. Proud father Eamon took as much delight in his third daughter's achievements when 6 year old Emily won a game in the U10s.

The Meenkilly girls have definitely put Abbeyfeale on the table tennis map and may well do the same in the boys game in years to come as a couple of Meenkilly lads also travelled down for the U10 event.

I myself had a very warm welcome from the girls when I went up prior to the All Ireland's last season. With both Eamon McCarthy and David O'Brien gaining coaching experience the future could look very bright for this small but very enthusiastic club. If they could only find a suitable venue that could house more than just the one table who knows what they could achieve! I for one wish them the best of luck.

And then there is more!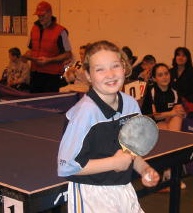 The best match I watch was local Ballincollig TTC girl Aisling Healy who won the U12 Girls final, in a very exciting and closely fought battle against Kinneigh TTC's Ami Buttimer. Ami ranked No.5 in Munster has shown a great deal of improvement during the course of the season and showed a good deal of skill trying to cope with Aisling new long pimple style. 11 year old Aisling, who was ranked No.4 prior to the event recently moved allegiances from Beech Hill and displayed her usual tenacity to eventually take her first Munster U12 title in the fifth set.

It was another recent convert to the increasingly popular long pimple technique that took the U17 girls' title as Evelyn Mullane (Beech Hill) beat fellow club mate Sarah Dorney in a tortuous final. Andrea Shorten (Kinneigh TTC) just managed to maintain her No1 ranking finishing 3rd.

David Cooney (Ballincollig TTC) maintained his 100% record in the boys U10 event when he recorded a victory over a much improved Shane Foley (Kinneigh TTC) in the final. Peter Kelleher (Kinneigh TTC) beat Tadgh Williams (Skibbereen TTC) to finish 3rd.

The Kinneigh TTC players have shown consistent improvement through out this season. Some credit must go to a couple of the youngest coaches in Munster, Alan Hurley and Rebecca Shorten, who under the watchful eye of Head Coach Ivan Shorten, are putting a lot of hard work in one of the oldest clubs in Munster.

More West Cork Clubs at the Ballincollig Open
West Cork News
Nolan falls at hands of able Weiss by KIM SIN YAP
The cream of Irish table tennis players were on show at the biggest tournament in Ireland, the Munster Open. This prestigious tournament which is the fifth edition of the Irish ranking tournament was staged at the Parochial Hall in Churchfield from January 13 to 15.

The venue was turned into a battlefield with participation of players not only from the four provinces but also overseas. After two days of intense battle for the Men's Singles title, the final which was played on Saturday produced a spectacular display of table tennis the likes of which had not been seen at this tournament for a number of years.

Former Austrian Cadet player, Bernard Weiss shrugged off a strong challenge from defending champion and top-seed, Conor Nolan of Leinster in a dramatic final to capture the Men's Singles title in four thrilling games. Weiss led 1-0 after the first game, however, Nolan was ahead throughout the second game to level the proceedings with his excellent forehand topspin game. The Austrian, from Salzburg, started the third game with slim lead at the early stage before Nolan produced fine forehand attacking game to lead 9-7. Nolan moved further ahead and was within a point of clinching the third game at 10-9. He wasted the opportunity to allow Weiss to draw level at 10-10. Known for his forehand topspin, Weiss ended the third game on a 14-12 score margin with a well placed stroke to Nolan's backhand side where the latter was unable to block. The fourth game got off on a positive note for Nolan as he was 4-2 ahead. It did not take long before Weiss went ahead at 9-7 but! it was short-lived as Nolan led again at 10-9 with his well executed loop. This was the second consecutive time that Nolan has the chance to win a game. The Leinster player nodded in disbelief as he let slip the opportunity for Weiss to draw level before he smashed his way to clinch his first title at this tournament in his first attempt.

There was more shock in the Women's Singles event as the form book was turned up-side-down. Reigning national champion, Tara Fusco of Leinster was unable to defend her title as she was beaten in the semis by fourth-seeded Fiona Dennett of England in an energy-sapping five games. It was Dennett who has the upper hand over Fusco as she led 1-0 and 2-1 before clinching the fifth game by a mere two points at 14-12. Fusco has the chance to wrap up the match when she was ahead at 10-9 in the decider fifth game but she was unable to get that vital point. Welsh No 1, Naoimi Owen qualified for the final when she overcame Sabrina Conway of Leinster in the other exciting semi-final match. The final promised to be an exciting affair as Owen who plays for TTC Wadenswil in the first division of the Swiss league eliminated Dennett in straight games. "I have played Dennett several times before and has beaten her on all the occasions. I am delighted with this victory as it is my first title in my first attempt in Ireland. I hope to come back next season to defend the title", said Owen. The Welsh player led all the way to win the first game. Dennett stepped up a gear in the subsequent game! for a comfortable 4-1 lead but Owen narrowed the gap to 5-4. The encounter was level twice at 7-7 and 10-10 before Owen unleashed a strong forehand topspin to Dennett's forehand side where she was unable to retrieve. Owen coasted to a 6-3 lead in the third game. At this stage, Dennett called for a 'time-out' in order to reconstruct her tactics. It worked for her as she reduced arrears to 7-6 but it was as far as she could go as Owen collected two points to move closer to claim the crown. The score went to 10-8 in Owen's favour and the crowd were on their feet focusing their attention on the next move. Owen has to wait a little longer to take the title as great fighting spirit displayed by Dennett saw the encounter levelled at 10-10. Owen's more superior tactical game clinched her the title as she cleverly placed a forehand shot to Dennett's right hand side. Owen explained, "I knew that I will be able to win this match as I! have beaten her in our previous encounter." Meanwhile, Jean Hughes of Munster had a dream comeback to table tennis when she finished in fifth place. Prior to that, she defeated the highly rated German player, Leslie Harrington in the last 16 round and she gave Tara Fusco strong opposition in the quarters.

Irish Junior No 1, David Hayes of Munster improved on his fourth placing last season when he came in third defeating Leinster's John Bowe in a thrilling five games. "My aim is to make it to the national junior team to the European Youth Championships which will be staged in Sarajevo, Bosnia-Herzegovina this July", explained Hayes. Later, he teamed up with Conor Nolan to finish in runner-up spot in the Men's Doubles event. The final against John Bowe/Bernard Weiss pair was closely contested with only two points which separated the two pairs in all the three games. Prior to the final, the Nolan/Hayes pair swept aside the Leinster's combination of Brian Farrell and Neal O'Flynn in straight games whereas Bowe and Weiss had a four games victory over Leinster/Scotland pair, Shane Dolan/Terry McLernon.

Naoimi Owen bagged her second title partnering Sabrina Conway when they defeated the combination of Ros Carpenter and Leslie Harrington. Prior to winning the doubles title, the Owen/Conway pair knocked out the Dennett's sister from England, Elizabeth and Fiona in the semis. Tara Fusco and Rhonda Fox ambition came to an end when they were beaten by the eventual runner-up pair of Carpenter and Conway. The Munster pair of Linda O'Sullivan and Louise Long played well to reach the quarter-final stage only to lose to Carpenter/Harrington in four games. Meanwhile, Naoimi Owen came within a whisker of capturing her third title with Conor Nolan in the Mixed Doubles event. However, it was Weiss who lifted the title with Harrington. Two Munster's pair of Gary Noonan/Louise Long and David Hayes/Catherine Hayes reached the semi-final and quarter-final stages respectively.

The legendary Tommy Caffrey of Leinster retained the Men's Veteran title he won last season by ousting Connaught's Karim Sabir in straight games. Caffrey has an easier semis whereas Sabir was fully stretched to a thrilling five games match.

After finishing in third place, David Hayes notched two titles on the third day of the tournament. First, he retained the Boys' U17 title with a four games victory over Mark O'Flynn of Leinster. Leading 2-1, Hayes mesmerised his opponent with attacking game from both his backhand and forehand in the fourth game. As a result, he took the fourth game and the title. His second title came after fine performances in the semi-final and final. Hayes was never threatened as he cruised to straight games victory in both the Men's U21 matches. The Women's U21 event was won by Russian Sabina Kazimagomedova who defeated English girl, Elizabeth Dennett. The Russian accounted for a Munster player, Rebecca McCarthy in the semis. McCarthy finished in third spot after receiving a walk-over from Sabrina Conway as she was unable to play.

Cork is certainly a good hunting ground for Naoimi Owen as she took home the Girls' U17 crown in addition to the two titles she won the day before. She was never in trouble as she won all her matches without dropping a game. Two Munster players were in the last four of the Class 2 event. Defensive specialist, Killian Healy defeated Greg Jatkiewicz of Poland before being halted in his track by Terry McLernon of Scotland in the final. It was an encouraging result for Healy as this will put him in the right direction for glory.

The Nealons sister from Connaught dominated the Girls' U14 and U12 events with Susan winning the former event whilst Chloe the latter. Munster has two players in the top eight of the Girls' U12 event with Kimberlee O'Brien and Niamh Buttimer finishing in sixth and eighth position respectively. Players from Ulster and Leinster won the other two events, the Boys' U14 and U12.

Results
Womens Doubles: Owen/Conway bt Carpenter/Harrington 9 6 8
Mens doubles: Bowe/Weiss bt C Nolan/D Hayes 9 11 9
Mixed Doubles: Harrington/Weiss bt Nolan/Owen 8 (7) 10 10
Mens Singles: Bernard Weiss bt Conor Nolan 8 (7) 12 10
Womens Singles: Naiomi Owen bt Fiona Dennett 7 10 10
Class II: Terry McLernon bt Killian Healy
Veterans: Tommy Caffrey bt Karim Sabir 8 6 17
U21 Mens: David Hayes bt Terry McLernon 2 6 4
U21 Women: S Kazimagomedova bt Elizabeth Dennett 7 6 (8) 9
U12 Boys: Neal O'Flynn bt Sam Logue 4 (8) (11) 1 3
U12 Girls: Chloe Nealon bt Brid McAndrew 4 6 3
U14 Boys: Paul McCreery bt Sam Logue 8 3 9
U14 Girls: Susan Nealon bt Chloe Nealon 8 7 (5) 9
U17 Boys: David Hayes bt Mark O'Flynn 12 (8) 7 5
U17 Girls: Naiomi Owen bt Claire Nelson 4 6 4



Senior Munster Ranking 11/12/05 Beech Hill
1 Brian Fitzgerald H
2 Lawrence Paloma BH
3 Philip Shaw H
4 Alan Hurley K
5 Killian Healy B
6 Dan Foley H
7 Jim Shanahan W
8 Tibor Bednar BH
9 Gary Houbin T
10 Jean Hughes UL
11 Thomas Cahill T
12 Ian Shellard B
13 Nigel McGuane UL
14 Kevin OKeeffe B
15 David Ryan T
16 Donnacha Gleeson B
17 Mike Spitere B
18 Leon Reid K
19 Zoran K
20 Andrew Reck B
20 Kieran McCarthy K
22 Jason Hickey T
22 Kim Sin Yap BH
22 Maurice Fitzgerald UL
22 Ian Brown B
22 Ml Murphy BH

U21 Ranking
1 Alan Hurley K
2 Killian Healy B
3 Mike Spitere B
3 Kieran McCarthy K
5 Leon Reid K
5 Zoran K

Veterns Ranking
1 Philip Shaw H
2 Dan Foley H
3 Jim Sheehan W
4 Jim Shanahan W
5 Ivan Shorten K

Kinneigh Open - Munster Ranking >i>22/10/05
U17 Boys
1. Kevin O'Keeffe, 2. Thomas Cahill, 3. Gary Houbin, 4. Andrew Reck, 5 Ruairi Oliver, 6. Ian Shellard, 7. James Herley, 8. David Ryan

U14 Boys
1. Gary Houbin , 2. David Ryan, 3. James Herley, 4. Kevin O'Keeffe, 5. Scott Shellard, 6. Donnacha Gleeson, 7. Barry Marshall, 8. Luke Prendergast

U12 Boys
1. Alex Cooney, 2. Declan O'Brien, 3. Jason Hickey, 4. Ben Aherne, 5. Luke Prendergast, 6. Darragh Foley, 7. David Cooney, 8. David Gillen

U10 Boys
1. David Cooney, 2. Tadgh Williams , 3. Peter Kelleher, 4. Gavin O'Leary, 5. Mark Prendergast, 6. Trevor Horgan, 7. Shane Foley, 8. Shane O'Connor

U17 Girls
1. Sarah Dorney, 2. Andrea Shorten, 3. Emily D'Arcy, 4. Sinead Hennessey, 5. Evelyn Mullane, 6. Hazel Mullins, 7. Naomi McCarthy U14 Girls
1. Sinead Hennessey, 2. Kimberlee O'Brien, 3. Naomi McCarthy, 4. Lisa Cronin, 5. Niamh Buttimer, 6. Amy Buttimer, 7. Aisling Healy, 8. Roisin Kelleher U12 Girls
1. Kimberlee O'Brien, 2. Niamh Buttimer, 3. Aisling Healy, 4. Amy Buttimer, 5. Roisin Kelleher, 6. Stephanie McKenna, 7. Becky Dineen, 8. Jemima McCarthy U10 Girls
1 Aoife O'Connor, 2 Jemima McCarthy, 3 Ciara Glenn, 4 Emily McCarthy, 5 Ciara O'Meara

Exhibition stuff as Rest of the World wins thriller by KIM SIN YAP The best Munster players were on show at an international exhibition match which was held at Colaiste Choilm in Ballincollig on October 26, 2005.

The highlight of the day was the match between Brian Fitzgerald, the reigning national champion against Marek Veis of Slovakia, representing Rest of the World team. The large crowd were entertained to a thrilling encounter which saw both players engaged in long rallies. At the end of the match, Fitzgerald came out victorious on a score of 2-1. Fitzgerald went on to secure another point for Munster with a straight games destruction of Tibor Bednar. After the defeat, the 32-year-old Veis came back strongly to eliminate Mark White in three closely fought games. Meanwhile, Gary Noonan went down fighting in his encounter against Lawrence Paloma on a score of 1-2. Killian Healy and Mike Spitere also appeared for the Munster team.



Several Munster players played in the exhibition among them the international veteran player, Dan Foley who beat Philip Shaw in straight games. David Buckley together with Emma-Jane Helen who is a national junior player, Linda O'Sullivan, Katie McSweeney and Rebecca McCarthy made up the rest of the Munster team.

This exhibition match was part of Munster Table Tennis Association to promote the sport in Munster. In order to increase participation, the inaugural Munster Junior League will be staged at the end of this month. Furthermore, the number of Munster ranking tournaments have been increased to five this season.

Ireland only World champion, Bertie Levinge of Harlequins club was present to play a game against Brian Fitzgerald. Levinge won two gold medals in the singles and doubles events at last year's World Veterans' Championships in Yokohama, Japan whilst two other medals, a gold in doubles and a bronze in singles were secured at the European Veterans' Championships in Bratislava, Slovakia this year. At the age of 82, Levinge proved that age is no barrier. The Kinsale man will defend his World singles title at next year's championships in Germany. "It is tougher to win at next year's World Championships as better players will be around as two years have passed since I won the title", explained Levinge. If he succeeds, he will go into the history book as the first Irishman to win two successive World titles.

Rest of the World team
Tibor Bednar, former player of SK Tvrdosin-Nizna which is a team in the Super Division, Slovakia. Ranked No 32 in Slovakia.

Marek Veis, a former player of Ekon-Market TTC Surany which is a team in the First Division, Slovakia

Lawrence Paloma, former player of Palo Alto Table Tennis Center, California, United States. Played in the US Open, an ITTF Pro-Tour tournament.

Results: Exhibition match, sponsored by Gibbons Electrical, Ballincollig
Munster lost Rest of the World 2-5 (Munster name first)
Mike Spitere lost Marek Veis 0-2 (7-11, 8-11)
Mark White lost Tibor Bednar 1-2 (11-9, 4-11, 6-11)
Brian Fitzgerald beat Marek Veis 2-1 (11-9, 13-15, 11-9)
Gary Noonan lost Lawrence Paloma 1-2 (8-11, 11-6, 5-11)
Brian Fitzgerald beat Tibor Bednar 2-0 (11-8, 11-7)
Mark White lost Marek Veis 1-2 (8-11, 11-7, 9-11)
Killian Healy lost Lawrence Paloma 0-2 (7-11, 8-11)
Munster team
Dan Foley beat Philip Shaw 2-0 (11-8, 11-9)
David Buckley beat Philip Shaw (11-9, 11-7)
Linda O'Sullivan beat Emma-Jane Helen 2-0 (11-7, 11-8)
Katie McSweeney beat Rebecca McCarthy 2-0 (11-8, 11-8)
Linda O'Sullivan beat Katie McSweeney 2-0 (11-8, 11-6)
Emma-Jane Helen beat Rebecca McCarthy 2-0 (11-8, 11-7)

Table Tennis Exhibition Sponsored by: Gibbons Electrical, Ballincollig
Munster V The Rest of the World

Date: Wednesday October 26th
Time: 7.30p.m.
Venue: Coláiste Choilm, Ballincollig, Cork
Free admission

Among the Players invited to participate are:
Bertie Levinge - World Champion (check out his World Gold Medals)
Brian Fitzgerald -Irish National Champion
Tibor Bednar - Slovakia
Mark White - Former Junior International
Katie McSweeney - Top Munster Junior
David Buckley - Former Munster Junior
Emma Jane Helen - Former Junior International
Marek Veis - Slovakia
Dan Foley - Irish Vets International
Rebecca McCarthy - Former Munster Junior
Mr Bednar Snr - Slovakia
Killian Healy - Former Schools International
Larry Palome - Philippines
Mike Spitere - Former Munster Junior
Linda O'Sullivan - Former Junior International
Philip Shaw - Munster Veteran


Please help our Munster Special Olympic Athletes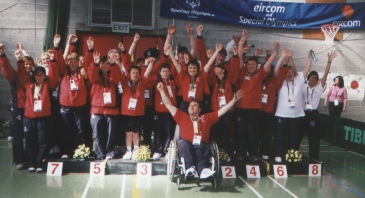 Terence McSweeney from Cope Foundation has been on to us looking for volunteers for The Special Olympics event on Saturday December 3rd. Please try to give up some of your free time for this very important event - even an hour or two would be greatly appreciated. Anyone who has volunteered in the past has enjoyed the day. If you wish to help out and have not already filled in a special Olympic volunteer form then please contact Terence McSweeney on mcsweeney@cope-foundation.ie for a form. To those of you that have already filled in a form please let me know if you are available for any of the jobs below. Club secretaries / coaches - perhaps you could ask your players if they could spare some time to help out and let me know as soon as you can.

Help really needed for

Friday December 2nd at 2.30pm to load up tables etc at Cope,
Montenotte, unload and set up halls in Cope Glasheen from 4.00pm onwards - usually takes a few hours
We usually need 3 for top table from 9.15am, 10 umpires between 9.30 and lunch time, about 6 umpires after lunch to umpire doubles From 4.00pm or so, as many as possible to assist with return of tables, surrounds etc to Montenotte and the clean up of the venue

The level of enthusiasm by the volunteers is probably the most important factor in determining the success of this event and to date they have always been wonderful. They have always been overworked and still engaged without complaint. I'm sure, if an additional 3 or 4 volunteers can be recruited; it would greatly reduce the pressure on the day.

Thanks again for all the help
Regards
Terence

Houben shows his class as he wins titles on the double by KIM SIN YAP
The Beech Hill Junior Open which is the first Munster junior ranking tournament for the 2005/2006 season was staged at the Beech Hill Table Tennis Club in Montenotte over the weekend. This exciting one-day tournament attracted several top Munster players among them Gary Houben of CBS Thurles, Ruairi Oliver and Ian Shellard of Beech Hill and Ballincollig's James Herley.

Ranked No 1 in the U14 and U17 categories last season, Gary Houben showed he is a class above the rest when he captured both the titles. In the morning encounter, the 14-year-old defeated James Herley in straight games to secure the U14 title. Prior to the final, Houben overcame another Ballincollig's player, Kevin O'Keeffe also in similar fashion. In the final match, Houben displayed excellent forehand topspin game and great fighting spirit to topple Herley. Back at the table in the afternoon, the CBS Thurles player showed few flaws in his game to outclass Ruairi Oliver 3-0 to win the U17 title. The energy-sapping five games semi-final match has taken its toll on Oliver who seems unable to reproduce the form to win the match.

The Girls' U17 final was not without excitement as Katie McSweeney from the host team fought tooth-and-nail before relinquishing the title she won last season with a four games defeat to newcomer Clodagh McCullagh of CYM Terenure, Dublin. Trailing 0-2 after the first two games, the Cork girl refused to surrender the match, instead she made a remarkable recovery to upstage the Dubliner in the third game. Down 6-7, McSweeney levelled the game at 7-7 and it was point for point from that stage onwards with the score at 8-8, 9-9, 10-10 before she wrapped up the game at 12-10. However, McCullagh put up an extra gear for a quick 11-3 victory in the fourth game and thus clinching her first title in Munster. Beech Hill's dominance could be felt in the Girls' U17 event with three of the girls in the last four. Emily D'Arcy and Hazel Mullins were the other two semi-finalists.

McCullagh bagged her second title, the U14 with a straight games victory over Abbeyfeale's Kimberlee O'Brien. Enroute to the final, McCullagh defeated another Abbeyfeale's player, Naomi McCarthy whilst O'Brien ousted teammate Danielle O'Riordan.

Meanwhile, there was a major upset in the Boys' U14 event when reigning champion, Scott Shellard from the host team was eliminated by Thurles' David Ryan in four closely contested games in the quarters. However, Ryan's giant-killing feat ended at the semi-final stage where he lost to Ballincollig's James Herley.

Kimberlee O'Brien made up the disappointment of not winning the U14 title with a 3-1 victory over Cliodhna Kelly of Beech Hill to win the U12 title. Alex Cooney of Ballincollig walked home with the Boys' U12 title by eliminating compatriot Declan O'Brien in a closely fought match winning on a score of 3-2.

The youngest player in the tournament, Emily McCarthy of Abbeyfeale is only six. Despite her age, McCarthy displayed good skills to give her opponents opposition in the Girls' U10 event which was won by Aoife O'Connell of Abbeyfeale. The younger of the Cooneys, David picked up the Boys' U10 title defeating Skibbereen's Tadgh Williams.

Results: Beech Hill Junior Open 2005/2006
Boys' U17:
Final Gary Houben (CBS Turles) beat Ruairi Oliver (Beech Hill) 3-0 (11-7, 11-6, 11-8)

Semi-finals:
Gary Houben (CBS Thurles) beat Ian Shellard (Beech Hill) 3-0 (11-7, 11-5, 11-7)

Ruairi Oliver (Beech Hill) beat James Herley (Ballincollig) 3-2 (11-8, 10-12, 11-6, 0-11, 11-8)

Girls' U17: Final
Clodagh McCullagh (CYM Terenure) beat Katie McSweeney (Beech Hill) 3-1 (11-7, 11-7, 10-12, 11-3)

Semi-finals:
Clodagh McCullagh (CYM Terenure) beat Emily Darcy (Beech Hill) 3-0 (11-7, 11-1, 11-2)

Katie McSweeney (Beech Hill) beat Hazell Mullins (Beech Hill) 3-0 (11-7, 11-8, 11-5)

Boys' U14 : Final
Gary Houben (CBS Thurles) beat James Herley (Ballincollig) 3-0 (11-8, 11-3, 11-8)

Semi-finals:
Gary Houben (CBS Thurles) beat Kevin O'Keeffe (Ballincollig) 3-0 (11-7, 11-5, 11-6)

James Herley (Ballincollig) beat David Ryan (CBS Thurles) 3-1 (8-11, 11-5, 11-9, 11-8)

Girls' U14: Final
Clodagh McCullagh (CYM Terenure) beat Kimberlee O'Brien (Abbeyfeale) 3-0 (11-2, 11-0, 11-5)

Semi-finals:
Clodagh McCullagh (CYM Terenure) beat Naomi McCarthy (Abbeyfeale) 3-0 (11-7, 11-5, 11-5)

Kimberlee O'Brien (Abbeyfeale) beat Danielle O'Riordan (Abbeyfeale) 3-1 (11-3, 8-11, 11-7, 11-4)

Boys' U12: Final
Alex Cooney (Ballincollig) beat Declan O'Brien (Ballincolig) 3-2 (7-11, 14-12, 11-2, 18-20, 11-5)

Semi-finals:
Alex Cooney (Ballincollig) beat Jason Hickey (CBS Thurles) 3-2 (9-11, 15-13, 8-11, 11-3, 11-9)

Declan O'Brien (Ballincollig) beat Luke Prendergast (Ballincollig) 3-2 (11-6, 8-11, 11-5, 9-11, 11-3)

Girls' U12: Final Kimberlee O'Brien (Abbeyfeale) beat Cliodhna Kelly (Beech Hill) 3-1 (11-8, 11-9, 12-14, 11-6 )

Semi-finals:
Kimberlee O'Brien (Abbeyfeale) beat Niamh Buttimer (Ballincollig) 3-2 (10-12, 9-11, 13-11. 11-8, 11-4)

Cliodhna Kelly (Beech Hill) beat Stephanie McKenna (Beech Hill) 3-0 (11-4, 11-9 11-9)

Boys' U10: Final
David Cooney (Ballincollig) beat Tadgh Williams (Skibbereen) 2-1 (11-7, 9-11, 11-9)

Semi-finals:
David Cooney (Ballincollig) beat Mark Prendergast (Ballincollig) 2-0 (11-3, 11-4)

Tadgh Williams (Skibbereen) beat Peter Kelleher (Kinneigh) 2-1 (11-4, 10-12, 11-7)

Girls' U10: Round-robin
Winner: Aoife O'Connell (Abbeyfeale)
Runner-up: Jemima McCarthy (Abbeyfeale)
Third: Emily McCarthy (Abbeyfeale)

Beech Hill Open
The first Munster Ranking of the season was played in Cork on Sunday 18th. 89 players entered and Cork, Tipperary, Limerick and West Cork were all well represented.

Meenkilly TTC got off to a great start with wins for Aoife O'Connor at U10 and Kimberlee O'Brien at U12. Kimberlee was beaten in the final of the U14s by Clodagh McCullagh visiting from Leinster. Clodagh also won the U17s beating last years No.1 Katie McSweeney from Beech Hill in the final. A special mention goes to Emily McCarthy who travelled all the way down from Limerick to claim her bronze medal at U10 at the tender age of 6 years old.

David Cooney from Ballincollig, fought off Tadgh Williams from Skibbereen to claim the U10 boys title. It was a clean sweep at U12 for the Ballincollig Club with Alex Cooney taking the overall title. Gary Houben from Thurles continued his good form of last year to take both the U14 and U17 title.