The Angel Gang - In the radlands just outside Texas City Pa Angel raised to be the notorious criminal gang
The son of Pa were starting with the oldest...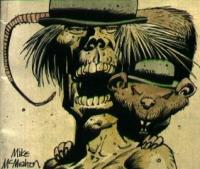 Fink Angel, "Real crazy" living in hole in the ground, from the age of seven poisoning unfortunate strangers.
Link Angel, "Too Dumb to how bad he was", but was real bad too".
Mean Angel, see below for full profile.

The Angel Index
2000AD progs - 160-161, 173, 176-177
The Fink, 4 episodes, progs 193-196 (art by Mike McMahon)
Fink Angel, estranged brother of the deceased Angel Gang, attempts to kill Dredd and Hershey. Destiny's Angels 8 episodes, progs 281-288 (art by Carlos Ezquerra)
The Judge Child frees Fink Angel and resurrects Mean Machine in a bid to kill Dredd. Fink was killed and Walter destroyed. Helter Skelter 12 episodes, progs 1250-1261 (art by Carlos Ezquerra)
A Fink from another Dimension makes another appearance along with Cal,Rice,Grampus,Murd..


Pa and Link Angel, made a return in 2000AD Prog #956-966 Awakening angels and The ballad of devil angel (by Alan Grant)
PERSONAL DATA
REAL NAME: Mean Angel
ALSO KNOWN AS: Mean Machine
SOCIAL CATEGORY: Citizen
PLACE OF ORIGIN: Texas City Badlands, Cursed Earth
OCCUPATION: Psycho
KNOWN RELATIONS: Pa, Junior, Link, Fink
FIRST APPEARANCE: Prog. 160
CURRENT STATUS: Active, escaped from Mega-city One Psycho-Cube

Young Mean was the white sheep of the Angel family, because as a boy he was bad at all. Delighting in the wonders of nature, he loved flowers, birds and butterflies and even kept a pet bunny rabbit. While Mean was quite used to relentless bullying the worst moment of his childhood was when his bother Link butchered his rabbit for fun. Even this couldn't whip up any honest hate within the buy and Pa Angel decided enough was enough, so he kidnapped a Texas City surgeon to put things right. Poor Mean was horrified as he was prepared for an operation in which his right arm was replaced with a mechanical claw and a special numbered dial was fixed to his fore-head. This dial was linked directly to Mean's brain and kept hint in constant state of aggression, which could he varied, dependent on the number selected on his head. No. 1 was surly, 2 was mean, 3 was vicious and 4 was brutal - although Mean Machine, as he became to he known, was to prove most dangerous on those rare occasions when his dial setting got stuck on 4½!
Mean quickly acquired a reputation as one of the most dangerous criminals in the Cursed Earth - as well as one of the most stupid! It was love at first sight, though, when he met Seven Pound Sadie Suggs - named after the 7Ib hammer she used when perpetrating her crimes. Mean Machine almost married Sadie, but she ran off with the wedding presents! Soon after, the Angels kidnapped the Judge Child and took him to the Planet Xanadu, where Dredd caught up with them and killed Mean along with the rest of his family.
Mean Machine was resurrected by the Judge Child, however, and he was sent back to Earth to kill Dredd. Teaming up with his brother Fink, Mean almost succeeded, but he wound up doing time in a Psycho Cube instead. Since then, Mean has been held in captivity almost continuously, give or take the odd short-lived escape, and has defied all attempts to rehabilitate him, including hypnotism and extensive brain surgery. During a recent escape, he discovered that he had a son - the result of his brief encounter with Sadie Suggs - but the boy suffered from the same affliction as Mean before his operation, he wasn't bad at all!
*
Title
Creators
Orginal Print
Reprint
JD
Dredd Angel
Wagner, Ron Smith
2000AD #377-383 (Aug. to Sept. 1984)
JD
A Merry Tale of the Christmas Angel
Wagner, Steve Dillon
2000AD prog 450
A lobotomized Mean Machine
MM
Travels with muh' Shink
J. Wagner & Richard Dolan
2000AD 730-736
Classic 2000AD #2
JD Meg Vol IV #75-77
JD
Judgement on Gotham
John Wagner/Alan Grant, Simon Bisley
Graphic Novel
Newsstand edition
MM
Judgement on Gosham
Wagner, Mike McMahon
JD Yearbook 1994
?
"You ARE mean machine"
John Wagner, Greg Staples.
JD Meg. Vol. II #47 (Jan. 1994)
JD
Judge Dredd Poster Prog. #3
MM
Son of Mean Machine
J.Wagner, Chris Halls
Judge Dredd Yearbook 1995
MM
Son of Mean
J.Wagner, Carl Critchlow
JD. Meg vol.2 #63-72 (Sep. 1994 to Feb. 1995)
Classic 2000AD #15
MM
Visiting Time
Wagner, John Hicklenton
JD Meg. vol.2 #82
MM
Psycho Analysis
Gordon Rennie, Rob McCallum
2000AD Sci-Fi Special 1995
MM
Close Encounters of the Mean Kind
Gordon Rennie, Anthony Williams
1996 Sci-Fi Special
MM
Mean Streets
Gordon Rennie, Jim Murray
Judge Dredd Mega Special #9. 1996
JD
Three Amigos
Wagner, Trevor Hairsine
#2-7 JD Meg. Vol III
Graphic Novel
JD
Headbangers
Wagner, Alex Ronald
2000AD #1084 (10pages)
MM
Born Mean
Gordon Rennie
#69 JD Meg. Vol III
MM
The Geek
Gordon Rennie, Paul Marshall/Lee Townsend
#74 JD Meg. Vol III (10pages)
MM
The Last vidshow
Gordon Rennie, Patrick Goddard/Dylan Teague
#78 JD Meg. Vol III (10pages)
Images
Mean Machine from cover of prog. 737