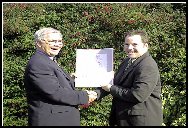 Our Corrugated cardboard converting plant at Little Island on the outskirts of Cork City, offers a wide range of products and solutions for your packaging needs. Formed in 1989 , Pakform quickly formed a solid customer base in the Munster region .1995 saw a need for greater capacity which prompted the move to larger premises in Little Island. With considerable investment in modern plant and machinery the company moved successfully into the National Arena during 1997.

ISO 9002 certification in 98 ensures that Pakform is meeting customer standards into the next millennium. Please contact us in relation to your own packaging needs
---
Eddie Hurley (Production manager) Being congratulated by Ken Casey (Managing Director) on the accredation of ISO 9002
(c) 1998-2000 Pakform Ltd. All rights reserved. The textual, graphic, audio, and audiovisual material in this site is protected by United States copyright law and international treaties. You may not copy, distribute, or use these materials except as necessary for your personal, non-commercial use. Any trademarks are the property of their respective owners.