Start Page..... Send Kiely a Real Postcard! ....Voice message for May. . .Please Sign Kiely's Guestbook.
24th. May 2000.
Hi and welcome once again to your free Interactive Waterford and County newsletter and
Pat Kiely's weekly comments.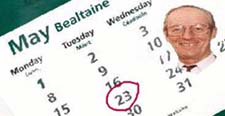 Well, how are all u Waterford and County folks been keeping since last week? I hope as usual you have been behaving yourselves especially now that the sun is starting to shine and the earth and grass are warming up all over the County once again.
Last Sunday, the sun shone brightly for nearly two hours on Waterford's Bishop Lee and several thousand people from all over the counties of Waterford and Tipperary who had come along to attend a special open air Mass which was held in the Fraher Field, Dungarvan.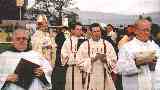 The occasion was to mark the start of the Jubilee celebrations and even the rain conveniently waited for the Bishop to leave the Dungarvan Sports field before the heaven's opened and in typical Irish fashion, drenched anyone not under cover!
But first,
Hi, to Mairead originally from Dublin,who has recently spent a week gene hunting her Irish roots at the giant Mormon data base over in Salt Lake City.
Ms. Lavigne was trying to find out why her dad and his siblings spent their early years in orphanages in Cappoquin, County Waterford, and also in Cork.
Although unable to unravel that mystery just yet, Mairead, now living in Canada has discovered all sorts of other interesting info about her relatives and her long gone Granny called Annie and about what Ireland was like a long time ago.
Talking of a long time ago, Ireland is now a fast changing place and sadly the general feelings of safety associated with the past,like being able to leave your house door unlocked at night (like my old auntie, Mary B.did all her life,) or leaving your car keys sitting in the ignition and still finding your vehicle in the same place on your return from the supermarket have long gone.
Ireland is still a great place to live, but no longer perhaps as safe a place in many respects as it was in the so called 'church dominated,'poorer times when few people had a car or even a job, but those were times when love, kindliness, generosity and neighbourliness were much more plentiful than today.
Recently three old spinster(unmarried) sisters 10 miles from Kiely's Cottage were tied up beaten and robbed late one evening, in their little home, by three young thugs, committing the sort of crime unheard of in the past.
Think for a moment, of the terror these frail ladies must have felt, hearing their locked front door come crashing in.
In the not too distant past,when most country people travelled by bicycle and on foot rather than in a flashy new car,a victims cries for help would have been more easily heard. (It was over an hour before help arrived for these ladies)
Of course no one wants the return of poverty and in many ways material progress is good, but at what price, Kiely asks?
But now a happier story.....
People in Need!.......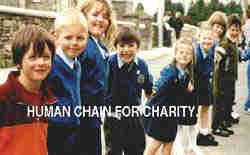 Children from The Presention and the CBS schools and local people of all ages joined hands to form a a human chain across the town of Lismore for several minutes around mid-day recently as part of a fundraising effort organised by Foroige, to raise money for worthy causes as part of the national 'People in Need' annual TV charity fundraising event....
There enthusiastic efforts raised several hundred pounds
for charity.
-----------------------
---
New Lease of Life!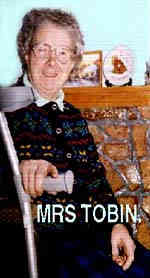 Grandmother Anne Tobin 71, originally from Ballyduff, but for most of her life in New Street, 'Botany,' Lismore, is full of praise for the doctors and surgeons at Kilcreen Orthopaedic Unit in Kilkenny who have recently given her a new hip and a new lease of life.
For several years, for several years, mother of eight grown children and five grandchildren, Anne, has suffered from arthritic pain.
'I used to walk with a slight limp, due to the pain in my joints I suffered,' remarked Anne, as she explained to Kiely about the fall near the Monument a few weeks ago which led to her hip replacement operation.
'The fall I had, seemed to trigger off intense arthritic pain in my legs, remarked Anne, and my doctor referred me for assessment to the Waterford Hospital to see if I would qualify for a hip replacement operation which I have needed for a long time.'
'My health and other factors where assessed by the doctors to see if I would be suitable to undergo the one and a half hour operation, and I passed all the tests with flying colours, and was referred a month ago to Kilkenny for the operation..
' I was conscious throughout, having been given a pain killing injection in the spine called an epidural.
The amazing thing was I could actually feel the pain disappear from my legs during the operation and when it was finished I found I had no pain at all which was amazing,' said a delighted Mrs Tobin.
'Now I can walk for the first time in years without a limp, and although I can manage without the aid of a crutch, for the moment, I prefer to use just one as it gives me extra confidence.'
'By coincidence my grand-daughter Margaret aged seven, who lives in Tallow needed a hip replacement in Dublin when she was only two years old, because of a bone complaint when she was born which was causing her own hip not to develop properly.
' I believe she was the youngest ever child in Ireland to have this operation, and now you would never know, said Anne, who was just about to set off for the Tuesday Retirement Club in the Lismore Hotel for a game of Bingo.
Mrs Tobin, a widow, was accompanied by her daughter Kate, a nun over in Liverpool, who has been home to Lismore to spend Easter here for the first time in 16 years.
Faithful reader JACK LAMB in the USA who has been reading W&CW for over a year now..
JOHN KILEY was wondering if this Kiely was related to the Kilnefrehan Kielys. Dont think so John.
Hello to DIANN HAYES who says,'I am from Lancaster, Pennsylvania, and just love the Medjugorje sunset on your home page,' So do I Diann.
Hi to JOAN M.CULLINAN whose ancestors were from Chapel Street, Lismore. Her brother Patrick visited County Waterford last year, and Joan would love to do so in the future..
CAROLYN O'NEILL is looking forward to visiting the 'beautiful gardens of County Waterford very soon.. Carolyn arrives on the 30th May. Have a great holiday!
PATRICIA HALLEY PENNISI says, 'Greetings from Jupiter, Florida..where it is Summer (almost) all year round.'
'Have you ever taken a swim on Christmas Day in the Atlantic?' Patricia asks..
Not on your life, Patricia, there are some things even Kiely doesn't fancy doin and certainly swimming on Christmas Day in this part of the world is not one of them!
-----------------------
More messages next week...as the clock has beaten me once again...
So finally,finally, finally.....
Thanks once again to all who subscribed, signed the guestbook, sent postcards or emailed..and as they say down this way... Thanks a million!
There will be more name mentions next week,and remember you must go on-line to see the photos....
See 'ya all next week. God bless, Pat
Subscribe below and I will forward on your email details to Local Ireland so that you can receive my free weekly newsletter by email.
Back to Start Page...........May Voice message
Please Sign Kiely's Guestbook. ..........Send Kiely a Real Postcard! .....Local Ireland
---
COPYRIGHT 1999-2000 All written work and images are copyright Pat Kiely........Lismore...Ireland. email patkiely@eircom.net