Patricks Well below the chair.
Pilgrimages were often made on Pattern or Patron Day's to religious sites, often a holy wells or lakes, and commonly called a Station. Note the rags tied to the tree branch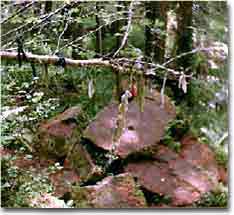 "These Stations have, for the most part, been placed in situations remarkable for wild and savage grandeur, or for soft, exquisite and generally solitary beauty . . . far removed from the ceaseless din of the world." . . .
"On the shrubs which grew . . . around it, might be seen innumerable rags bleached by the weather, ... small wooden crosses, locks of human hair, buttons, and other substitutes for property..."
from Traits and Stories of the Irish Peasantry, Wm. Carleton (1794-1869). Read more on Carleton.