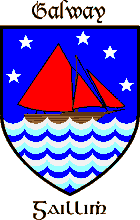 The heart of Gaelic Ireland
FIRST PHOTO SERIES
PAGE ONE
---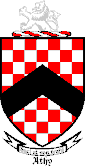 The Athy family of Galway were an Anglo-Norman family, credited with being the first to erect a stone building in Galway city, in the 13th century. They went on to become one of the 14 Tribes of Galway, and erected several castles & great houses over the centuries, including that at Rinville. The family survived in Galway up the the middle of the 20th century..
---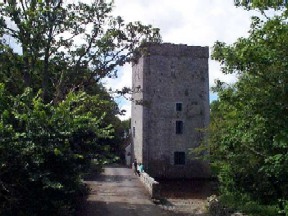 This is Ballylee Castle in south Galway. Fully restored, it is a fine example of a 14c Irish Tower House erected by the deBurgos. W.B. Yates lived here for a time in the 1920's.
---
This is Carrigín castle on the North-east shore of Lough Corrib. Don't let the plaster fool you - it's an authentic late 13c Manor Castle, in perfect condition. Lived in continuously for 700 years, mostly by the Gaynard family.
---
Here is a view of Glinsk Castle, in the North East corner of County Galway. One of the many deBurgo mansions, this one by Ulick Burke from 1615.
---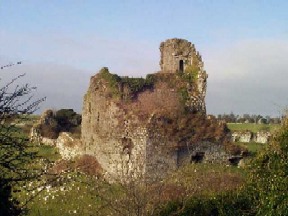 Cromwell's artillary left very little of 13c Castletown castle in the 1650's. You'll find it near Kiltartan in South Galway. Lady Gregory loved this place. South of Gort, there are very extensive ruins.
---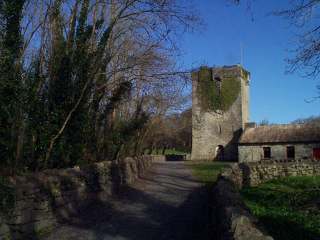 Renville castle is now part of a recreation park area near Oranmore, and is fully restored. The Athy family lived here up to 1819, and it was previously owned by the Lynch & Burke families.
---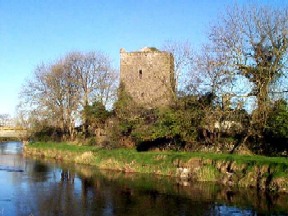 Here is Claregalway castle, on the river Clare. The Coogans should have an affinity for this one. Another 15c Clanricard castle.
---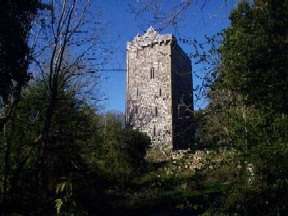 This is the O'Shaughnessey's old stronghold at Ardamullivan. Nicely restored, now it's a National Monument and in great shape. Built in 1567.
---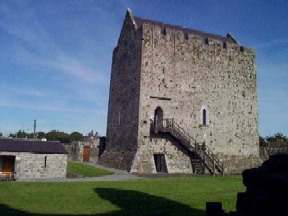 This was deBermingham's castle at Athenry - now also a restored National Monument. It was the centre of the medieval walled town of Athenry, and was erected in1250.
---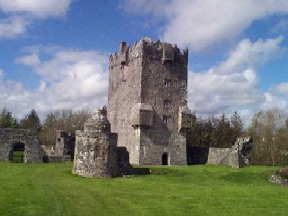 This is Aughnanure, near Oughterard. Formerly the home of the O'Fflaherty chieftans. Constructed around 1500.
---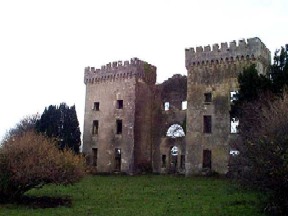 Here's Castledaly, not far from Gort. The Daly family, of course. The 18c house incorporated a 15c tower house, originally known as Corbally.
---
All these photographs are copyright © Patrick Larkin March 2000.
Send your comments, information and requests to me here:

Don't go away yet - there are more Galway Castles here...