Raheny Girl Guides
Catholic Guides of Ireland
---
CGI Centenary Day on 10th April 2011

Listen to 'Scout About' radio station for two shows about the event see 9th May Podcast for the recording at the Centenary Day and 21st March Podcast for when we popped in for a chat before the day.

Scout About Radio Podcasts

Raheny Cygnets make the front page of 27th April Edition of Northside People and see page Page 6 for a piece about the day.
Photos and articles of the day featured in many Publications following the event.



Feature on RTE Children's News on Monday 11th April, about 6mins 40secs in.

Watch Here
---
Raheny Cygnets feature on 'Scout About' radio station at Larch Hill Santa Day on 18th December 2010.

Listen Here
---
Louise Browne (Raheny Guider) receives award from CDYSB
City of Dublin Youth Services Board - Volunteer Leader of the Year
Wednesday 8th December 2010
Featured on Pg 8 of Northside People, 8th December Edition

Northside People Article, go to page 8
CGI Website Article
---


Congratulations to Aisling and Orla who have been successful in achieving their Chief Commissioner's Award. Check out the article on Page 24 in the August 2010 Edition of CGI's Guider's Link Newsletter for an interview with the girls about their award.
---
Raheny Guides Annual Cycle Night
Wednesday 16th June 2010
Featured on Pg 16 of Northside People, 30th June Edition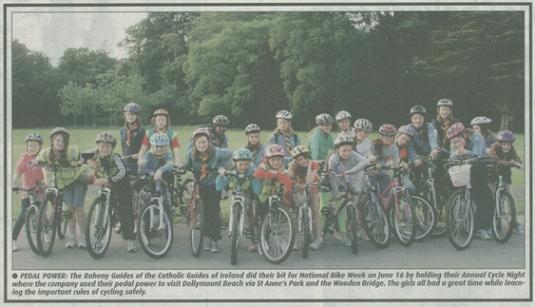 ---
Raheny Guides celebrating 100 Years of Guiding World Wide
Northside People, 28th April Edition - Page 26





---


Raheny News Article - 21st February 2010
Written by Aisling Yeomans, Raheny Guide

Raheny News Website



---


Evening Herald article on 20th February 2010



---



Available online for another few weeks, the RTE Nationwide Programme aired on Monday 15th February 2010.



---


"Ireland's Own" magazine article on 22nd January 2010 talking about the 80+ year history of Catholic Guides of Ireland and the launch of 'In The Spirit of Adventure', the book launched in September 2009 by C.G.I.