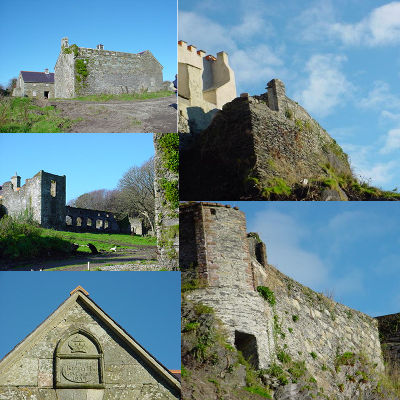 Imparted its name to the parish. Built as a tower house in the 15th century by Randal Óge Barry and merited the description of a "Stately cast in its time". Later occupied by the Frekes in 1617. And in 1642 it was besieged by local clans and endured the longest seige in Irish History lasting 239 days.
In 1715 the Freke family intermarried with the Evans of Limerick and became Evans-Freke and was then raised to the peerage with the title 1st Baron Carbery. Lrd Carbery at this stage owned approximately 13,700 acres of land. In the late 18th century Sir John Evans-Freke built a bigger castle nearby called "Castlefreke". Part of the original Rathbary keep still remains with its stone arch over the basement (now at ground level). The castle bawn was later converted into the farmyard for Castlefreke. It has some fine dressed stone doorways, and the original farm daily and forge also still exist.
The castle now is privately owned.