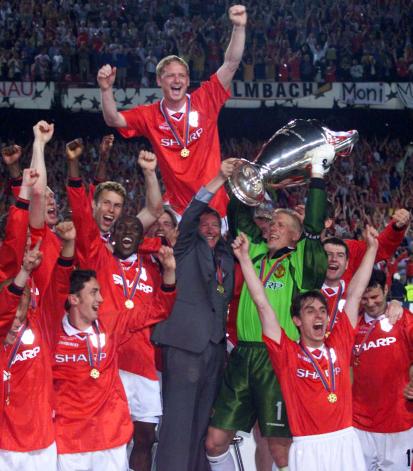 The Sunday Times - 30th May 1999
Hugh Ilvanney
With Manchester United, it is never over until the Fat Lady has a heart attack. Wherever the current representatives of Old Trafford stand in the all-time league table of great football teams, they yield to nobody as producers of drama. That is a distinction which can only consolidate their status as the club with the most genuinely global following in the game.
If used boldly, the financial leverage granted by such popularity should lift them to new heights of achievement. The aftermath of their European Cup victory is a time for ensuring that the corporate mentality recently so assertive in the boardroom at United is not allowed to swamp more romantic aspirations. Even the most pragmatic of the money-men should realise that in professional sport glory and profit go together. There may be a temptation to sit back and count the spoils of the past season's historic treble. But there would be more sense in releasing cash to reinforce Alex Ferguson's squad and strengthen his chances of improving on an already staggering record of triumphs. The immediate provision of around £20m would be a reasonable start.
Within 48 hours of the delirious scenes at the Nou Camp in Barcelona, the manager was pointing out to his chairman, Martin Edwards, the dangers of repeating the errors United made after winning the first of their domestic Doubles in 1994. Failure to buy then was, Ferguson feels, responsible for the lack of trophies in the following season. As someone who has collected five championships, and completed three Doubles, in the seven years of the Premiership's existence, he should perhaps find such a brief dip in the success graph acceptable, but everybody knows that is not his way.
"You should always buy when you are winning," he said on Friday. "We must not fall into the complacency trap that caught us out in 1994. We cannot let the other top English clubs catch up or go past us. As I have suggested in the past, we want to be driving the bus, not among the passengers. I have said to the chairman that if we are going to progress we have to look at players of the highest quality, men who can elevate the club. If we are to experience again the kind of night we had on Wednesday in Barcelona, we cannot gamble on players who might do a job for us. We need certainties. I was encouraged by the indications I received from the chairman that we see eye to eye about what is required."
We all know, of course, that there is a world of difference between identifying the right footballers and securing them. In addition to the problem of meeting transfer fees and astronomical wages, there is, for United, the possibility that the best foreign players will baulk at the idea of living in the northwest of England. Marvellous as Manchester is, it does not have as much appeal as London or one of the great cities of the Continent.
Nevertheless, neither Ferguson nor the club he has made champions of Europe should entertain any thought of modifying ambition when drawing up lists of those they wish to attract. Thus, when he voices a desire to supplement the midfield talent at his disposal, it is right that men of undisputed brilliance come to mind - the likes of the Frenchman Zinedine Zidane and the Argentine Juan Sebastian Veron in Italy and the Brazilian Rivaldo in Spain. Such players may prove to be unattainable targets but that should not be accepted as fact until United's full repertoire of inducements has been exhausted.
The need to add to the team's midfield resources was clear long before their European Cup final with Bayern Munich came to its outrageous climax. To say so is not, however, to agree with the critics who persuaded themselves that Bayern comfortably ran the game throughout the regulation hour and a half at the Nou Camp. That judgment was, to my mind, based on a readiness to let preconceptions about how efficient the Germans would be distort impressions of what they were actually doing on the field.
After United's early nervousness had produced a vulnerable wall and permitted Mario Basler to score with a free kick in the sixth minute, Bayern had the opportunity to exploit the pressure imposed on United by the obligation to chase an equaliser. Had the lead gone the other way, United would have tried to kill off the opposition. The Germans seemed more interested in killing the game. Much of their work was effective but the spirit of it was dubious. Their deep defenders, and especially Sammy Kuffour, were impressively assured and Lothar Matthäus had an imperious spell, but their favourite attacking option was the long ball slung up to their front men, Carsten Jancker and Alex Zickler.
There was scant commitment to sustained, cohesive aggression, little evidence of German belief in their ability to outplay their opponents, and United began to dominate possession. They were, admittedly, far below their true form and found penetration difficult. Yet to me the notion that Bayern were in sophisticated, untroubled control was illusory. It was largely a strange and unsatisfying match but as it developed I had a strong conviction that if United could draw level they would go on to win.
Inevitably, in their strivings for a goal they suffered conspicuously from being deprived through suspension of Roy Keane and, to a lesser but not insignificant degree, of Paul Scholes. Nicky Butt is an honest soldier but there is an ineradicable ordinariness about his play that is cruelly exposed in such a context. However, the widespread insistence that David Beckham's endeavours as a central midfielder were barely adequate is rather baffling. As a passer, he depends more on accuracy than on subtlety but, considering the range of functions he had to undertake in Keane's absence, his contribution was exceptional. There was no more influential figure on the park and it was no surprise that Pele singled him out for generous praise. Ryan Giggs never looks as fluent on the right wing as he is on the left but branding him ineffectual, as many did, was surely unfair. He constantly drew anxious defenders towards him in twos or even threes ("Their left back was frequently shouting over to the bench that he needed more protection," Ferguson reported afterwards) and the strain he created was always liable to have an effect eventually. Of course, any cumulative pressure applied to Bayern would almost certainly have become an irrelevance if they had scored instead of hitting the frame of Peter Schmeichel's goal twice late in the second half as the result of counter-attacks against opponents stretched by their race with the clock. But, whereas such moments would often reflect a superiority calculated to guarantee the preservation of a lead, in this case the truth was different. Once they had been lucky enough to survive those incidents, United continued to be the more confident aggressors and Bayern's most distinguished cheer-leader in the stands, club president Franz Beckenbauer, was not alone in suspecting his troops were still at hazard.
"Martin Edwards told me that Beckenbauer gave the impression of being uneasy during most of the match," said Ferguson. "He was apparently agitated, as if he felt that something was not quite right, that they were going to lose." Such signs were in keeping with the Kaiser's subsequently delivered opinion that United deserved to win. Presumably that view was related to recognition that there was much less than total conviction about their own capacities in the way Bayern sought to gain the prize.
Obviously they were entitled to feel they were the victims of a sinister miracle when their hopes were destroyed by two goals in stoppage time. United had to acknowledge that whatever powers govern fortunes in football were determined to see them through. But it has to be said that it was hard to imagine the English champions losing after Teddy Sheringham's equaliser went in. As the 90 minutes expired, the Germans looked like men who were going to stagger over the winning line. Had the match gone to extra time, United would have been an attractive bet at odds-on. Nobody was more convinced of that than their manager.
"Naturally I was resigned to losing when we reached injury-time but once we equalised I didn't think they had a chance of holding out over another half hour," Ferguson said. "They were absolutely gone. Although you have to assume that if one of those efforts that hit the wood had finished in our net we would have been buried, I didn't think they deserved to beat us. They didn't commit their whole hearts to winning the game. We know we didn't play well by our standards. Losing a goal after five minutes in a European Cup final was bound to have a derailing effect. We did settle about 15 minutes into the game and managed to get it going for longish periods but the application of quality wasn't constant.
"At half-time I used something that Steve Archibald told me when he came to see me on the Tuesday evening. Steve said the worst part of his experience of losing a European Cup final with Barcelona was at the end when the Cup was only five or six feet away and he couldn't touch it. I asked our lads to think about how they would feel if that happened to them. It was a simple bit of motivation but it stressed the gulf between winning and losing in a match like that. I was moved by how emotional Steve Archibald was when we won. When he played under me at Aberdeen our relationship wasn't always cosy but I liked the lad, always felt a lot of warmth for him. Seeing how he reacted really increased my pleasure in the greatest occasion of my career.
"As I say, it wasn't anywhere near our best performance of the season. Against Juventus in Turin and in the two FA Cup semi-final matches with Arsenal I thought we outplayed our opponents. We didn't do that in Barcelona but some of the stuff written about how Bayern outplayed us was weird. So were many of the assessments of Beckham and Giggs. Beckham was the star of the midfield show and Giggs worried them plenty. The finish was quite simply unbelievable. We have some spirit as a team. And some substitutes! Sheringham and Solskjaer have done a fantastic job for us this season. Solskjaer has 18 goals after being a starter in only about half-a-dozen games. He has such quick feet. That last chance couldn't have fallen to a better man."
The man the Norwegian replaced after 81 minutes, Andy Cole, deserves his medal as much as anyone but neither he nor Dwight Yorke had a particularly productive evening. A pattern has emerged in Cole's seasons with United, a tendency to do well from around October to January and then lose form. There is concern that he may be subject to draining of his energies after three or four months of intensity. It is possible that an experiment will be made with giving him a complete month's respite from matches and retraining him to start again in March. The intention would be to lift him out of the fray before exhaustion sets in, recharge his batteries and then relaunch him with renewed potency.
Alex Ferguson's own break from record-breaking began at the weekend with a couple of trips to the races. He heads for the south of France on Tuesday. An unexpected cloud was hung over his European Cup celebrations when he returned from Spain to learn that United's highly respected physiotherapist, Dave Fevre, had decided to leave and join Brian Kidd at Blackburn. The manager was severely disappointed. It may have taken as long as five minutes for his head to be filled again with positive thoughts.
hugh.mcilvanney@sunday-times.co.uk
How to make the best even better: The star players United could sign
- Mark Bosnich (Aston Villa)
The favourite for the job and available under the Bosman ruling. The word is that he will sign on Tuesday
Gianluigi Buffon (Parma)
Given a free choice, Buffon is the goalkeeper Alex Ferguson would probably prefer above all others. Dino Zoff, the Italian coach, knows a thing or two about that position and he has made the young Parma keeper his No 1 choice. Given the depth of goalkeeping talent in Italy these days, no further reference is needed
CENTRE-BACKS
Alessandro Nesta (Lazio)
Injured at the World Cup last year, the 23-year-old Lazio skipper has been the heart and soul of the Roman club since his return last November. There would be riots in the Italian capital were Lazio to sell him, but if United want the very best, this is their man Fabio Cannavaro (Parma) Another young Italian wise to the ways of the world's finest attackers. An immovable presence in the Italian national team. He wouldn't come cheap, but genuine quality rarely does
Lilian Thuram (Parma)
The Frenchman is arguably the game's most consistent, reliable and versatile defender.His contract at Parma has another three years to run
MIDFIELDERS
Sergio Conceicao (Lazio)
One of the revelations of the past Italian season, though he was not best pleased to be left out of Lazio's starting line-up in the Cup Winners' Cup final. A multi-purpose right-sided midfielder
Edgar Davids (Juventus)
Showed his immense quality in the Champions League semi-final against United at Old Trafford. A perfect fusion of skill and industry
Juninho (Atletico Madrid)
The little Brazilian provided memorable entertainment at Middlesbrough but recently shunned the chance to return to the Premiership, either with Boro or Villa. Maybe he was waiting for that call from United.
Rivaldo (Barcelona)
Perhaps this is one player United really could not afford. The lanky left-footer has come close to usurping fellow Brazilian Ronaldo as the world's best footballer
STRIKER
Gabriel Batistuta (Fiorentina)
"BatiGol", the world's greatest goalscorer bar none, had a think about moving to Old Trafford last year before plumping for an eighth successive season in Italy with Fiorentina. With the Tuscan club through to the Champions' League next season, he'll probably stay on, but it would do United no harm to renew their enquiries


© Patrick Eustace 2000. Page maintained by Patrick Eustace, last updated Thursday, 27-Jan-2000 20:35:46