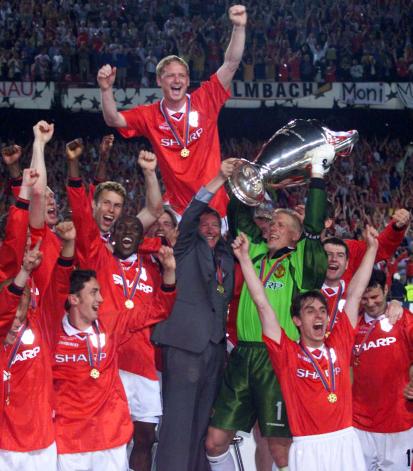 The Sunday Times - 30th May 1999
Brian Glanville
IT would be unfair to judge this Manchester United side merely on the basis of what went on in Barcelona, where we did not, could not possibly, see the real United. How could it be otherwise, with Roy Keane and Paul Scholes torn out of the midfield?
The loss of these two was compounded, it must be said, by Alex Ferguson's tactics. How, after what had happened at Wembley four days earlier, could he have stuck Ryan Giggs on the right flank, on his wrong foot? How could he have so long ignored two of the stars of that Cup final triumph, Teddy Sheringham and Ole Gunnar Solskjaer, and put Jesper Blomqvist on the left wing?
Such aberrations afflict Ferguson from time to time. A recent, ill-conceived television reappraisal of Matt Busby cast doubt on his tactical awareness, but he never made mistakes like that. Ferguson is an outstanding, resilient, even inspiring manager, but on Wednesday the goddess of good fortune protected him. But again, one must say that comparisons are irrelevant. Yet I submit that the 1968 United team was superior to this one, not least because it had three great players: Bobby Charlton, Denis Law - who missed the final against Benfica - and the incomparable George Best.
You might even say that Alex Stepney was a more reliable if less spectacular goalkeeper than Peter Schmeichel. The glorious save Stepney made at Wembley from Eusebio kept United in the 1968 final and even brought a handshake from the sporting Benfica striker.
For me, the greatest of all European Cup sides was Real Madrid, winners of the first five competitions. They possessed the most influential and gifted footballer ever to play in the tournament in Alfredo Di Stefano. He was playing total football before anybody had ever dreamt of it, racing from one penalty box to the other.
Eventually he had Hungary's Ferenc Puskas playing alongside him. Between them, they scored all seven goals in the historic 1960 European Cup final against Eintracht Frankfurt at Hampden Park, when Puskas got four, Di Stefano the other three.
Di Stefano brooked no rivals on the podium. He humiliated Didi, Brazil's general in three World Cups, when he joined Real after the 1958 tournament. Diplomatic Puskas, in his first season when he and Di Stefano were going neck-and-neck as top League scorers, pushed the ball to the Argentinian in the final game, so that Di Stefano could go ahead.
As late as 1962, in the Amsterdam final, which Real lost to Benfica and Eusebio, Di Stefano helped Puskas get a hat-trick.
After Real, I would rank the marvellous Ajax team of the early 1970s, not Internazionale, although they won the tournament twice in the 1960s and gave Jock Stein's gallant Celtic a run for their money in Lisbon in 1967.
Ajax took Inter to pieces in the 1972 final in Rotterdam, having in 1971 had little trouble at Wembley in disposing of Greece's Panathinaikos, managed by Puskas himself, their path to the final having been somewhat suspect.
Not remotely as suspect, though, as Inter's successes of the 1960s. An exhaustive Sunday Times investigation established that in three consecutive second leg semi-finals at San Siro between 1964 and 1966, Inter had tried to bribe the referee; successfully in the ill-starred cases of Borussia Dortmund and Liverpool, unsuccessfully in 1966.
It was then that Gyorgy Vadas, the brave Hungarian referee, refused all blandishments, not least those of the late Angelo Moratti, the Inter president. Real got a draw and went on to win the Cup, but Vadas never refereed another international game.
This is not to gainsay that the Inter team, managed by Helenio Herrera, was not a formidable one. There was the attacking full-back play of Giacinto Facchetti, which inspired Franz Beckenbauer to invent the role of the attacking sweeper, the wing forays of Jair, the skills of Sandrino Mazzola, Joaquim Peiro and Mariolino Corso. But in the background lurked the manipulative secretary, Italo Allodi, and his arch fixer, Dezso Solti.
Ajax, in full flight, were intoxicating. Johan Cruyff imperiously commanded, whether through the middle, out on the wing or from behind the front line. Johan Neeskens was the epitome of versatility, by turns destroyer, creator and finisher. Wim Suurbier and Rudi Krol, the full-backs, were ever ready to push into attack.
The Bayern Munich team which followed them with three successive victories was at its best a sparkling purveyor of total football, too, though it laboured through those finals.
Only an unexpected goal by the centre-back, Georg Schwarzenbeck, gained a breathlessly late draw in the 1974 final against Atletico Madrid, though the replay, with Gerd Müller irresistible, was easily won. Doubtful refereeing helped the contentious victory against Leeds in Paris in 1975. The following year at Hampden, Saint Etienne, of France, were unlucky to lose.
Then English clubs took a stranglehold on the tournament. It is no disrespect to Liverpool and Nottingham Forest to say that, in those years, the overall standard slipped. Certainly, Liverpool's performance in Rome against Borussia Möenchengladbach, inspired by Kevin Keegan, was exhilarating. And when they came back to Rome in 1984 to beat Roma on penalties, their resilience was admirable. But Forest, their successes a huge tribute to the influence of Brian Clough, hardly reached their zenith in those two winning finals. They beat Hamburg and Keegan in the second of them, chiefly thanks to the superb goalkeeping of Peter Shilton.
"I am jealous!" confessed Bill Shankly when Bob Paisley, his able successor, started carrying off the European Cup he himself had never won for Liverpool, but it was Shanks who laid the foundations.
After Keegan came Kenny Dalglish and the combative all-rounder, Graeme Souness. Fine teams, but hardly great ones.
Ferguson's champions do not yet merit a place alongside the greats either but, with youth on their side, they have it in their power to change that by dominating the competition well into the millennium.
Brian Glanville's ten best European Cup-winning teams
1 REAL MADRID (1956-60)
Inspired by the incomparable Alfredo Di Stefano, Real won the European Cup on five successive occasions. Their 7-3 defeat of Eintracht Frankfurt in 1960 was the high-water mark
2 AJAX (1971-73)
Johan Cruyff was the Di Stefano of his team, the all-round centre-forward and inspiration, powerfully supported from midfield by Johan Neeskens, the complete total footballer
3 BAYERN MUNICH (1974-76)
With Franz Beckenbauer as the attacking libero, Bayern were the other great total football club team
4 INTERNAZIONALE (1964-65)
Never popular outside Italy with their careful catenaccio imposed by Helenio Herrera, but still a gifted and effective side. Luis Suarez was the complete inside-forward, Sandro Mazzola an elegant striker and Giacinto Facchetti scored goals from full-back
5 MILAN (1989-90)
Steaua Bucharest may have lain down and died in 1989, but this was still a glittering Milan side, thanks in large measure to its superb Dutch trio: Frank Rijkaard in midfield, Ruud Gullit here, there and everywhere, Marco Van Basten the complete centre-forward
6 MANCHESTER UTD (1968)
A team with three world-class players - Bobby Charlton, Denis Law, who missed the final, and the incomparable George Best, who was at the very peak of his wonderful powers
7 BENFICA (1961-62)
Striking on sight with ferocious power, Benfica routed an ageing Real Madrid side in Amsterdam. An irresistible Eusebio struck two of the goals
8 LIVERPOOL (1977)
Liverpool won three more titles, but this was perhaps the most stylish of their European Cup teams, motivated by a rampant Kevin Keegan, matured from a busy outside-right into the complete striker
9 CELTIC (1967)
The team that Jock Stein so skilfully and economically built out of native Scots, almost entirely Glaswegians. First British winners
10 NOTTM FOREST (1979-80)
A triumph for Brian Clough and Peter Taylor. In record time, they took an unfashionable team from the Second Division to the championship of Europe


© Patrick Eustace 2000. Page maintained by Patrick Eustace, last updated Thursday, 27-Jan-2000 20:35:46