Working on two kits simultaneously at the moment, a Dragon JagdTiger & a Tamiya Tiger II. Doing this of course will optimise the airbrush set-up etc and maximise work effort since they're both quite similar types.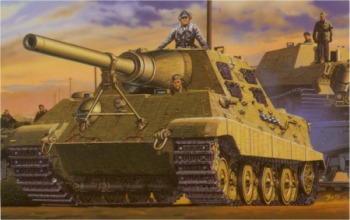 JagdTiger
Well after avoiding the application of Zimmerit coating to a number of models I'm gonna bite the bullet and give it a go for the JagdTiger. Its risky, and I'd hate to ruin it, but I have to give it a go some time. This is the first Dragon kit I've bought. Must say it looks pretty good. The inclusion of photo-etched parts is very welcome indeed. Its such a pity that Tamiya don't do this. However, the quality of the plastic and moulding is not quite up to Tamiya standard. Placing the upper hull parts of the two kits next to each other, Tamiya is still the best. It can be clearly seen in the panel lines, they are far better defined on the Tamiya part – this in turn will allow the detail to show through better after the paint work has been applied. With this said, the Dragon kit is still very good, and I'm looking forward to working on it.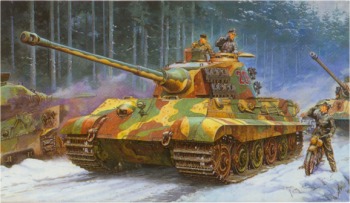 Tiger II
Conversely, the Tamiya kit is better produced, but without the photo etched parts and separate track link construction. They have however included a mesh for the grilles. Some Tamiya kits don't even have this, which is hard to fathom to be honest. This one also includes a motorcycle and three figures, so is a good candidate for a diorama. I'll also try the full ambush scheme for the first time on this one.