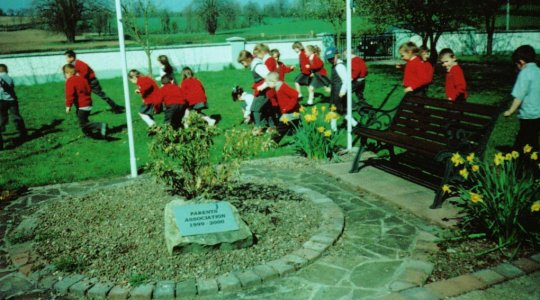 Parents Association:
Our Parents Association is affiliated to National Parents Council and has now been in existence for a decade. The current chairperson is Mr. T. O'Donaghue. The full list of officers is as follows:- Mr. S. Gallagher, Mrs. F. Mohan, Mrs. M. sherry, Miss L. Askin, Mrs. P. Murphy, Mrs. F. Kelly, Mrs. C. Traynor, Mrs. C. Mc Kenna, Mrs. E. Mc Kenna, Mr. L. Holland, Mr. P. Donoghue, Mrs. M. Gilbane.
The Parents Association at Corracrin has always been very active and most supportive of the Board of Management and all the work that is on-going within the school. Their influence can be seen through supervision on sports day, school tours and quiz teams, swimming etc. They also provide an annual school disco and visits to the Garage Theatre for the pupils of Scoil Naomh Pádraig. In addition to this, they fund raise, and our recent acquisition of a state of the art photocopier is evidence of their success in this area. However, their contribution to school life at Corracrin is much more comprehensive than this and invaluable to us as a school.