School Diary:

School Year: Annual Holidays
Halloween : School closed from 25/10/04 until 29/10/04
Church Holiday: Immaculate Conception
School closed 8/12/04
Christmas: School closed from 23/12/04 until 07/01/05
Mid-Term: School closed from 14/02/05 until 18/02/05
St. Patrick's: School closed from 17/03/05 until 18/03/04
Easter: School closed from 24/03/05 until 01/04/05
Public Holiday: Monday 02/05/05
Public Holiday: Monday 06/06/05
Summer Holidays: School closed from 30/06/05 until September.
The above timetable is subject to change.

Bulletin Board
Traffic Calming Measures: The completion of traffic calming measures outside Corracrin NS is now almost complete. Sadly, it took a tragic death to bring all the elements necessary together to make this possible. However, with the new lay out, reduced speed limits, signage and extra lighting, hopefully the tragic events of last Christmas will never again be repeated.
Rehab Ireland: The students of Scoil Naomh Pádraig recently raised €1000 for Rehab. Mr. Peter Stokes accepted the cheque from our principal, Mr. Boyce.
Charity: Prior to Christmas, Miss Mc Skane held a cake sale in her class and raised €500 for Trócaire. In addition, and sadly because of the Tsunami that hit Southern Asia on St. Stephen's Day, we had a No Uniform Day to support past pupil, Adrian Quinn, who was going out to Sri Lanka to help the survivors. Scoil Naomh Pádraig raised a staggering €850, which no doubt Adrian will use to good effect in his new surroundings.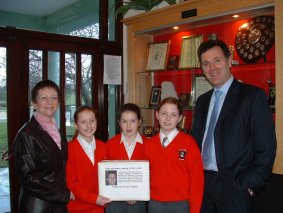 Students make a presentation to Adrian Quinn as a result of a No Uniform Day held at Scoil Naomh Pádraig. Mary Quinn accepted the cheque for €850 prior to his departure to Sri Lanka.
Computers: Mr. Magee took delivery of another four computers which will be used in the senior end of the school. In addition, we are currently in the process of introducing Broadband to Scoil Naomh Pádriag which will certainly improve our IT capability going forward.
Quiz Time: The annual round of school quizzes is upon us. First up is the Credit Union Quiz which will be followed by the GAA Quiz, and finally National Parents Council Quiz held annually in the Oasis, Carrickmacross.
Drama: Our infants visited the Garage Theatre before Christmas to see a production of Old Mother Hubbard, while 1st and 2nd classes went to the Opera House in Belfast to see the pantomime, Jack and the Beanstalk. By all accounts both experiences were greatly enjoyed by pupils and staff alike. To conclude, Tom Mc Caughran will visit Scoil Naomh Pádraig on Monday 9th May, courtesy of the Parents Association. So, as you can see, the arts are certainly well looked after at Corracrin.
Christmas: We had a very busy Christmas period with our school concert, the Nativity play performed by second class, and the visit of Santa. On top of all this, we had our Yuletide assessments, so both staff and children really enjoyed the Christmas holidays.
Classes: 3rd / 4th classes are currently receiving swimming lessons, while 6th class are completing an eight week computer course.
Extra Curricular: Presently, our girls are training for this year's football competitions, while both our girls and boys are training for the annual county cross championships.
Up and Coming Dates: First Confession / 23rd February, First Communion / 7th May, Confirmation / 11th May, Mid Term Break / 14th - 18th February, Open Weekends for secondary schools / 10th and 11th February