Sídheán Teo. are the Irish agents for Lukas hydraulic rescue and re-railing equipment. To get information on the full range of Lukas tools please visit the Lukas website and click rescue tools in the left menu or download the Lukas catalogue in pdf format.
Demonstrations of Lukas tools are available on request. Please contact Sídheán to arrange a demo.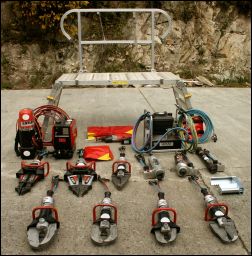 Click photo for a larger view


Spotlight on Rescue Equipment

Power units
Spreaders
Cutting Tools
Air Bags
Rescue Platform


Hurst Air Bags Features and Benefits


Hurst bags interconnect with most 8 bar systems.


Exclusive interlocking surface texture design provides a superior gripping surface and helps keep the bag stable during one and two-bag lifts.


All bags are square, making them easier to center, stack, and deploy during operation.


Largest air inlet nipple allows quicker inflation/deflation times and less chance of air-way freeze-up during operation in extreme humidity. Nipple is all brass construction, non- sparking for hazmat applications.


Square shoulder designed nipple connection features large wrench gripping area for quick and easy field replacement.


Hurst rescue bags feature the thickest shoulder design for greater durability.


For bag lifting capacities, dimensions, weights and further information see the Hurst website.