After finishing secondary school in 1999 I went on to study Amenity Horticulture in the Irish National Botanic Gardens. I received my Diploma in September 2003.
In October 2003 I went to Rome to study in the Academia d'Illustrazione. I completed one year of study there and then returned to Ireland.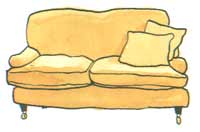 My personal skills related to the creation of illustrations would include a knowledge of Photoshop and Illustrator programmes for the computer; printmaking, clay-modelling, sewing and knitting, photography and fluency in the Italian language.
Jobs to date have been mostly in plant nurseries and gardens in Ireland and Italy. I've worked in the Galway Arts Festival and have done illustrations for the IGPS (Irish Garden and Plant Society) Magazine. I am also currently working on personal projects such as childrens' books, comics, storyboards and garden designs.