Strokestown GAA Information
Team info | Colours | Location | Crest | General Info | History | Achievements
Club Colours: Black and Amber

Jersey: Striped with Black and Amber

Shorts: Black with Amber stripes

Socks: Black with Amber stripes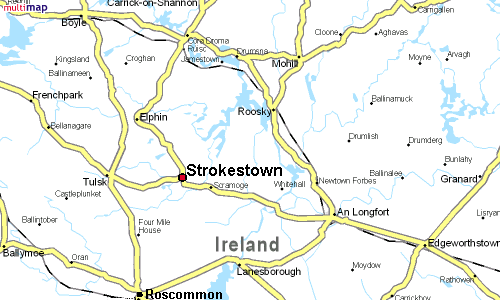 Strokestown is located on the main Dublin-West road. It is about 15 miles form longford town and about 12 miles from Roscommon town. The GAA pitch is located on the longford side as you enter the town.
The crest was newly created this year.

It depicts the Bawn Gates and 'Beal Atha na MBhuille' (the Ford of the Strokes), the gaelic for Strokestown.

See large scale crest here
The prize for the greatest breadth to length ratio in any Irish town or village street must go to Strokestown where, with local hyperbolic pride, the second Lord Hartlands aim was to make his village thoroughfare even larger than the Ringstrasse in Vienna. With its wide tree-lined streets, is a centre of great historical interest and is surrounded by numerous lakes. It is a perfect centre from which the angler can pursue his pleasure. The demesne beside the town contains a large mansion, Strokestown Park House, built in 1800 by Lord Hartland and, until recently, the home of The Mahon family that farmed almost 11,000 hectares in the area.
For Strokestown links see here