Letter published in the Irish Times, 23/03/04

Madam, - Paul Griffin's letter of March 15th entitled "The dwindling Irish breakfast" makes depressing reading. My experience on frequent visits to Leitrim is quite the opposite. In one B&B - Slevin's of Mohill - we had to ask Mrs Slevin to please reduce the helpings as one could not possibly consume all that was presented: orange juice, choice of cereals, big fry consisting of two pieces of black pudding, two pieces of white pudding, two rashers, four sausages, one egg, some tomato and the pièce de résistance: two slices of finest Leitrim boxty. I suggest that Mr Griffin visit Lovely Leitrim and enjoy meeting wonderful people, fantastic scenery and marvellous hospitality and - lest we forget - a top class breakfast. -

Yours, etc., PETER GORDON, Beechpark Lawn, Dublin 15.
Check out Tina's new website www.coolabawnhouse.com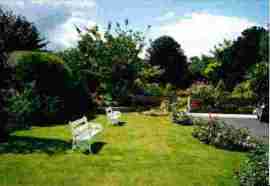 Highly recommended (see letter below left!), friendly, welcoming guesthouse. Situated in town. Relax in beautiful award-winning gardens. We've been serving guests since 1968 and are approved by Bord Fáilte (the Irish Tourist Board) - try Tina's recipes.


Open: all year
Rooms: 4 rooms (2 Ensuite)
Rates: from: (euro) € 35 per person; (euro) € 40 en suite (with bathroom).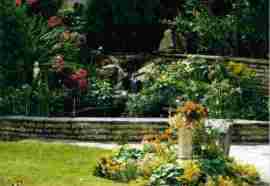 Children's facilities: Family friendly premises, babysitting, cot available
In room facilities: No Smoking in bedrooms, hair dryer in bedrooms
Nearby leisure: angling, horse riding, gun sports, traditional music, entertainment, squash court all nearby
Premises facilities: Central heating, private car parking, award winning gardens (best in Country Leitrim 2000), internet access for emails, RTA member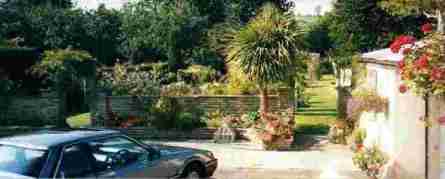 Testimonials!
"A hard act to follow" - Fiona McGlade (daughter-in-law)
"I agree" - Michael (son) - "Ouch!"
"I love the breakfast left-overs - woof, woof" - Snoopy (R.I.P.)
See letter at right!

Check out the gardens! Overall winner in Mohill 2005 - Voted best in County Leitrim 2000 - Runner up in Counties Leitrim / Roscommon 1999.
Need maps?.