The Fame of Tipperary Group present...
CONFLICTS IN IRELAND

THE IRISH CIVIL WAR 1922 - 1923
In early 1922, British troops began to pull out from Ireland, handing over their garrisons to the Irish Volunteers. The Tipperary Military Barracks was vacated at this time. These were now split into those who supported the Treaty- now called Free State Soldiers under the leadership of Michael Collins. Other former Irish Volunteers who opposed The Treaty, now became known as The Irregulars.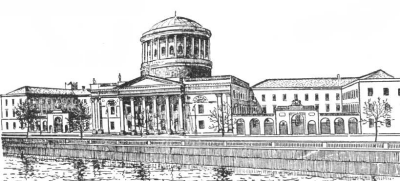 The Four Courts in Dublin City
In March 1922, the anti-treaty forces seized The Four Courts and other buildings in Dublin. On 27 June 1922, The Free State Army bombarded The Four Courts and its defenders were forced to surrender. De Valera now joined the anti-treaty forces. The Civil War had begun and was to last over a year.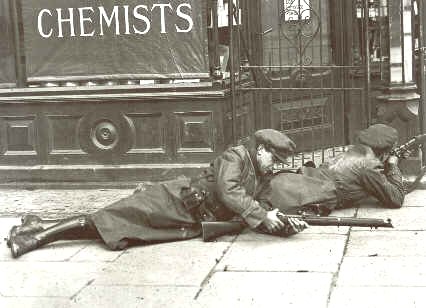 Snipers of the Free State Army, Stephens Green, Dublin 1922
The anti-treaty forces held most of Munster, including County Tipperary, but were heavily outnumbered. The war became one of guerrilla conflict; of ambushes, raids and counter-raids. Michael Collins was killed in an ambush at Beal na Blath, County Cork on 22 August 1922. Arthur Griffith, head of the Provisional Government had died ten days earlier. W.T. Cosgrave now became head of the Provisional Government. By mid-1923, over eleven thousand people were interned by the Provisional Government and hundreds were dead. Finally, in May 1923, the anti-treaty leaders, Eamonn De Valera and Frank Aiken, advised their supporters to dump their weapons as continued resistance was impossible. This directive signalled the end of The Civil War.

THE TIPPERARY CONNECTION

On 16 July 1922, anti-treaty forces burned down the Tipperary Military Barracks, with the exception of the hospital, the church and the guardroom.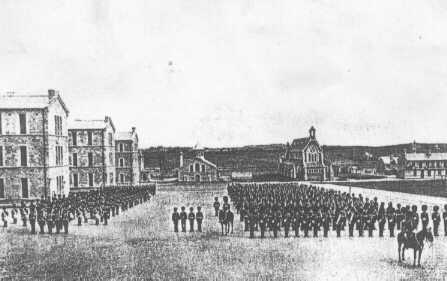 Tipperary Town Military Barracks
The town's RIC Barracks was burned down on 17 July 1922, the day following the bvurning of The Military Barracks. In later years, the Barracks' Church was later dismantled and removed to Mount St. Joseph's Abbey, Roscrea, Co. Tipperary. The remaining ruins of The Barracks were knocked down for safety purposes in the late 1970's. The hospital, boundary walls, one archway and the water tower all still remain on the barracks' site.

Ruined stone arch on site of former Military Barracks, Tipperary Town
[For more details of The Tipperary Military Barracks, see the section about it elsewhere on this website by clicking on the underlined words here]
Throughout July 1922, action was seen between the anti-treaty and pro-treaty (Free State) armies at Golden, Thurles and Tipperary Town itself. The attack on Tipperary Town by the Provisional Government Forces, who numbered about 500 men, began on 29 July 1922. The anti-treaty forces held a number of buildings in the town, including the Abbey School, The Royal Hotel and a number of houses on Davis Street. Cleeve's Creamery was burned. By the following day, the Provisional Government Forces had taken the town.
Text © May 2001 Noreen Higgins
| | |
| --- | --- |
| | Click on the map image to return to the IRELAND Index |