ACTIVE SERVICE - SOUTH VIETNAM - FEBRUARY TO MAY 1968:

Combat Infantryman's Badge
Edmond was promoted to the rank of Captain in early 1967, and in September he received written orders for a twelve-month tour of duty in South Vietnam, which stated that he was to report for duty NLT ("not later than") 27 February 1968. Captain Landers and his family returned to Tipperary that December and in early February 1968, he left Shannon Airport en route for Saigon,Vietnam via the United States and Europe.
He arrived at Tan Son Nhut Airbase, Saigon at 12.45hrs on 29 February 1968, reporting to HHC 3 Battalion, 12 Infantry, 4 Infantry Division where he remained for a few days awaiting assignment.
Base Camp,Vietnam, March/April 1968. Captain Landers answering radio.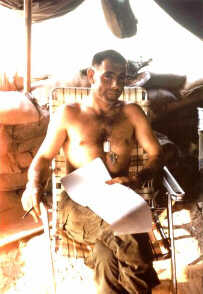 Captain Edmond Landers, CommandingOfficer, Co.'A',2 Bn.,18.Inf., 1 Inf. Div. April 1968
He was assigned to 2nd. Battalion, 18 Infantry, 1 Infantry Division ("The Big Red One" 3), commanded by Lieutenant Colonel Max Waldrop and his first appointment was as Battalion Intelligence Officer. His unit operated both within and outside the Capital Military District of Saigon, Gia Dinh Province, in areas such as Cholon, Thu Duc, Gia Dinh, Loc Ke; and the base camp at Di An, about 25 miles North-East of the capital. The Brigade H.Q. was located near Quan Loc. In April, two months after his arrival in Vietnam, Edmond was assigned a Rifle Company. He was appointed Commanding Officer of Company "A", 2nd. Battalion.

3 This name derives from the unit's insignia which is a large red figure 1.