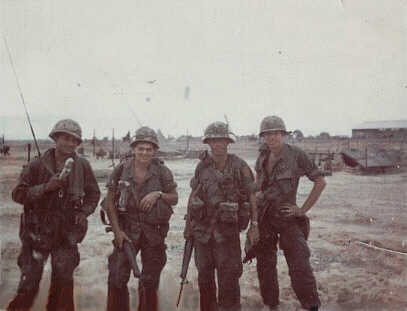 Captain E.J.Landers (second .from right), his RTO's and Medic.This photograph, taken on return from ground operations on 2 May 1968, was the last one sent home by him.
This is the last known photograph taken of Captain E.J. Landers before his death.
REPORT OF HIS DEATH:
Captain Landers, his RTO and another soldier were killed in the bursts of fire, and another Officer, a Lieutenant, who was wounded, lay near their bodies. The Leader of the First Platoon and his RTO were also wounded. An eyewitness' report stated:

"Captain Landers was about fifteen metres in front of me laying next to another man. I could see that they both
were dead. Another officer was between me and Captain Landers. He had only been wounded. I tried to get over to him but when I moved the shooting started again. I could see rounds hit all three of them. I shot back but I did not know where the shots came from. Every time I tried to move they opened up again."

The report went on to say: " Just about that time, Colonel Waldrop came on the radio and I informed him of the situation. I still could not move without getting shot at. The gun-ships came in, which kept the V.C. hard-down while I made my way back to the rest of our guys."

Captain Landers and seven members of his command were killed in action on that day. Six others were wounded. News of his death was relayed to his wife and family by local priest Reverend J. O' Dwyer a few days after he was killed.