Because of the complex and extensive nature of the data table on the Alphabetical Namelists reached via the letters A to Z below, they will take quite some time to load, so please be patient. Thank you!
Many of those who died in "World War I" simply dissappeared in the chaos of battle; some lie in unmarked graves, and others lie in War Cemeteries anonomously. This headstone marks the last resting place of a soldier known to be of the Irish regiment called "The Royal Munster Fusiliers", but whose name, rank age and birthplace are unknown. As the inscription says, his identity is only "Known unto God".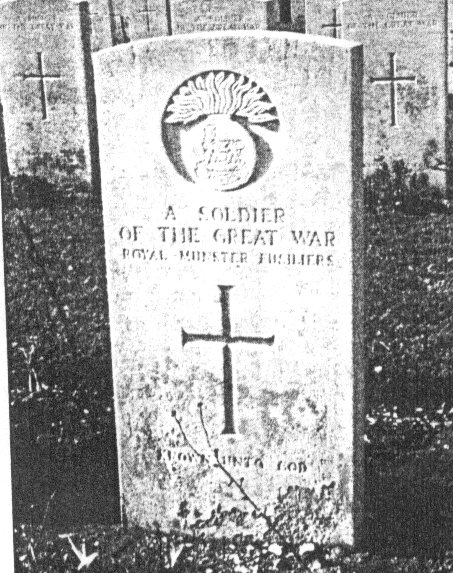 The War Graves in France, Belgium, Italy and Germany in Europe contain memorials to the dead of both the 1914-1918 War and the 1939-1945 War. Other war graves exist in Africa, The Middle East, Far East, and on islands in the Aegean Sea and Pacific Ocean. War Cemeteries only record deaths which actually occurred in battle or in field hospitals. Some war-related deaths occurred after servicemen and women had returned home to recuperate, and suffered relapses from the after-effects of injuries or trauma months or even years later. The table below gives details of Tipperary men and women whose deaths occurred as a result of their service in 'The Great War', with details of some of their graves and memorials.