Connemara: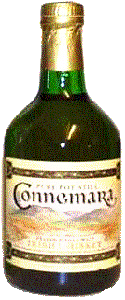 When Ireland's only independent distillery, Cooley Whiskey set up shop in 1989, it's inspiration lay not in Ireland, but in Scotland.
The twentieth century had seen tastes mature. Blends, once favoured for making heavy highland Malts palatable had become old hat. Single Malts had become all the rage.
Ireland had never been great Single Malt territory. Rather Irish Whiskey was a unique combination of malted and unmalted grain. Unfortunately for the Irish industry though, pot-still whiskey had fallen out of fashion.
Connemara then, was Cooley's attempt to muscle in on the Malt market.
The peated malt for Connemara actually comes from Scotland and its phenol (peat) levels are just 15 parts per million, around a tenth of the level found in Lagavulin. Even this is diluted further by the addition of unpeated malt.
For some bizarre reason though, Connemara packs as hefty a punch as many an Islay. The current whiskies in Connemara are between five and seven years old and are matured in ex-bourbon wood. Don't forget, because of its temperate climate whiskies mature much faster in Ireland than in wind swept Scotland.
---
Connemara 40% abv
Nose: Peat, but not the iodine peatyness found in most Scottish Malts. This is a softer rounder, almost damper peat with hints of heather and honey.
Mouthfeel: Smooth and silky, just a tad oily.
Taste: That signature Cooley sweetness is first out of the box, it soon mellows away to be replaced by the most unique smokey roundness imaginable. This peat just gets bigger and bigger, as I said hard to believe that this is peated to only 15 parts per million. It feels and tastes like a lot more, perhaps the lack of iodine and salt has something to do with it.
Finish: Like glowing embers in a peat fire, this baby goes on and on. Waves and waves of warm honey tinged malt and a gently peaty aftertaste that lingers for ages and ages.
Comments: Wow... the only thing better in the world is the cask strength.
---
Connemara Cask Strength
The strength varies from batch to batch, but it's around 60% abv.
Nose: Like a sleeping giant, all that's needed to wake this is a single drop of water. Then the nose is stunning and more intense than regular Connemara.
Moufeel: Round and Fat.
Taste: That sleeping giant just got up and hugged me! Forget anything you've ever tasted before, this is the busisness. There's a tiny one room sheebeen near my uncle in Co Mayo, when the musicians are in full flow and peat fire is blazing away, it tastes like this.
Finish: Drink it. Run a marathon. It's still there. Incredible.
Comments: There are quiet moments in life, when there is nothing to match a large Cask Strength Connemara sitting in the bottom of a glass. You don't so much get tipsy as high.
Also see Malts
Return to Pajo's Irish Whiskey Home Page