Pot Still Whiskies: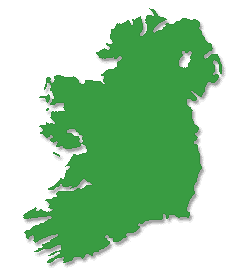 If I were writing this page a hundred years ago, it would not be the shortest page on this site, but the longest.
Pot-still whiskey was the lifeblood of Ireland. Of the twenty eight Irish distilleries visited by Alfred Bernard's in his 1886 book "The Whiskey Distilleries of the United Kingdom" - just one produced Malt Whiskey, and it wasn't even Bushmills. They, like every other distillery were too busy making the most popular drink in the then British Empire... Irish Pot-still whiskey.
"Pot-still" whiskey is different to "single malt" in that the former uses both malted and unmalted barley, while the latter used just malted. This produces a heavier, more flavoursome drink.
Tastes change; first blended Scotch and then single malts became flavours of the month, Irish pot-still whiskey fell out of fashion and distilleries closed in their dozens.
It is interesting to note that when Cooley started distilling in 1989, they did not set out to produce Pot-still whiskey, but rather Malt and Malt blends. The Irish had dropped the ball and the Scottish had run off with it. The Irish were now playing by someone elses rules.
Cooley claim that they produce "Pure Pot-still Single Malt Whiskey"; this is of course impossible. Although Malt Whiskey is produced in a Pot-still, it is not Pot-still whiskey. Pot-still Whiskey contains unmalted barley. By definition a Single Malt does not.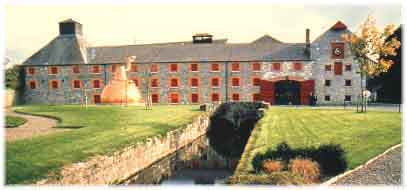 These days there are just two pure Pot-still Irish Whiskies left on the market and both are distilled in Midleton by Irish Distillers.
The Old Midleton Distillery is now a museum. Pot-still, Malt and Grain whiskies are now distilled in a huge modern complex to the rear.
Green Spot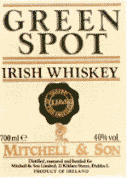 Once all Irish whiskies were like this... Pure pot-still, bottled by the seller. To-day this is the only one left.
Made for Dublin wine merchants Mitchell & Son, Green Spot is a real one off. It's a huge mouth filling whiskey with lovely sherry undertones. Younger and "greener" than it's cousin Redbreast, this is none the less a huge whiskey. It's is produced in tiny amounts, around 6,000 bottles a year, so is almost impossible to get outside Dublin and Galway. However it has recently popped up in London, where you can get it at most specialist whiskey shops.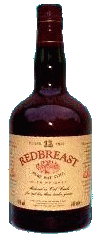 Redbreast
Forget all the rubbish you read about the difference between Irish and Scotch... It has nothing to do with the amount distillations, or whether or not the malt is dried over peat.
Redbreast is where you can experience the real difference for yourself. All you have to do is put a glass of this glorious stuff to your lips and you'll see what I mean. Stunning, stuffing stuff. Is this the best whiskey in the world?
For those with a sturdy wallet, there are other Irish pot-still whiskies available in limited quantities...
Midleton 25 Year Old and Midleton 30 Year Old were released for the Millennium and sell at £250 and £500 respectively.
Dungourney 1964 is a bottling from a "lost" cask of Midleton whiskey. It has all but sold out and retails at £250.
Bottles of whiskey from Daly's of Tullamore 1949 & 1952 are available from Cadenheads of Campbeltown.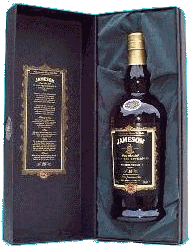 There is also a new bottling of 15 year old pot-still, bearing the Jameson label.
Released for the Millennium it costs a whopping £90, so I still have to taste it. I only mention this as Jameson used to produce a 15 year old pot-still which even index linked, cost nothing like £90.
It would seem that the sales of Dungourney, have taught Irish Distillers how much money can be made from releasing limited collector whiskies. I just whish Cooley would follow suit.
Return to Pajo's Irish Whiskey Home Page