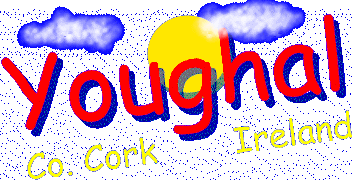 Youghal as a Business Location
International Industries in Youghal
Avery Dennison
Manufacturers of a wide range of office files and non re-inking stamps (French/US), established 1981
"Excellent Infrastructure, a top quality workforce and a cooperative community enticed us to locate in Youghal, and encouraged by our success, investment in the Youghal plant is ongoing"
John C. Coleman, Personnel Manager, Avery Dennison Ireland Ltd.
Artesyn Technologies
(US), established 1982
"Youghal is easily accessible to our European subsidiaries by modern international telecommunication, air and sea links. The availability of a highly educated, skilled workforce makes Youghal an ideal location"
Tom Luskin, Human Resources Manager, Artesyn Technologies
Tytex Ltd
(Danish), established 1985
"A long history of world renown textile manufacturing, and the availability of skilled personnel are combined with a scenic environment and excellent business facilities in Youghal"
Joseph Gallagher, Chief Executive, Tytex Ireland Ltd.
Bryant Rubber Ltd
(US), established 1996
"Proximity to air and seaports, community spirit and a highly trained labour force are distinct advantages of operating our business successfully in Youghal"
Michael Bermingham, Managing Director, Bryant Rubber Ltd.
Kodak Ltd
(US), established 1996
Kodak Cork is a division of Kodak (ireland) Manufacturing Ltd., a wholly owned subsidiary of U.S.-based Eastman Kodak Company. The Youghal facility produces compact recordable disks (CD-R's) and is a part of a world-wide manufacturing base which makes Eastman Kodak Company the world's largest manufacturer of CD-R's. The Youghal plant provides product to European, African, and Middle Eastern marketplaces and is the largest CD-R manufacturing plant in Europe.
Established in 1996 in a 40,000 square foot facility, the plant has now grown to 120,000 square feet and employs over 200 people.
Gerry Poshkus, Managing Director, Kodak Cork, Youghal.
Couristan Carpets Ltd.
The availability of an experienced, intelligent and loyal workforce in Youghal has contributed to our success.
Barry McCarthy, Couristan Carpets Ltd., Youghal
Seafield Technical Textiles Ltd.
Continuing a long tradition of textile manufacturing in Youghal, the companies success is based on a skilled workforce and proximity to airports and seaports.
John Parker, Managing Director, Seafield Technical Textiles Ltd.
Youghal Shipping Group
Youghal Shipping Group offers a privately owned shipping facility. The scope of activities include ship brokerage, ship agency, stevedoring, warehousing and secondary processing. All are performed to ISO 9002 standard of quality.
Monnie Cliffe, Managing Director
Contents
Infrastructure
Land
At present, there are 14 acres of zoned land available for industrial use. In addition there are a further 38 acres in the hands of the IDA (The national Industrial Development Agency) and the Urban District Council for industrial use.
Start-up Units
A number of industrial facilities are available for immediate occupation.
Space and services are available in the Seafield Business Centre.
Telecommunications
ISDN links to Youghal enable high-speed digital communications to markets, suppliers and partners.
Ireland enjoys one of the lowest telecommunications tariffs in Europe. A growing number of tele-service based industries are locating to Ireland to take advantage of this and of the highly educated labour force.
Port
The existing port has seen an increase in use coupled with reconstruction projects to maximise its potential.
Seaports and International Airports
| | | | |
| --- | --- | --- | --- |
| Location (Distance in km) | Airports | Ports | Railheads |
| Cork (51 km) | International | RO/RO, Container | Container Depot |
| Dublin (222 km) | International | RO/RO, Container | |
| Limerick (136 km) | Shannon (148 km) | Container | |
| Rosslare (150 km) | | RO/RO, Container | |
| Waterford (72 km) | National | Container | |
Access to Europe
| | | |
| --- | --- | --- |
| | Flight Time | RO/RO Shipping |
| United Kingdom | 1 hour | 3-6 hours |
| France | 2 hours | 18 hours |
| Central Europe | 3 hours | |
Contents
Housing development is ongoing, and is available both in and near the town in various price categories. Apartments are a new phase in the development of Youghal, and these are also available in a variety of price categories, both for rent and for purchase. Many of these have breathtaking views over Youghal Bay. Any of our expert Estate Agents will be willing to help with information.
Contents
Services
In our busy town centre, professional and business services such as accountants, mortgage and insurance brokers, builders and architects, solicitors, national banks, post office, credit union and real estate companies are all on hand to service your business needs.
Our hotels offer Conference facilities. Award winning restaurants are to be found in and around the town.
Contents
Education
Schools in Youghal were amongst the first in Ireland to install classroom computers. A highly technology & computer-literate pool of talent is available.
3rd Level
Students attend both the University and the Institute of Technology in Cork.
University College Cork is to the forefront in many faculties and is a world leader in the field of micro-electronic education.
The National Microelectronics Research Centre, which is affiliated to University College Cork, serves the international semiconductor industry in such key areas as IC design, R&D and testing.
Secondary Level
Three secondary schools serve the Youghal area. Loreto Secondary School and the Christian Brothers are voluntary Catholic Secondary schools. Colaiste Eoin is a Vocational Education Committee managed Community College.
Primary Level
Bun Schoil Mhuire is the main Catholic National School. South Abbey is a Church of Ireland managed school. Gael-Schoil Chorain is an Irish-language school.
The schools are co-educational
Contents
Population
Youghal Urban District (1996 Census)
Under 15 Years
15-24 Years
25-44 Years
45-64 Years
65 and Over
Total
1200
926
1506
1268
730
5630
Current Population
Male
Female
Total
Town & Environs
3,700
3,800
7,500
Within 10 Miles
6,500
6,300
12,800
Contents
Development Contacts
Local
Youghal Chamber of Tourism and Commerce

Postal Address:

Youghal Chamber of Tourism and Commerce,
Market Square,
Youghal,
Co. Cork, Ireland


Contact:

Valerie Mannix, Administrator

Telephone:
+353 24 92447
+353 21 92390
Fax:
+353 24 92447
E-mail:
youghal@tinet.ie
Youghal Urban District Council

Postal Address:

Youghal Urban District Council,
Town Hall,
Youghal,
Co. Cork, Ireland

Contact
Mr. Ned Brennan, Town Clerk
Tel:
+353 24 92926
Regional
Cork County Council
Website : http://www.corkcoco.com
East Cork Area Development Ltd.
96 Main Street, Midleton
Co. Cork
Tel: 021 613 432
Fax: 021 613 808
Email: ecad@tinet.ie
Contact: Mr Ryan Howard
National
IDA - The Industrial Development Agency
IDA Ireland is the Irish Government agency which ensures that overseas companies establishing or expanding their operations in Ireland receive the best advice and assistance. Ireland offers such investors a highly competitive package of investment supports.
IDA Ireland provides its services through dedicated teams of industry specialists in 15 offices world-wide.
IDA Ireland co-ordinates all the services and supports needed to ensure that your start-up or expansion is trouble-free and efficient - an experienced and professional 'one-stop-shop' to anticipate and meet your needs.
FORBAIRT
Forbairt was established by the Irish Government to provide services to Irish industry across a wide range of commercial activities, including management development, innovation, R&D, finance and technology transfer.
Contents

---
Web Design by ALIA