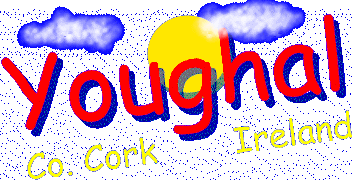 Youghal is a well-established holiday resort
The Annals of Youghal, in 1784, reported that:
"In the summer months great numbers resort to Youghall, for the benefit of the salt-water,.... With respect to amusements, the town is not without its share. Such as wish to dip in the news and politicks, can at all times be furnished with the public papers, by resorting to the Mall House, while billards and bagammon afford ample entertainment to others. ... drums and assemblies are regularly held two or three times a week."
"With respect to amusements", the town has moved a good way beyond "billards and bagammon".
Youghal is still a perfect place for a holiday.
Our visitors can choose to spend
a leisurely day visiting our potteries, craft shops and various coffee shops in a friendly atmosphere
or
a more active day availing of the many amenities offered for sport of all kinds to suit all age groups
a leisurely day on the beach or promenade watching other people being more active
The Visitor Centre, which is open all year round, incorporates the Tourist Office and Heritage Centre.
A visit to the centre is an essential first step to viewing the town itself. The staff will be pleased to answer queries, offer suggestions, and in every way help to make your holiday both pleasant and enjoyable.
The Town Trail begins here.
In the Heritage Centre, displays of artifacts, images and models illustrate the history of Youghal.
Outside, in the town, history is evident in the buildings and structures dating back to medieval times.
Heritage Guided walking tours take place daily in season at 11:00 a.m. (Off-season by arrangement).
The miles and miles of sandy beach are a special attraction, both for swimming and picnicking in the Summer and for those enjoyable and exhilarating long walks in Winter. Youghal boasts two Blue Flags (E.U. Standard of excellence). A section of this beach is supervised by trained lifeguards throughout the Summer.
A modern Fun Fair situated nearby offers a variety of fun and games to suit young and old.
Other activities include:-
Fox's Lane Folk Museum
See how familiar household items have changed since the 18th Century.
Restaurants
Youghal offers a variety of restaurants, including award-winning gourmet establishments. A range of prices is available for all tastes.
Shops
Youghal services a vast hinterland. This is reflected in the range of retail stores - from crafts to kitchen sinks.
Nightlife
Music is available in pubs and hotels, usually without special charge, in both Summer and Winter. Regular visits by top artists take place in a number of venues. Nightclubs are open most nights in Summer and at weekends in Winter.
Ceolta Sí
Traditional Irish entertainment from local groups.
Pubs
Pubs and bars line the main street, each offering the visitor a different form of entertainment - traditional sessions, local talent and national stars.
Activities year-round
Our Leisure section outlines some of the activities available both to visitors and to residents right throughout the year. These include:
Golf
Pitch & Putt
Tennis
Sailing and Yachting
Equestrian Centre
Hunting and Shooting
Sea and River Fishing
Greyhound Racing
Cinema
Sports, Arts, Culture
Adult Education
Clubs of all kinds
Festivals and Special Events
Festival of the Arts
July
Includes lectures, crafts, arts and music in and around the thirteenth Century St. Mary's Collegiate Church

Tour de France

July '98

Yes really! (Vraiment!)

See our Tour de France page for an example of the type of party that Youghal can organise.

International Busking Festival
Weekend of first Monday in August
Attracts performers from throughout Europe and farther afield

---
Web Design by ALIA