Movie History

Food and Drink
Photo Gallery

Moby Dick's

MARKET SQUARE, YOUGHAL.
Telephone: 024-92756
Why The Name Moby Dick's?
It was in 1954 that John Huston chose Youghal for the location of New Bedford for the movie "Moby Dick". The making of this movie brought such stars as Gregory Peck, Richard Basehart and Leo Genn to Youghal. During the months and weeks of building and filming, Youghal was a hive of activity and excitement with people visiting from all over Ireland and England. But it was in Paddy Linehan's pub that John Huston would sit in the morning and plan out the days shooting schedule. It was then in tribute to this unique time in the history of Youghal that Paddy renamed his pub.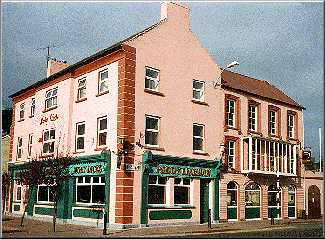 The Pub
Moby Dicks is situated in the centre of the town, on the N25 road to Cork City, in the harbour area. Next-door is one of the two main supermarkets, and within walking distance are the rest of the main commercial stores as well as other businesses. Parking space is readily available outside the pub, with a two-hour limit.
The pub itself is divided up into three parts. There is the lounge, with its windows facing east, gives a beautiful view of Youghal harbor and the comings and goings of the local fishing boats. In the small lounge one can watch the harbor, but also the Market Square as the windows face in two directions.
Then, from the bar, the view is of the Market Square.
What We Serve
We have a wide variety of beers in stouts, ales and larger, in both draught and bottle. Available also is a large selection of spirits, liqueurs and fortified wines that will suit all tastes. For those that are driving, or for children, we offer a wide range of minerals, soft drinks and hot beverages such as tea, coffee, hot chocolate and cappuccino.
All through the day we serve a large selection of freshly made sandwiches, which one can have toasted or plain. Then, at lunchtime, we also serve soup, homemade in our own kitchen.
Photogallery
When you visit Moby Dick's, be sure to have a good look around at the photographs that cover the walls, capturing the time and the story of the making of "Moby Dick". There are also scrapbooks collected over the years by Paddy and a Guest book to be signed. Be sure to ask for them.
---
Member of the Youghal Chamber of Tourism and Commerce