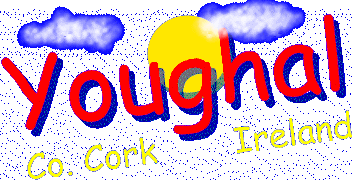 Tour de France '98
Youghal Tour de France Carnival
Friday 10th, Saturday 11th, Sunday 12th & Monday 13th JULY
FREE ENTERTAINMENT FOR THE FAMILY - ALL WEEKEND
The carnival will be officially launched on FRIDAY 10th July at 7pm.
A French Jazz Band and the popular "TAP THE BARREL" will be performing from 7:30pm to 11pm followed by a spectacular FIREWORKS DISPLAY at 11pm.
SATURDAY is Beach Day for the family, commencing with Children's Crab Fishing at Ferry Slip & Children's Art Competition. On The Strand there will be a Sandcastle Competition & Punch & Judy Show.
In town, there is entertainment galore! Ceolta Sí will entertain you. Street Theatre, "Galleon", "Brow Beats","Beat on the Street" & Karaoke will be performing through out the day.
SUNDAY a sensational Massed Band Parade makes it way through the streets of Youghal. Followed by floats and a Vintage Car Club parade.
At 3:30pm witness an impressive Marine Air / Sea Rescue Display by the I.M.E.S. Throughout the evening there will be "Music on the Streets" & "Dancing at the Crossroads".



Le Tour de France en Irlande
10:30am to Noon BUI BOLG TOURING STREET SPECTACLE.
The Tour Cavalcade passes through from 12:30 to 14:00
A detailed list of events is given below
OTHER EVENTS OVER THE WEEKEND
Pitch & Putt Competition at Claycastle
Guided Tours of 'Olde Town'
"200 Years of the Dahlia and the French" at the Blackwater Garden Centre
Art Exhibition in the Mall House
Great Entertainment in Hotels & Pubs
Perks Fun Fair & Family Entertainment
Eircell Press Photographers Association of Ireland Exhibition at The Community Centre
Golfing, Pitch & Putt, Tennis and Angling Competitions
Sailing Flotilla
Cycling Criterium
Carnival Ball
Waltzing Competition and much more
SYMPHONY OF THE BAY
| | |
| --- | --- |
| | A continuous selection of fresh seafood and other delicacies served in formal and informal Restaurants, Hotels, Pubs & Take-Aways. To suite all palates and pockets. |
Travel Notes
The bridge at Waterford will be closed to all traffic from approx. 7 am, so traffic from the East will have to take a route through the Carlow area.
Check with Gardai on where to cross the cycle route.
Youghal bridge is expected to be closed at approx. 9:30 am, and all traffic from the East into Youghal or on to Cork will be directed through Mount Uniake, etc.
From Midleton, traffic will travel on one side of the N25, on the East Cork Parkway to Cork City.
For those coming from the West to Youghal or on to Waterford/Rosslare, it will be possible to travel on the N25 as far as Midleton, and then traffic directions will be given through Mount Uniake etc., and on through Tipperary, Kilkenny, etc. to Wexford.
Check the newspapers and the Tour de France website for more details.
Detailed program of main events
6:30pm
St. Mary's Brass & Reed Band performing at Barry's Lane
7:00pm
Official opening of Le Tour De France Carnival by the Chairman of Youghal Urban District Council at Market Square.
7:00pm
L' Orcheste Nouvelle d'Orlean six piece French Jazz Band performing on Carnival Stage Market Square.
8:00pm
4 Mile Road Race organised by Youghal Athletics Club under B.L.E rule. Starts Friar Street and finishes O'Rahilly Street. Presentation of prizes.
8:00pm
Wine Reception for sponsors at the Devonshire Arms Hotel.
9:00pm
Toe tapping session with top band Tap the Barrel on the Carnival Stage.
11:00pm
Spectacular Fireworks Display over Youghal Harbour. Best viewed Quays area.
11:00pm
Carnival Discos/Entertainment in Hotels/Clubs/Pubs.
7:30am
Youghal Golf Club. Open Four Ball Competition all day. Time Sheet Tel: 024 92787. Sponsored by A.I.B.
11:00am
Children's Crab Fishing Competition at Ferry Slip
11:00am
Recital by Youghal Pipe Band performing at Market Square
11:00am
G.A.A. Under Age Hurling Tournament at Copperalley. Followed by presentation of prizes.
12:00 NOON
Karaoke Barty Murphy at Barry's Lane
2:00pm
Afternoon entertainment on Carnival Stage. Galleon performing live.
3:00pm
AT THE STRAND - Sand Castle Competition.
Punch & Judy show - Claycastle Carpark
4:00pm
Ceolta Si
A colourful programme of traditional music, sound, dance and folk lore drama.
6:00pm
Cycle Criterium Race under F.I.C Rules. Town centre route. Starting at Post Office followed by presentation of prizes.
7:30pm
Super visiting top band - the Brow Beats. Great show not to be missed. On carnival stage.
8:00pm
Carnival Ball at the Walter Raleigh Hotel. Cork City Jazz Band & Guest Artist Sean O Se. Dress formal. Dinner - 8pm Sharp. Tickets 18.50, available from the Hotel 024 92011 or Tourist Office 024 92447 & committee members. Prior booking necessary.
9:00pm
Beat On The Street - Community Radio Youghal 105.1 FM live on carnival stage.
11:00pm
Carnival Discos/Entertainment in Hotels/Clubs/Pubs
7:30am
Youghal Golf Club. Open Four Ball Competition continues. Time Sheet Tel. 024 92787.
10.00am
Youghal Tennis Club Carnival Celebrations.
Mixed Doubles Open Competition with a French theme. Special prize for best French costume. Sponsored by Kodak Cork Ltd.
11.00am
Sailing Flotilla around harbour by Youghal Sailing Club
11:00am
Boats depart for Open Deep Sea Angling Competition. Presentation of prizes at 7:00pm approx.
11:00pm
Jazz Menu lunchtime musical rag mix at Nealon's Quay.
2:00pm
Follow the Band - Mass Bands Parade
Floats & Vintage Club attractions commencing at Dolphin Square to 1798 Memorial Green Park.
3:30pm
Spectacular Marine Air/Sea Rescue Demonstration in Youghal Harbour organised by I.M.E.S. (Irish Marine Emergency Service).
4:00pm
CCMT Sound at 1798 Memorial Green Park.
8:00pm
Let's go Dancing at the Crossroads - Barry's Lane. Traditional music, dancing, craic.
10:00pm
Waltzing Competition in the Hilltop Hotel
11:00pm
Carnival Discos/Entertainment in Hotels/Clubs/Pubs.


10:30am to NOON
Bui Bolg Street Spectacle
Starting at Round-about and finishing at 1798 Memorial Green Park. This is an incredibly colourful parade of Golden Characters and talent not to be missed.
NOON to 12:30pm
Race News and Music from Community Radio Youghal at Barry's Lane.
12:30pm to 3.00pm
Le Tour De France en Irlande - Youghal Stage
7:00pm TILL LATE
Bop Until You Drop - Community Radio Youghal

---
Web Design by ALIA