IMPORTANT
AS OF JAN 1 2008,THIS WEBSITE HAS MOVED. CLICK HERE OR TYPE IN THE NEW URL http://web.mac.com/miriam.griffin/ANNALEE_AC/Welcome.html
Clodagh O'Reilly is 2007 All Ireland U11 Cross Country Champion. She won her race in Dungarvan on Sun 16th December. Well done Clodagh. Full results when available.
Annalee AC retains Winter League Sillan Tours trophy with a strong second day's performance. Full Day 2 Results available here. Overall Results here.
ANNALEE AC WINS THE 2007 COUNTY CAVAN CLUB OF THE YEAR AWARD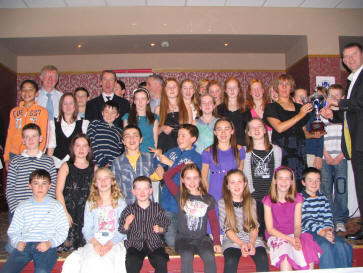 The 2007 Club of the Year trophy was awarded to Annalee AC at the County Cavan Annual Awards Dinner in the Kilmore Hotel on Dec 1st. Pictures above are many of the athletes and coaches who helped the club win this prestigious cup. On the right of the photo, Rose Marie O'Reilly accepts the cup from Ciaran O'Reilly, Kingscourt Bricks. Congratulations to the many nominees from the club, click link below for complete list and special congratulations to those receiving individual awards--Clodagh O'Reilly, Darren Watters, Gina Dolan, Cian O'Reilly, Fionan O'Reilly, Evelyn O'Reilly, Aiden Watters and Lyla Dolan. Andrew Creamer received an outstanding performance award.
Cavan Athletics Awards Night Dec 1st Kilmore Hotel for list of nominees--click here
NEXT event is.....2nd and final leg of the Winter League in Shercock, on Dec 9th starting at 11am sharp. Be there at 10-15 for warm up. All athletes should make a special effort to participate. Senior events starting at 12 noon.
Coaching and Training Courses available >>>click here or got to AAI site and follow links. Leader Course to be held shortly in Ballyhaise--?Nov 23rd. Anyone interested should give their name to the Coaches.
Annalee athletes in Ulster (13-18) development Squads....click here for info. Next Squad date Dec 1st.
Annalee AC fixture calendar for 2007-2008--click here***changed Ulster Dates
---
Latest Results--Ulster UnevenAges CrossCountry Championship, Stranorlar, Co Donegal Nov 11th 2007.
Clodagh O'Reilly is the Ulster 2007 U11 Girls Champion after she won on Sunday in the Cross Country Ulster Championships. Cian O'Reilly was second in the U17 Boys and Aodhagan Watters won a bronze medal in the Boys U11 Race. The Boys U11 won 3rd Club and were part of the Gold medal Cavan county team. The Girls U13 were part of the 3rd place Cavan County team. Full results--click here... Pictures below courtesy of Niamh.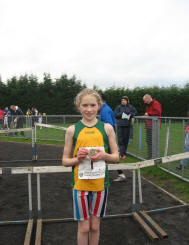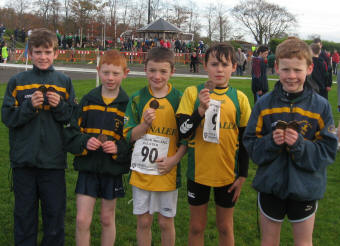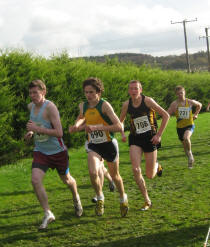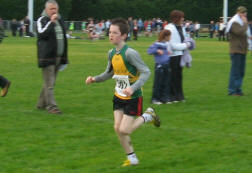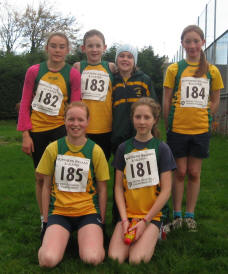 Nov 4th 2007 County Cavan Cross Country Championships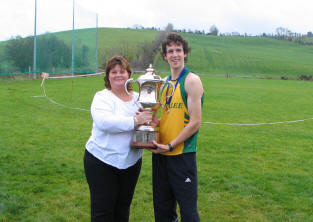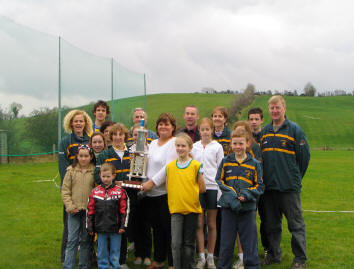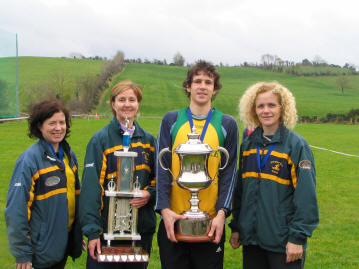 Annalee AC held on to the County Cavan Cross Country Championship trophy for the third successive year. The first two legs of the competition had produced a healthy lead for the club. However, Fionan O'Reilly followed up his second place in the Ulster Junior Race last week with a dominant performance in the Senior cross country championships as he led the senior men's race from the start and finished well clear of Martin Fulton, last year's winner to become the 2007 Senior Cross Country Champion. His race was watched by TP O'Callaghan, whose name was first on the trophy in 1962 while Brian O'Reilly of Laragh who first won the trophy 25 years ago ran in the race and finished a creditable 9th. To add to a memorable day, the Senior Ladies race was won by Louise Kiernan who had ran the Dublin Marathon on Monday last (finishing in 3hours and 05 minutes). Bailieboro AC won the Senior trophy on the day but Fionan's winning performance was then added to by the Annalee AC ladies team who finished 3rd overall. Dan Brady, a Senior competitor on the day had to pull out at a late stage of the race with a hamstring injury. Well done to all the runners who battled a hard, wet and hilly Cross Country course which proved a good challenge to the racers on the day. Photos show Fionan with the Senior Men's Trophy for 2007, Rose Marie O'Reilly accepting the 2007 Cavan Cross Country Trophy on behalf of Annalee AC and Mary Farrell, Miriam Griffin, Fionan O'Reilly and Evelyn O'Reilly, all medal winners on the day. The course can be seen winding up the hill behind. Many thanks to Bailieboro AC for their generous hospitality..
---
Ulster Cross Country Championships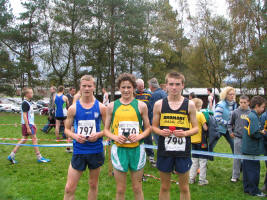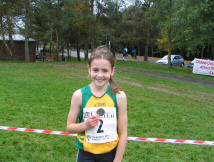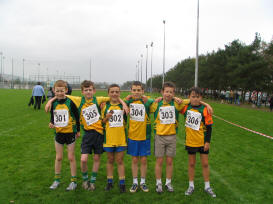 Ulster & NI Cross Country Even Age Championships, University of Jordanstown--Full Results click here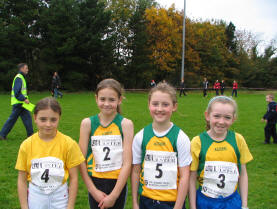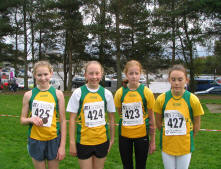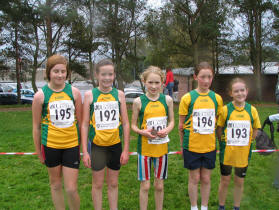 Cian O'Reilly was a superb winner of the Boys U16 Ulster Cross Country Championship race in Jordanstown on Saturday. He beat Adam Ingram, a recent AAA silver medal winner. The lead changed hands several times during the race but Cian went into first place with 200m to go and sprinted clear to the line. The Boys U12 Team of Caoimhin O'Reilly, Donal Monahan, Conor Bradley, Aodhagan Watters, Ciaran Schutten and Pauls Sexton won the Team gold medal and also formed the bulk of the County team which was placed second. Aine Brady was second in her race and had a hard fought battle but was just passed at the tape. Both 1st and 2nd finishers were given the same time. Aine led home the County U10 Girls team with Irene Rose Monahan which finished in the silver medal position. Yet another individual medal winner on the day was Fionan O'Reilly who finished in second place in the Junior Men's race (and 7th overall in the Senior mens). Clodagh O'Reilly finished 4th in her U12 race and will be eligible for the U12 again next year. Eadaoin O'Reilly also finished a close fourth in the Girls U14. Huge field in all the races were noteworthy with some races attracting over 100 entries. Despite this, the athletes from Annalee AC were competitive in almost all events.
-Results for All Ireland U10 and U12 Team Events available--click here. Results of Day 1/2 of Juvenile U13-U19 All Ireland--click here for Boys and Girls Results.
next event.......Relays are on Sunday July 29th in Tullamore.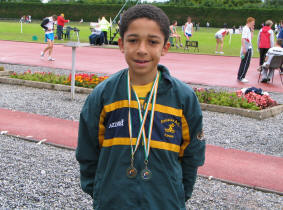 Andrew Creamer had great results at the All Ireland Championships in Tullamore with a silver medal in the U13 Boys 60m Hurdles and a bronze medal in a very competitive U13 Long Jump. Other athletes performing very well included Aoife Murphy who was 5th in the U13 60m Hurdles and had a top 8 finish in the U13 High Jump as well as Darren Watters who was 12th in the Long Jump and just missed out on qualifying for the final of the 250m Hurdles. Cian O'Reilly was 8th in the 1500m and Aodhagan O'Reilly battled illness to finish 10th in the 3000m.
In the Team events, Aine Brady had the 4th best time in the 60m and the 4th best long jump. Aine and Orla Brady finished 8th in the Long Jump and 12th in the 60m team event. Orla Murphy and Aisling Brady finished 8th in the U12 Long Jump. Caoimhin O'Reilly and Louis Coleman were 10th in the U12 80m with Caoimhin recording the 4th fastest overall time. There were some good performances in the relay with the U12 Boys in 6th, U11 Girls finishing 7th, the U11 Boys 8th and the U12 Girls 12th. Thanks to all the athletes and parents who travelled to Cork for this event.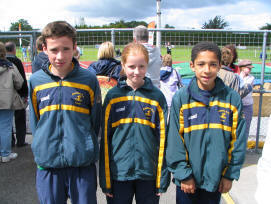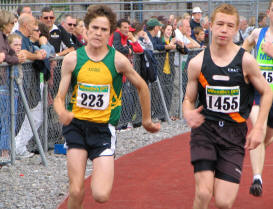 ---
More good results for the athletes of Annalee AC at the Antrim Forum on June 9th/10th 2007 where the second weekend of Ulster Track & Field Championships for the older age groups took place. There were three more gold medals for Gina Dolan in the Hurdles, Cian O'Reilly in the 1500m and Fionan O'Reilly in his 1500m event. Darren Watters won two silvers in the Hurdles and Long Jump events and Aodhagan O'Reilly was second in the 3000m. Eadaoin O'Reilly won a bronze medal in her 1500m. Aisling Bates, Pauric Moore and John Brady all performed well in their events. Full results available here for 1993/1994 and 1988-1992 age groups--click highlighted text.
Beech Hill College was wet and miserable for the Ulster U10 & U12 Children's Games and the U13 Track & Field Championships held on Sunday June 3rd 2007. Despite the terrible conditions, there was a good turnout of athletes and the standard of competition was high. Unfortunately, the wet weather and large numbers of competitors along with a late start resulted in a very long day for all. Thanks to all the parents who came and supported on the day. The results were excellent with two double Ulster Champions in Aine Brady and Aoife Murphy. Aine and Irene Rose Monahan were the gold medal winners in the U10 80m sprint and Aine went on to partner Orla Brady to win the U10 Long Jump. Aoife was first in the U13 High jump and U13 60mHurdles. Andrew Creamer won the Gold medal in the U13 60m Hurdles.
Silver medals were awarded to Orla Murphy and Aisling Brady in the U12 Long Jump, Ciara Fitzpatrick and Irene Rose Monahan in the U10 Long Jump, Andrew Creamer in the U13 Long jump and in the U13 80m sprint, Kian Monahan in the U13 Shot putt and Caoimhin O'Reilly and Paul Sexton in the U12 80m . Bronze medals were won by Lauren Sexton in the U13 Long Jump and in the U13 Hurdles, Conor Bates in the U13 60m Hurdles, Clodagh O'Reilly and Ciara Murray in the U12 600m and by Kian Monahan in the U13 Javelin. 4th places went to Sean Og Lawlor and Enda Fitzsimons in the U10 Long Jump. Aisling Brady and Ciara Murray in the U12 80m sprint and Aodhagan Watters and Donal Monahan in the U12 600m race. The relay teams had a long wait. However, the U11 Boys and Girls teams both won golds, the U12 Girls team won bronze and the boys U12 also were 3rd. Unfortunately, the U13 relay events were not held as Championship races despite being on the programme for the day. Congratulations to all the athletes who took part, Donal Monahan, Laura Young, Shane O'Neill, Niall Lawlor, Rachel Talbot, Roisin Bennett, Sean Og Lawlor, Enda Fitzsimons, Tomas McKiernan, Oisin McBreen, Aodhagan Watters, Sarah McDonald, Adrian Moore, Louis Coleman, Sarah Young, Sarah Donohue and Eleanor and Yvonne Brady. Pictures of some of the medal winners below. Full Results-click here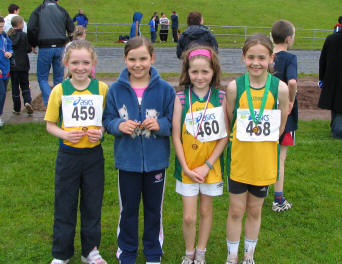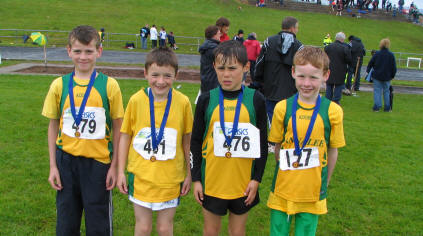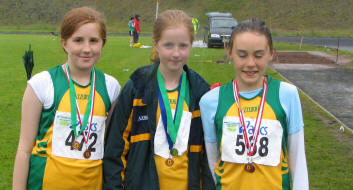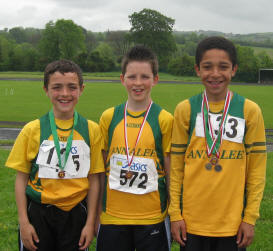 ---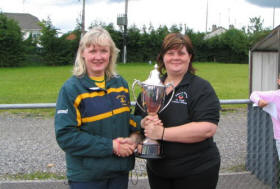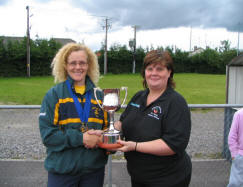 At the County Cavan Track & Field Championships in Navan on May 26th, 2007, Annalee AC retained both the Moynagh Cup for the u13, u14 and u15 age groups (above on left, accepted by Eileen Watters from Carol Kiernan) and the Kiernan Cup for the Masters Championships, above on right, accepted by Evelyn O'Reilly from Carol Kiernan). On a dry and sunny day, there were outstanding performances from many of the athletes with everyone who participated on the day winning medals. Full results available-- CLICK HERE. Photos from the event are posted below.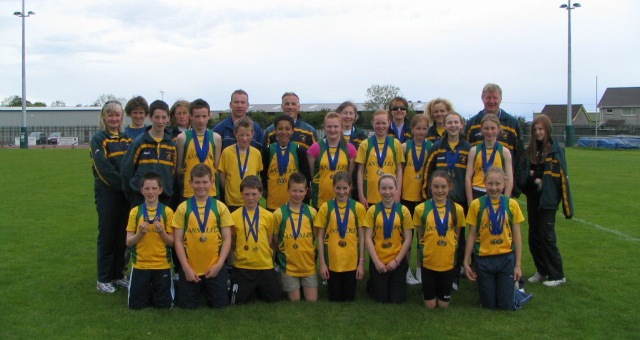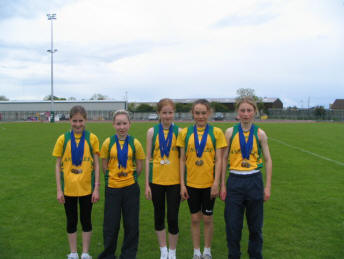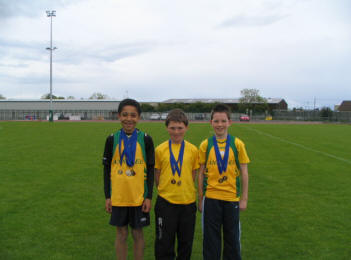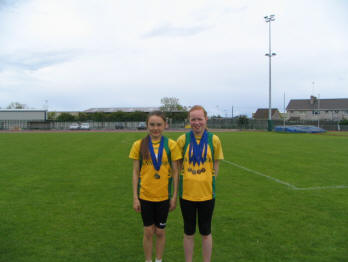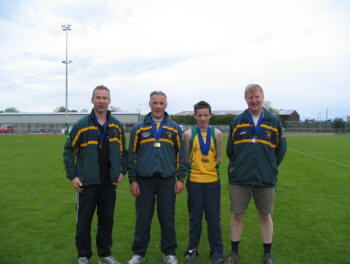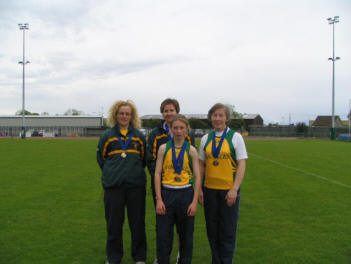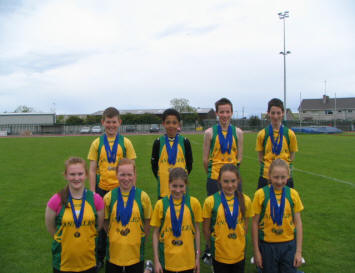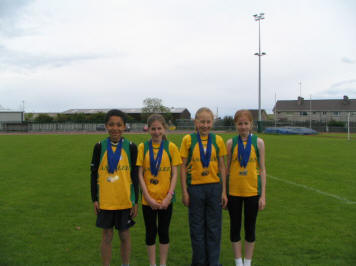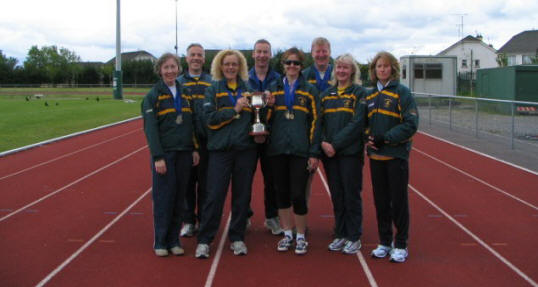 ---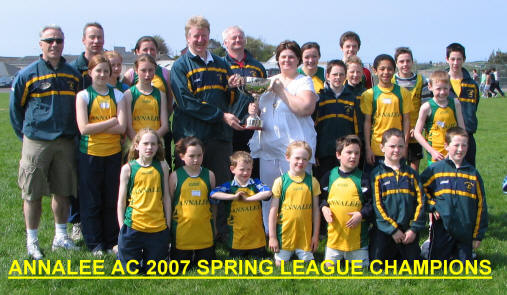 Congratulations to all the athletes who took part in the 2007 County Cavan Spring League. Annalee AC maintained their lead on the final day (24-04-2007) to retain the trophy despite a great 3rd leg performance from Innyvale AC. Full result link here courtesy of Hugh Fitzpatrick. Pictured above is Coach Rob Murphy receiving the Brian Webber Spring league trophy from Carol Kiernan, Chair County Cavan Athletic Board.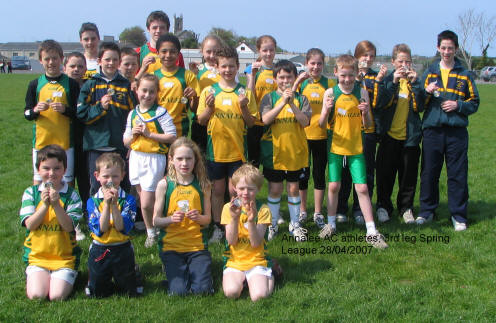 Latest Results Updated Mon April 23rd 2007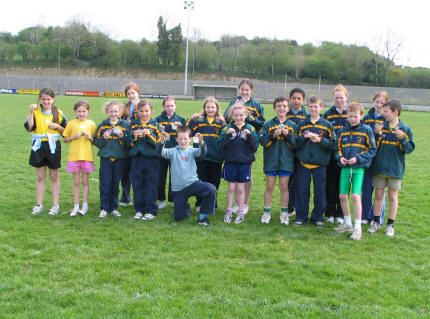 The U10s and U12s participated in the County Cavan Children's Games in Kilnaleck on Saturday April 21st. They did fantastically well with Aine and Aisling Brady winning two individual golds each and a third gold with their relay teams. Other top 1, 2 or 3 places on the day were awarded to Sean Og Lawlor, Irene Rose Monahan, Ciara Fitzpatrick, Orla Brady, Clodagh O'Reilly Caoimhin O'Reilly, Orla Murphy, Ciara Murray, Sarah McDonald, Caoimhin O'Reilly, Paul Sexton, Ciaran Schutten, Donal Monahan .The u10 Girls, U12 Girls, U12 Boys all won their relay events. Full results here, courtesy of Hugh Fitzpatrick
2007 AAI All Ireland Indoor Track & Field Championships, Nenagh, Day 3&4
Kian Monahan and Orla Murphy competed in the All-Ireland Shot putt event. Both threw personal bests but finished outside of the medals. Gina Dolan was 6th in the U14 600m. The girls U13 team ran over two seconds faster than their previous best time in the 4 X 100m relay and finished in 7th place out of 15 teams. The Boys U13 team also ran their fastest time but just failed to qualify for the final and they finished 6th overall.
2007 AAI All Ireland Indoor Track & Field Championships, Nenagh, Day 1 &2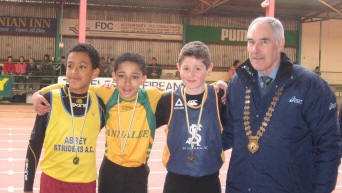 Andrew Creamer is AllIreland champion in the U13 Boys Hurdles sprint. He won his heat in a PB of 10.05 and went on to win the final and a valuable AllIreland Gold medal. Other performances on the day included PBs for both Aoife Murphy, 5th U13 Hurdles and Lauren Sexton 6th U13 Hurdles, Conor Bates ran well finishing 5th in his heat. Gina Dolan was second in her heat but hit a hurdle in the final. Sinead Moore had a good shot putt in a very competitive field. Andrew Creamer finished 5th in the Long Jump. Lauren Sexton ran well in her heat but didn't qualify for the U13 sprint final. Caoimhin O'Reilly got through to the final of the U12 Boys sprint but didn't finish among the medals. He just missed out on qualifying for the u12 600m despite feeling unwell during the race.Well done to all the athletes.
Day 3 &4 of the All-Ireland Indoors will take place on April 14th-15th.
The 2nd leg of the 2007 Spring League was hosted by Bailieboro AC on Sun 11th March. There was a big turnout of athletes despite the inclement weather. Congratulations to all the athletes who participated. They have helped the club to a total of 98 points and 1st place in the league going into the 3rd leg. Gold medals were awarded to Aine Brady U10 300m, Sean Og Lawlor U10 300m, Cian O'Reilly, U16 800m, Lauren Sexton, U13 60m, Gina Dolan U14 800m Clodagh O'Reilly U11 Long Jump and Ciara Murray U12 600m. Silver medals went to Caoimhin O'Reilly U12 600m, Sarah McDonald U12 600m, Paul Sexton U11 60m, Sarah Young U11 60M, Yvette Schutten U13 60m, Eadaoin O'Reilly U14 800m, Darren Watters U14 800M, Andrew Creamer U13 60m and Aodhagan O'Reilly U18 300m. 3rd place medals were awarded to Irene Rose Monahan U10 60m, Ryan Little U16 800m, Pauric McGurran U18 300m, Conor Bates U13 60m, Donal Monahan U11 60m and Aisling Brady U12 600m. Well done to all. There are a few results outstanding and I will add them when available.
Cian O'Reilly was 2nd in the Irish Schools Cross Country.
2007 Ulster & Northern Ireland Winter Track and Field Championships Feb 10, 17th and 18th 2007
The athletes of Annalee AC enjoyed their most successful outing at the 2007 Ulster & Northern Ireland Winter Track and Field Championships with individual medal-winning performances in 16 events and 2 relay medals. There were Golds for Kian Monaghan (Shot putt 13), Lauren Sexton (Hurdles 13), Caoimhin O'Reilly (600m 12) and Andrew Creamer (Hurdles 13). Orla Murphy won the silver medal in the U12 Shot putt. Gina Dolan was 2nd in the 60m Hurdles and 2nd in the 800m. Cian O'Reilly was 2nd in the Boys 800m. Eadaoin O Reilly and Sinead Moore both won bronze medals in their respective shot putt events. Aoife Murphy was leading the race in the 13 Hurdles until she clipped the final hurdle and fell but she still managed to get over the line for the bronze medal. Conor Bates ran a great race in the Boys U13 Hurdles to finish 3rd despite being unwell on the day. Lauren Sexton had a great meet and finished 3rd in the 60m sprints. Andrew Creamer won bronze medals in both the 13 Long Jump and 60m sprint. Caoimhin O'Reilly won a further silver medal in the 60m U12 sprint. He had showed his sprinting skills in the 600m race with a blistering final 200m when he overtook his rivals to win. The Girls U13 Relay team of Laura Young, Yvette Schutten, Lauren Sexton and Aoife Murphy won a very tough 4 X 100m relay. The Boys U13 team of Kian Monaghan, Conor Bates, Louis Coleman and Andrew Creamer won the silver medal in their race. The Boys U12 were desperately unlucky to drop a baton but showed great spirit to catch up. The Girls U15 team also finished 4th with a great final leg by Aisling Bates. The Girls U12 team of Aisling Brady, Roisin Bennett, Orla Murphy and Ciara Murray battled hard to finish 6th overall. Other excellent performances came from Aisling Brady, 5th in the U12 Long Jump, Laura Young (6th) in the U13 600m with Yvette Schutten and Diane Trenier close behind, Yvette Schutten in the final of the U13 60m, Aoife Murphy, 6th in the Long Jump, Ciara Murray and Sarah McDonald who both finished strongly in the U12 600m, Yvette and Diane Trenier in the U13 Shot putt and Louis Coleman who was 6th in the final of the 60m sprint.
Day 1 full result link Check Ulster Athletics site for more photos--click here
| | |
| --- | --- |
| | |
| Ciara in the U12 Girls Relay | Boys U13 Silver medal 4 X 100m Relay |
| | |
| Aoife maintaining the lead to win in the U13 4 x 100m relay | Ulster Champions, Caoimhin U12 600m and Lauren, U13 60m Hurdles |
| | |
| --- | --- |
| | |
| Caoimhin sprinting to the finish in the U12 600m | Andrew and Conor, 1st and 3rd in the U13 Hurdles |
| | |
| --- | --- |
| | |
| Eadaoin,3rd Shot Putt, Pauric and Gina, 2nd in the 600m and 60 m Hurdles | Cian O Reilly Silver 800M and Sinead Moore, Bronze Shot Putt |
Well done to Annalee AC Sportshall athletes. The club won the overall U11 and U12 competitions. Also , congratulations to Gina Dolan, Clodagh O'Reilly and Cian O'Reilly, winners of their respective races in the 2007 Ras na hEireann and also to Eadaoin O'Reilly and Donal Monahan who came second in their races. The U11 Boys won the best club.
Annalee AC athletes Aodhagan and Caoimhin O'Reilly win All Ireland gold medals
Killybegs was the site of the AAI B Cross Country Races and the Intercounty Relays on January 28th 2007. Once again, Annalee AC athletes performed fantastically with the season's training paying off. Aodhagan O'Reilly won the boys U17 race with a gritty run in cold windy conditions. Caoimhin O'Reilly won the Boys U11 race with a great sprint finish. He led home fellow Annalee athletes Donal Monaghan in 4th, Louis Coleman in 5th, Gavin Sherlock, Aodhagan Watters, Ciaran Schutten and Paul Sexton. Annalee were 1st club in the Boys U11 race and Cavan 1st County. The Girls U11 team of Ciara Murray, Sarah McDonald, Orla Murphy and Roisin Bennett ran well in the tough conditions and finished as 4th placed club. Darren Watters was the sole Annalee athlete in the U13 Boys. In the relays, the girls u12 County team were 2nd with Yvette Schutten, Laura Young, Lauren Sexton, Aoife Murphy, Edel Kiernan and Emma Duffy making up the team and subs. The Boys u12 County team won their race with Annalee athlete Conor Bates being joined by Niall Clerkin, Tadhg McGahern and Aaron Fagan. The Girls U14 County team also won. Gina Dolan of Annalee AC ran the anchor leg. Other Cavan athletes incleded Nigel Farrelly of Bailieboro who won his race and Barry Cooney of Shercock who placed second in the U13 Boys. Congratulations to all the Cavan athletes on the day.
| | |
| --- | --- |
| | |
| Aodhagan O'Reilly 1st place | Boys U11 |
| | |
| Girls U11-4th placed club | Boys U12 Relay 1st place |
| | |
| --- | --- |
| | |
| Girls U12 Relay 2nd place | Girls U14 Relay 1st place |
ANNALEE AC ARE RUNAWAY WINNERS OF THE SILLAN TOURS CUP 2006 WITH A TOTAL OF 211 POINTS OVER 3 LEGS OF THE WINTER LEAGUE.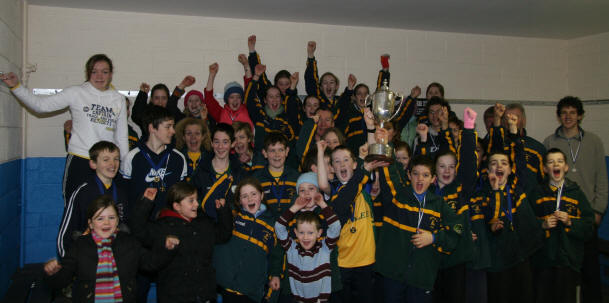 Full report and more photos to follow.
Results of 3rd Leg. Click here
Overall Winter league Standings. Click here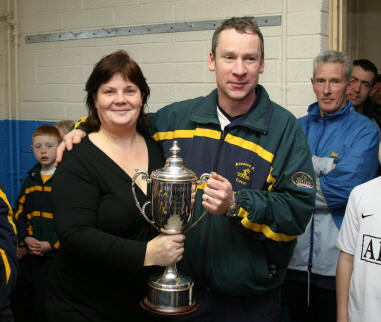 ---
STORMONT CROSS COUNTRY RESULTS 6TH JANUARY 2007 full results link...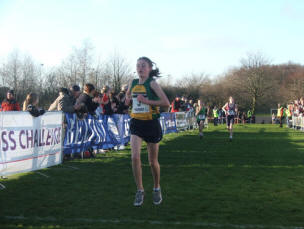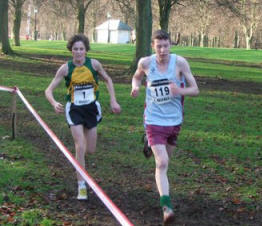 Fantastic results for the Annalee AC athletes who entered. Well done to all. Clodagh O'Reilly 2nd place, Gina Dolan 3rd--1st Irish , Eadaoin O'Reilly 8th--4th Irish, Cian O'Reilly 8th--3rd Irish, Aodhagan Watters 6th, Aodhagan O'Reilly -70th, Fionan O'Reilly 28th.
results for 2nd leg of the County Cavan Winter League--link here
NEW***2-page EVENTS CALENDAR FOR ANNALEE AC ATHLETES 2007 click here
---
Congratulations to Gina Dolan, a brilliant 4th place in the recent All Ireland race held in Athlone and to Cian O'Reilly who finished 7th in his event.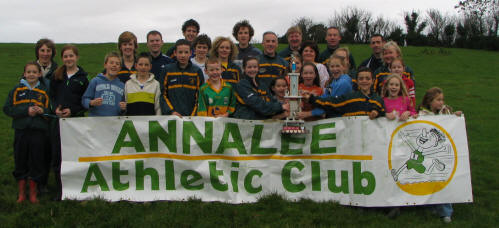 ANNALEE AC are 2006 County Cavan Cross Country Champions.
---
Training
Wednesday at Ballyhaise, 18-30 to 19-30 hrs
Sunday at Ballyhaise, 12-00 to 13-00hrs
Monday at Belturbet, 18-30 to 19-30 hrs
Interested in Joining?
Just come along to any Training Session.
---
---