Killadysert
(church of the hermitage), 22 km south-west of Ennis, is named after St. Murthaile, who had a hermitage there. The remains of a medieval parish church with dwelling-tower can be seen.

Canon Island
There are a number of islands in the Fergus Estuary including Inis Gad, or Canon Island. It has a ruined, early 13th century priory (St. Mary's) of the Canons Regular of St. Augustine, founded by King Donal Mor 0'Brien of Limerick. The remains comprise of a church, cloisters, kitchen and refectory, with dormitory overhead.

Labasheeda
(Sheedy's - or Silken Bed)
The Martello tower at the end of the peninsula guarded the approaches to the Shannon estuary during the Napoleonic wars.

Killimer
(Cill lomair - Church of St. lomar)
St. lomar was a contemporary of St. Senan of Scattery Island (6th century). The village has a holy well and flagstone connected with the saint.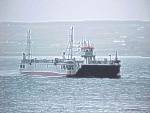 Killimer is the terminal for the car ferry linking Clare with Tarbert in Co. Kerry.
The churchyard contains the grave of Ellen Hanley, the Colleen Ban of Gerald Griffin's novel, Boucicault's play and Benedict's opera and The lily of Killarney. She was tradgically murdered by her jealous husband, John Scanlon, who disposed of her body in the Shannon. Her grave is marked by a monument erected by a teacher, Peter O'Connell, who found her body and shares her grave.

Kilrush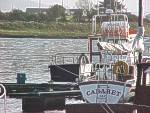 (Church of the promontory or wood)
A busy market town with access to the Shannon.
Dolphin watch trips operate daily.
The Visitor Center in Kilrush has the "Kilrush in Landlord Times" exhibition. Another interesting attraction is the Scattery Island Visitor Center.
Kilrush Wood, occupies 170 hectares east of the town. The wood was formerly the Vandeleur Demesne. (Ruined Vandeleur House was demolished in 1973.) The wood contains beautiful, mature trees planted in the 18th century.
The town has a noticeable memorial to the Manchester martyrs of 1867, constructed by J. K. Bracken of Templemore, Co. Tipperary. Bracken was father of Brendan (later Lord) Bracken, friend of Winston Churchill nd a member of his wartime Cabinet.

Scattery Island
(Inis Cathaigh)
2.5 km from the mainland, reached by taking a boat from Cappagh Pier.
St. Senan founded a monastery in the 6th century, which did not survive the Viking raids intacted. (9th and 10th centuries) The remains include several churches dating from the 9th to the 15th centuries and a well-preserved round tower. Brian Boru recaptured the island after a century of Viking occupation.