Sli na Mara
(Coast Road)
On the N68 heading west from Moyasta, turn left after 4 km for Sli na Mara (signposted). A scenic, coastal drive round the Loop Head Peninsula, ending in Kilkee. The road skirts Poulnasherry Bay and, passing through the villages of Querrin and Doonaha and Carrigaholt.

Doonaha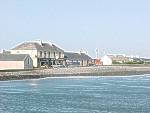 Birthplace of the eminent Irish scholar, Eoghan O Comhraidhe (Eugene O'Curry, 1796-1862), after whom the college of Irish at Carrigaholt was named. (Irish was generally spoken throughout Clare up to the time of the Great Famine.)

Carrigaholt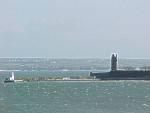 (Carraig an Chabhailtaigh - rock of the fleet)
The village faces east into Carrigaholt Bay on the Shannon and has a delightful beach and Dolphin watch trips operate daily from Carrigaholt Pier.
Armada ships sheltered here in 1588.
Carrigaholt Castle. The remains of a MacMahon castle, captured in 1599 by the Earl of Thomond and given to his brother, Donal O'Brien, predocessor of the Viscounts Clare of Clare's Dragoons fame. (The Dragoons were part of the late 17th and 18th century Irish Brigade of exiles in the French Army). The castle later passed into the hands of the Burton family after the Williamite wars.

Kilbaha
Nearby, in Moneen church the Little Ark, a moveable wooden shelter is preserved.
It was devise by Fr. Michael Mechan in 1852, so that mass could be taken on the foreshore between high and low water where severe property laws could not be enforced by the bigoted local landlord who strived to prevent Catholic practises in the area.

Loop Head
(Leim Chon Chulainn (Cuchulain's Leap)
It was here the legendary hero Cuchulain leap from the mainland to a far off crag, (called Diarmuid and Grainne's rock for no apparent reason!), in order to conceal himself from a hag or witch called Mal.
The Lighthouse marks the western-most point on the Clare mainland and is surrounded by dramatic looking cliffs rich in bird-life.
There is a spectacular panoramic view of the Kerry mountains, Limerick on the other side of the Shannon estuary, the Aran Islands and the Twelve Bens of Connemara.

Bridges of Ross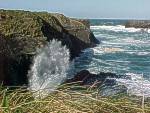 (8 km from Loop Head)
There where previously two natural bridges at the entrance to an inlet here. Today only the inner arch remains intact, the outer has been eroded by the unrelenting ocean pounding against the cliff face.
The village of Cross is not far away.
Also in the area are the ruins of Kilballyowen parish church, and Doondillroe promontory fort.
The spectacular cliff scenery on the road to Kilkee includes a column of rock, known as Bishop's Island. On its summit are the ruins of an ancient oratory, which indicates that the column was part of the mainland at one time.

Kilkee
(Cill Chaoi - St. Caoi's Church)
A popular holiday resort since Victorian Times, spread along a lovely crescent beach in Moore Bay. In the past the affluent families of Limerick City built summer villas, "lodges", close to the beach which offered safe swimming, ocean breezes and interesting walks.
The Diamond Rocks and Pollock Holes- holes which retain the sea water when the tide goes out, forming natural swimming pools, are worth a visit.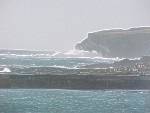 There are breath-taking cliff walks at both ends of the beach, which is safe and suitable for families.
Amenities include tennis, squash, golf, pitch and putt, children's amusements, skin diving and other water sports.
The Sweeney Memorial Library is an excellent public facility built with the aid of emigrants and Kilkee Visitors center allows visitor to gain an insight into local heritage. The remains of a once popular spa can be seen at Fooagh, near the town.