by Timmy Griffin
The Parish of Ballymacelligott and the game of Handball have, throughout the past five decades, been inseparably linked. It all began in 1950 when Fr. Denis Griffin C.C. organised voluntary labour to build a handball court on land provided by the late Mr. Jimmy McEllistrim. The court was an open 60 X 30 four walled structure with a gallery which had accommodation for 200 spectators. From its earliest years it became a popular venue for Inter-County Championship games. In the sixties annd seventies, Ballymac's fame in handball circles rivalled such venues as Talbot's Inch, Croke Park, Ballymore Eustace, Tuamgraney, Ballymote and Kells. A major advance was achieved in 1968 when the court was roofed and so ended our worries about the vagaries of the weather. Yet another milestone was reached in 1976 when a new International Regulation Size 40 X 20 court was added.
The greatest handballers of the era graced the Ballymac courts, cheered on by thronged galleries. Let me mention a few:- Joe Bergin, Joe Hassett, Paddy Downey, Jimmy O'Brien, Joey Maher, Paddy Hickey, Tom and Pat McGarry, Martin Mullins, Peadar McGee, Mickey Walsh, Paddy Bollingbrooke, Joe and Christy Delaney, Pat Sheeran, The Kirby brothers Mick, Pat, Rip, John and Joe, and Pakie Ryan. All the above-mentioned were star players but the crowds flocked to the Ballymac venue, not because of them, but to support the McEllistrim brothers Roundy and Murty - both of them worthy All Ireland Champions and ranked among the finest exponents of the game. Roundy was the complete stylist and possessed every shot in the book. His exploits on and off the court are already enshrined in folklore. He stands alone in handball history as the only man ever to win four junior All Irelands in the same year. And none of us who were there will ever forget his historic Gael Linn Cup win on a memorable night before a packed Croke Park Gallery. And who could forget the many titanic battles waged by Roundy and Murty which yielded All Ireland senior titles and Tailteann Games awards. Murty may not have Roundy's range of shots but his agility on the court, allied to his never-say-die spirit, made him a very difficult opponent to beat. In addition to his numerous victories as a member of the McEllistrim duo, Murty went on to partner another great player, Nicholas Kerins, to All Ireland glory, and his many memorable tussles with Joey Maher were unforgettable. Remember too that it was Murty who brought the first All Ireland handball medal to Ballymac when as a frail youngster he beat Sligo star Marcus Henry in a Minor All Ireland final
. If the McEllistrims were the trailblazers, several others followed in their footsteps and wore the green and gold with distinction in handball courts throughout the length and breadth of Ireland. Let us start with the O'Connor brothers, Thomas, Sean, Michael and Brendan. Then we had J.P. and Kelly Leen, Tony O'Doherty, J.J Bonn, James O'Connor, Michael Leen, Denis Dunne and Murty McEllistrim's sons Seamus, Don and Kevin.
We remember too the great contribution made by our girls to Ballymac's handball success. I refer to the Twomey sisters, Marie, Shiela, Eileen and Deirdre, Siobhan Leen, Joan Hanafin and the O'Doherty sisters, Aine and Marian.
The all-round strength of handball in Ballymac was proved beyond doubt in 1975 when Roundy and Murty McEllistrim teamed up with Nicholas Kerins and the Leen brothers, J.P. and Kelly to win the All Ireland Club Championship, beating the renowned Kilkenny club, Talbot's Inch in the final. Ballyporeen was the venue on that memorable occasion. It was indeed my good fortune and privelege to have been Kerry Board Chairman during Ballymac's greatest years. At this point we would like to pay tribute to many others who contributed handsomely to Ballymac's handball story. In this context we list Georgie Groves, Dick McEllistrim, Bill Laide, Christy Redmond and Michael O'Sullivan.
There were, of course, many others who got and gave a great deal of enjoyment in the ballcourts of Ballymac and they will be remembered for their contributions to the game of handball which they kept alive through good times and bad. Behind the scenes, several others served us well down the years. The late Tom O'Connor's contribution was immense. Indeed, but for 'Foxy Tom', the local club would have gone out of existence. Others we remember are Fr. O'Donoghue, who blessed the courts at the inaugural opening, Fr. Kissane, Jack McEllistrim, Mick Falvey, Seamus Byrnes, Tom McEllistrim T.D., Michael Lynch, Jerry Savage, Paddy Groves, Thomas Dowling and very many others. Let me at this juncture pay tribute to another group of people.
Some years ago the game was at a very low ebb in Ballymacelligott. It was then that Brendy Bonn and Tom Leen and their families did trojan work. Through the good offices of Tom McEllistrim T.D., they applied for and obtained a grant to repair the roof and put down a new floor in the 40 X 20 court. On the day of the re-openinng of the refurbished courts, a number of games were played, with the reigning All Ireland Champion, Duxie Walsh of Kilkenny playing Mickie Walsh of Roscommon in an exhibition match. The crowds flocked to the alley once more to see the champions in action, and particularly to support Roundy McEllistrim, who came out of retirement for the occasion. The old champion did not let them down. Though a little stiffer and a little greyer than of old, he treated spectators to a great display of all that is best in the game. The crowd loved it and cheered his every shot. And when he killed the ball 'stone dead' like of yore, it was like old times as the gallery 'lifted the roof'.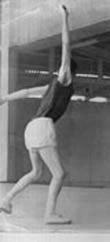 Murty McEllistrim
in action



Roundy McEllistrim



Eileen Twomey Group



Early days with Murty
and Roundy



All-Ireland Champions
Jimmy O'Brien and
Paddy Downey played
regularly at
Ballymacelligott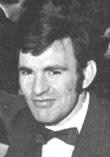 Murty McEllistrim:
the first Ballymac
player to win an
All-Ireland Handball
Medal