Pride of Ireland Kilt

By far our most popular kilt has been the Pride of Ireland, which we carry in stock.
Its colours blend so well with a range of different shades of neckwear including ivory, gold, ruby and sage.
This kilt can also be worn with white, black or ivory shirts, or black or white ghillie shirts.
In a wedding party the groom would wear the plaid and brooch to distinguish him from the rest of the wedding group.

See our F.A.Q. page for details on hire.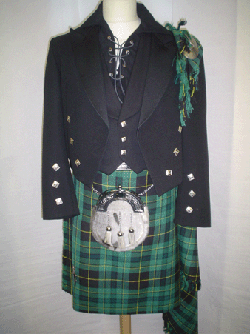 Black Ghillie shirt