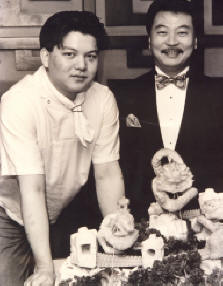 1) Eric (left) pictured with another winning design
2) Eric with his high quality wine selection
Eric Loke
Eric Loke, owner and head chef of Blue Ocean, is a much travelled and vastly experienced man. Steeped in the finest traditions of Eastern culture, Eric learned his trade in London's Chinatown, and has also spent a considerable part of his career in Malaysia.
Last year, Eric was invited to join a team of cooks who had the privilege to cook for the Chinese Prime Minister on his visit to Killarney. Eric is no stranger to Ireland, where he has lived and worked for several years.
Eric is also an accomplished artist, with many of his creation adorning the wall. Eric is an artist with both his canvas and food.
Eric is well known by his peers for his truly outstanding sculptures, using many different types of food.
For more examples of Eric's unique artistic endeavours, click here