Coolagh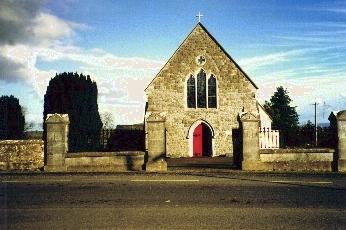 Church at Coolagh
The church of Our Lady, at coolagh was dedicated by archbishop Abraham Brownrigg on the 4th October 1896. The foundation stone had been laid the previous year on the 28th April 1895. The site was donated by Mr.Paddy Moore, Coolaghmore House. The building contractor was Mr. Michael Kerwic from Callan.
As far as can be determined, the first church of the parish of coolaghmore was Kyle Coolagh in the Churchyard. In the thirteenth century the parishes of Callan and Coolaghmore were united and two new churches were built, one in Callan and one in Coolagh. The new Coolagh church was on Coolaghmore Hill. The ruin is still visible. This remained in use until the Penal Laws were introduced in the seventeenth century when Catholics were forbidden to practice their religion.
During the penal days Mass was celebrated in secret places. Two of these are remembered in the Coolagh district. One, called the "Mass Pit" off Somers Lane; the other was at Bosheen-an-Afferin" in Courtnaboola. When the Penal Laws were relaxed a small church was built with mud walls and a thatched roof on the site which is now the carpark opposite the present church. In 1818 this building became a school and the church on Coolaghmore Hill was restored for use. It remained in use until 4th October, 1896 when Mass was first celebrated in the present church.