EVOLUTION OF THE CHOSEN FEW MC IRELAND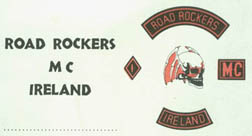 The club went through a four stage transition period.  It's origin was the Road Rockers M.C. Ireland.  They flew a patch for twenty two years and became one of Ireland's most established clubs.   All of it's members drove British bikes.  This ruling then changed along with the name of the club which was changed to the Family M.C. Dublin, which lasted three years.





From there, due to the long friendship with the Chosen Few M.C. Belfast, the Chosen Few Dublin emerged.  It was an alliance that was to last three years.  The Executioners M.C. were also taken on board to become  Chosen Few Fermanagh, Tyrone and Armagh.  Fermanagh and Armagh later merging to become West Coast.

It all changed when certain members left to become A.O.A.  This then left Dublin and part of the Belfast chapter.   Dublin Chosen Few then became Chosen Few M.C. Ireland and came into alliance with the other four southern M.C. clubs.  And so the Chosen Few M.C. came into being.
The Chosen Few MC Ireland
MANY ARE CALLED BUT FEW ARE CHOSEN


© 2003 The Chosen Few Ireland MC - All rights reserved                                     

MANY ARE CALLED


BUT FEW ARE CHOSEN