The following are excerpt's form the "Mayo News" 3rd May 2000.

"...I used to paint when I was a teenager and my brother was a painter also, it appears it's in the family. When I put my hand to it again, I sold quite a few, so I decided to keep it up! It's a lot better than watching the box..." he joked.

Chris did not blindly stumble into this 'new skill', most of his life has been spent sketching, drawing and illustrating.

"...The inspiration comes from in here..." gently tapping his head. The views alone from his sitting room are ample evidence of his not having to move one inch for further stimuli.
A sweeping expanse of choppy seas hemmed in by a cushion of rugged land is an artists dream.

Based in Bristol during the sixties, Chris trained as a commercial artist. Animation or cartoons were his strength. "...There was good demand for animation as they were shown between pictures..."

Chris Harper sold his first painting when he was 18, what odds that he'll be selling them when he's 80?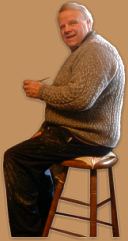 Aasleagh Falls
Chris Harper Snr.,
Kilsallagh,
Lecanvey,
Westport,
Co. Mayo
Ph: 098 66358
Fax: 098 66432
Email:
rapids@eircom.net