Golf
There are 5 superb golf courses within a 20 minute drive of one another and Church Villa B&B. The most compact golf circuit, outside Dublin, in the country.
Dunmore East - situated on coast - 5 minute walk from Church Villa B&B with panoramic views (see photo below)
Faithlegg - Par 72 on the banks of the River Suir. "Golf World" ranked it in the top 10 best new courses in Britain and Ireland in 1993.
Waterford Castle - Par 72. Ireland's only true island course situated in the estuary of the River Suir.
Waterford - Renowned for the quality of its greens and park lands. The course overlooks Waterford City.
Tramore - Breathtaking mountain views. 18 hole championship course.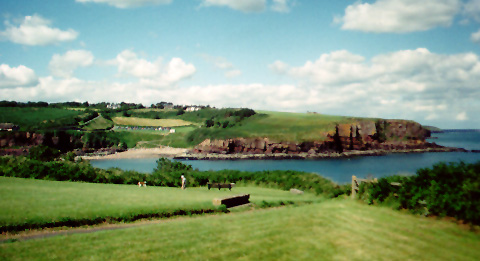 Dunmore East Golf Course
A Golfer's DREAM DESTINATION!
4 day Golf Classic runs the beginning of April each year! Dunmore East and surrounding areas hold a festival programme during the Golf Classic so that evening entertainment is an added attraction!
But wait there's more golf . . .
Other nearby golf courses:
Dungarvan - Championship course set against the backdrop of Dungarvan Bay.
Gold Coast - Coastal course boarders the Atlantic Ocean.
Lismore - (9 hole) Beautiful park land course along the Blackwater River.
West Waterford - Famous for its views of the Comeragh and Knockmealdown Mountains and built on the River Brickey
Waterford Municipal - One of the longest inland courses in Ireland set on beautiful countryside
Church Villa B&B will be happy to arrange customized golf packages and or tee time upon request.