We are in the process of moving from this site, all further updates will be our new site "www.corkboatclub.com". On behalf of the members of Cork Boat Club I would like to thank Brian McCarthy for designing our new user friendly web page. There are many new features including a comments section. I would encourage all interested visitors to use this section. Dan Buckley (Captain).
Welcome to Cork Boat Clubs official web site.
Cork Boat Club is located in the Village of Blackrock approximately 2 miles from the centre of Cork City. The club is open most evenings and Saturday and Sunday mornings.
The club is affiliated to the Irish Amateur Rowing Union. We would like you to browse through our web site and let us know your comments. Enjoy!!
News
24th November - Muckross Head of the River (4th December). The following crews have been entered for the Muckross HOR which is taking place at the National Rowing Centre. Mens Open 8 A, Mens Open 8 B, Mens Open 4 A, Mens Open 4 B, Mens Open 2- A, Mens Open 2- B, Mens Novice 4, Womens Open 4+ A, Womens Open 4 + B, Womens Junior 18 4-, Womens Junior 18 2X, Womens Junior 18 2-, Womens Junior 18 1X, Womens Junior 16 4+, Womens Junior 15 4X+, Womens Junior 16 8, Womens Novice 4+, Mens Junior 14 4X+, Mens Junior 15 8, Mens Junior 18 4x+, Mens Vet 8. Best of luck to all crews
22nd November - Killorglin Rowing Club Head of the River. Well done to all crews that took part in Killorglin especially to the Mens Junior 18 4X for winning their first race. The crew from bow was David Humphreys, Eoghan Bresnihan, Richard Murphy, Emmet Foley and cox Robert Clune. The club took home five pennants as follows: Mens Senior Eight, Mens Intermediate Eight, Mens Vetern Eight, Mens Junior 18 4X and Womens Junior 18 Four.
18th November - Killorglin Rowing Club Head of the River The following crews are entered for the trip to Kerry: Mens Senior eight, Mens Intermediate eight, Mens Vetern eight, Mens Junior 16 eight, Womens Junior 16 eight, Mens Senior 4+, Mens Senior 4-, Womens Senior 4-, Mens Intermediate 4-, Mens Junior 18 4X, Mens Junior 15 4X, Mens Senior Pair, Mens Intermediate Pair,Womens Junior 2-, Womens junior 18 2x. A bus will be leaving the club at 7am and returning at 6pm.
12th November - Parents Meeting A parents meeting has been scheduled for Sunday next at 11am.
11th November - Sunday Morning coming down Some recent photos.

Junior 16 Girls

The Lads

More Lads
23rd October 2004 - List of Past Officers now posted in the archives . There is a new list of past officers of the club posted in the archives page, however there are a lot of gaps. If you know of anyone who could help us to fill in the gaps, or if you were an officer at that time, then please contact us at +353 (086) 2594721 or buckleydan@eircom.net
21st October 2004 - Tickets now available for the Club Dinner Dance. Tickets available from Daniel Murphy. Price €40.
21st October 2004 - Galway Head Cancelled. Training will be as normal for Junior Men & Women.
18th October 2004 - Bus for Galway Head. Leaving the club at 06:30am. Leaving Galway at 05:00pm arriving back at 09:00pm.
12th October 2004 - Cork Boat Club Entries for Galway Head. Mens Open 8, Mens open coxless four X 2, Mens Open Four coxed, Mens Open pair x 2, Mens Vetern D eight, Mens Junior 16 eight, Womens Open eight, Womens Open coxless four, Womens junior 18 pair, Womens Junior 16 eight. Best of luck to all crews.
12th October 2004 - Archive photos. I have just received a photograph for the junior pair champions of 2001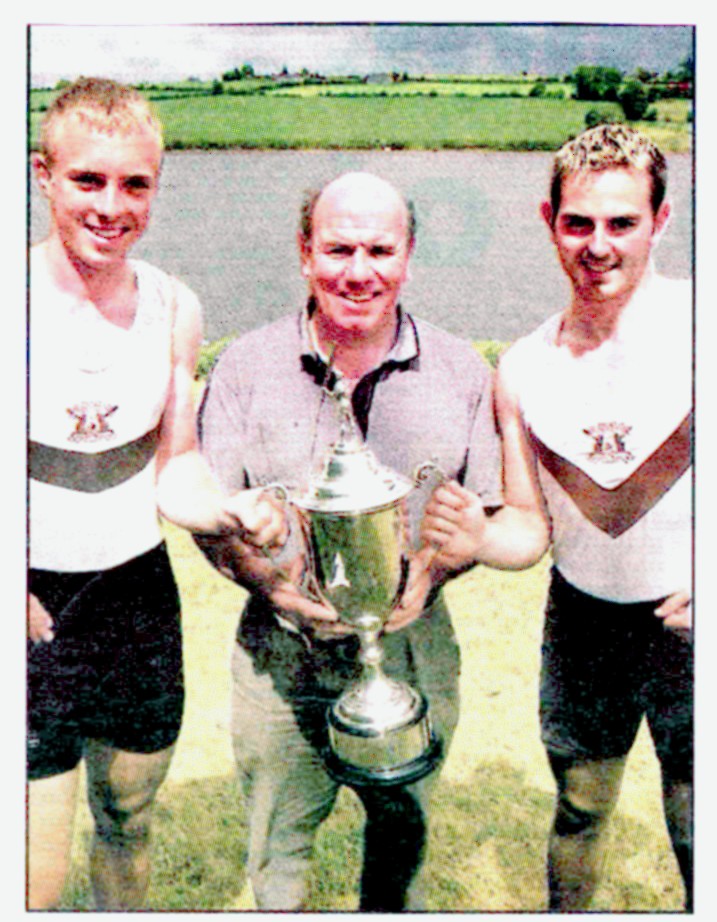 for the record books. If anyone out there has any Boat Club photos that they would like to share with us please send them on.
8th October 2004 - The Cork Boat Club Annual Dinner Dance is set to take place on Friday 26th November at Silversprings Hotel. Tickets will be available shortly from Daniel Murphy 087 9349366.. So if you want to have a good night out to celebrate our victories for the year or just want to rock the night away with Jack Buckley on the dance floor, then contact Dan now to book your tickets. SPREAD THE WORD
7th October 2004 - Well done to Pat Peilow, Jim Halloran and Claire Irwin winners of their sections in the Guinness Sculling Ladder last Sunday.
24 September 2004 - Boat allocation & schedule. Crews
21 September 2004 - Junior 15 Men rowing schedule. Crews
19 September 2004 - Congratulations to Brian Young on his coaching appointment with Latymer College in London.
18 September 2004 - Cork Boat Club committee is elected following the recent AGM Committee