Call Now for Special Offers. Scenic Walks, Historical Sites nearby and a cosy room at the end of day.
Cullintra House, a 250 year old farmhouse set amid 230 acres of farm and woodland, has been the home of Patricia Cantlon's family since the early 1900's.

If you are looking for a holiday that involves scenic walks, beautiful scenery for photographers and painters, golf, historical sites, fishing and crafts, then Cullintra House is the perfect place to stay.
How about coming for the Gathering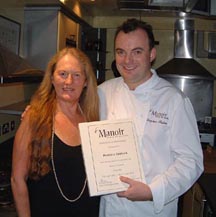 Patricia is an accomplished artist, cook and flower arranger. Her home is renowned for its breakfasts 'till midday and leisurely candlelit dinners all superbly prepared from rich local produce. Visitors of all nationalities mingle in Patricia's little dining room where many friendships have been formed. The farm is an animal and bird sanctuary and a nature and cat lover's paradise. There are many lovely walks through the woods and a private path leads to Brandon Hill and the ancient Cairn dating back 4,000 years.
A large garden room with tea and coffee making facilities and a log stove is available for guests use. The water served at Cullintra House comes form the local mountain springs and is very pure. Guests have said that all rooms have very comfortable beds.
Many golf courses, including Mt. Juliet, are nearby. Enjoy the landscape of the Nore and Barrow valleys with their villages, riverside walks, fishing and swimming amenities. The local scenery and grounds are perfect for groups and painting holidays.
Cullintra House has been listed in the prestigious "Bridgestone 100 Best Places To Stay In Ireland", the "Good Hotel Guide", "Special Places to Stay", "Frommers", "Eye Witness Guide", "La Routard" and countless other guides. It has also been featured on the RTE TV programme Consuming Passions - Cool for Cats.
Patricia welcomes guests on a minimum of 2 nights with dinner and prefers telephone bookings, but if you like to book by email, please give your telephone number so she can phone you to confirm everything and advise you of the route and itinerary etc. You can phone anytime, 24 hours - 7 days a week!
Contact:
Patricia Cantlon
Cullintra House
The Rower
Inistioge
Co. Kilkenny IRELAND

Tel: 051- 423614
Dial: +353 51 423614 from outside Ireland

Email Patricia, (Please insert your telephone number in the subject line of your email.)
---
Links:
Our Facebook page: http://www.facebook.com/cullintrahouse
Discover Ireland page: http://www.discoverireland.ie
Inistioge Official site: http://www.inistioge.ie
Have a Dinner Party's at Cullintra - anniversary, birthday's ect: http://www.kilkennytourism.ie
YouTube vid created by guest: http://www.youtube.com
---
---
Directions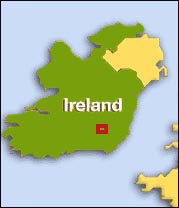 10 km from New Ross, 30 km from Kilkenny (R700)
10 km from Graiguemanagh on the New Ross road (R705)
7 km from the beautiful village of Inistoge
GPS N 52° 28.377' W 006° 58.500'