Gorman positive about Foleys support of Kiely 6-3-2002

FIANNA FAIL'S DIRECTOR OF ELECTIONS IN NORTH KERRY IS DISCOUNTING REPORTS OF DISCONTENT WITHIN THE PARTY FOLLOWING DENIS FOLEY'S DECISION TO THROW HIS WEIGHT BEHIND DAN KIELY.

DEPUTY FOLEY TOLD RADIO KERRY YESTERDAY THAT HE WILL BE URGING HIS SUPPORTERS TO GIVE THEIR NUMBER ONE TO SENATOR KIELY.

CLLR MARIA GORMAN SAYS SHE'S DELIGHTED THAT THE CONFUSION WHICH HAS EXISTED SINCE THE CONVENTION HAS BEEN CLEARED UP.

AND SHE'S TAKING A NO COMMENT FROM THE MC ELLISTRIM CAMP AS EVIDENCE THAT THEY'RE HAPPY.


---


Kiely welcomes support from Denis Foley 5-3-2002

Senator Dan Kiely today welcomed the news that Denis Foley TD has decided to
vote Kiely No 1
and McEllistrim No.2 in the forthcoming General Election.'I am delighted that
such a loyal and diligent TD as Denis Foley has decided to back my campaign.
It is an honour to receive support from Deputy Foley.I would further like to
pay tribute to Deputy Foley and the twenty plus years of service which he has given to the people of North Kerry''.

---

Irish Independent Poll spells good news for Kiely
27-2-2002

SINN Fein's chance of holding the balance of power in the next Dail has begun to fade, according to an opinion poll today. It predicts that high profile candidate Martin Ferris is being squeezed by the big parties in Kerry North and will not take a seat. If this surprise finding is repeated in other constituencies, where Sinn Fein sees itself with prospects, it will gains few seats.
At the turn of the year with an 8pc vote share nationally, the party seemed on course for six to 10 Dail seats. But the party's breakthrough in the Republic seems likely to become a mirage.

The poll, for the Irish Independent and RTE's Primetime, provides a post-Ard
Fheis boost for Fine Gael leader Michael Noonan. Party front bencher Jimmy Deenihan is on course to top the poll in the hotly contested three-seater in the northern half of the Kingdom. The former Kerry footballer will be returned to the Dail on the first count. So too will another former Kerry footballer and rugby international Dick Spring. He will comfortably retain the seat first won by his late father, Dick, in the 1940s.

Fianna Fail, who a few months ago looked to be in danger of losing a seat, has almost a quota between two candidates - Senator Dan Kiely and Tom McEllistrim. Following a November visit by Taoiseach Bertie Ahern there was a flood of announcements of cash to a constituency that believed it was losing out to the Kerry South of Jackie Healy Rae.

Suddenly, money became available for a range of projects from hospitals to
harbours, a swimming pool in Ballybunnion and, of course, the Rose of Tralee
festival. On the basis of the poll, Senator Kiely will shade the last seat.
But, in an extremely tight vote, Mr McEllistrim could snatch it from him.
They are locked in a dead heat in a shareout of the first preference vote.
IMS did the field work for the poll among 406 voters at 29 centres throughout the constituency on Friday and Saturday.
It takes account of all recent developments in the constituency and of Attorney General Michael McDowell's attack on Sinn Fein.
Mr McDowell argued that the party was not entitled to voter support because it did not give allegiance to institutions of State.

The shock for Martin Ferris is that as recently as last autumn he seemed set to take the seat from Fianna Fail. However, as the general election looms and people decide on their vote and the shape of the likely Government, his support has slipped. Sinn Fein's activity in recovering stolen property - criticised as vigilantism by the bigger political parties - had seemed to be attracting support to one of the party's flag-carrier candidates. However, even though a majority (53pc) in Kerry North believe the gardai are losing the battle against crime, the bulk of voters are not keen on a development of what northern sections of the republican movement call community policing. Only 6pc thought "vigilantes" were acceptable as a means of combatting crime.

Only a quarter of voters (24pc) believe the gardai are winning the battle
against crime, a big issue in the three-seater. Of those polled, half said the issue was of "great concern" while another 35pc said there was a "fair amount" of worry about it. While the people of Kerry North apparently do not want their own Sinn Fein TD, they do not have a problem with the concept of Sinn Fein in Government. Just more than half (51pc) think SF ministers should be in the Cabinet if the Dail arithmetic works out that way. Only three-in-ten are firmly opposed to that.

In contrast with a comparable poll for the suburban constituency of Dublin
Southeast, local issues are big with voters. Almost half - 49pc - will decide their vote on local concerns. That compares with 22pc who decide on the basis of national issues.The most favoured coalition in the constituency is a Fianna Fail/Labour alliance, probably reflecting the fact that Dick Spring broke the political mould when he and Albert Reynolds forced the first FF/Labour Government. That alliance gets a 22-point rating, two more than Fine Gael/Labour, while a return of the current FF/PD Government is a further point back at 19. A FF/SF alliance gets an 11 point rating.

Chris Glennon, Political Editor Irish Independent
---


Community Nursing Unit-Tralee
27-3-2002
Senator Dan Kiely is delighted to announce that the Community Nursing Unit has been approved for Tralee.
When the project is completed, it will comprise a 50-bed unit for dependent
older people.'I have actively worked for this announcement for a long time. I must thank Minister Martin for his support and help on this project. It is yet another example of Fianna Fail's commitment to the people of Tralee and North Kerry.' -
Dan.

---


SENATOR DAN KIELY CALLS FOR CIVIC RECEPTION FOR DENIS BROSNAN
18-1-2002


Senator Dan Kiely praised the magnificent career of Denis Brosnan who has
retired recently as Managing Director of Kerry Group. Denis has led the Kerry
organisation since its establishment in 1972. In 1999, Kerry group was voted one of the world's 100 'Best Managed Companies' by Industry Week. Chosen by editors at IW and a panel of international experts, Kerry was the only Irish company listed in the report. This extraordinary achievement was repeated in 2000 with Industry Week again voting Ireland one of the top 100.


Senator Kiely remembered;" Denis started up the company out of two caravans in Listowel with a staff of 13 people and it is a credit to his skills that the
majority of those people are still working in the organisation. Kerry is now
well recognised as one of the most technologically advanced innovators and
providers of food ingredients to multinational food manufacturing and
foodservice companies throughout the world.


Denis has made marvellous contribution to the economy and tourism of Kerry and Ibelieve that we in Kerry Council should hold a civic reception to applaud his wonderful life."

---
Theatre for Ballybunion moves closer as sod is turned on project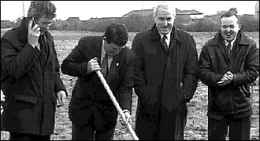 THE long-awaited Tinteán Dance Theatre in Ballybunion moved another step closer to becoming a reality this week after Fianna Fáil general election candidate Senator Dan Kiely turned the first sod on the project in Ballybunion on Monday.
Work is expected to commence on the construction of the 400 seat theatre on March 1 next and the official opening is already scheduled for St Patrick's Night of 2003. The building project will cost an estimated €2.5m.
A large group of people — including many local politicians — turned up at the site of the project on Church Road to see the ceremonial turning of the sod by Senator Kiely, who quipped that his years of experience in the bog made him well able for the task.
Senator Kiely was acting on behalf of Minister Sile DeValera, whose department recently made a grant of ¤870,000 available to the project. Commenting that he was proud to be associated with the project, the Senator congratulated everybody involved in bringing it to fruition. "I know it will have an important cultural role in the future of Ballybunion and North Kerry," he said.
Kerry County Council donated the five-acre site for the theatre, and in recent years, over c1m has been raised for the project from world wide tours undertaken by the Ceol Chiarraí group. They presented successful shows such as 'The Spirit Of Ireland' and 'To Dance on the Moon' in such far-flung places as Australia, America, Europe and more recently in Taiwan. A tour to China is planned for this year.
Micheál Carr was the driving force in the development of the Tinteán project, which initially grew out of the music and dance performances of Ceol Chiarraí. In recent years the local community became involved in the development of the project with the formation of North Kerry Arts Cultural and Heritage Society, a non-profit organisation with 26 voluntary directors.
Speaking at the sod turning ceremony, Chairman of North Kerry Arts Culture and Heritage society Noel Loughran said: "It's a historic day of achievement for Ballybunion and for everybody involved who put great and determined effort into the realisation of a dance theatre for Ballybunion."
The Architect and Consulting Engineer for this 2.5m project is Michael Casey of Listowel. The chairman of the building committee and director of Tinteán is Cllr John Brassil, and the building contractors will be announced in mid-February, with construction work due to commence at the beginning of March.
---



Senator Dan Kiely announces two grants for social projects in Tralee; 7th December 2001 following on from his announcement of the cash injection for the rose of Tralee festival senator Kiely today announced a £125,000 staffing grant for Blennerville Tralee Co. Kerry over three years. He also disclosed some other good news under the dept for social community and family affairs scheme of community support for older people. a £2,369 grant has been recommended for coiste seanoiri bhreanainn f/c muirioch, baile na ngall trali co.chiarrai
---
Senator an Kiely delighted at rose of Tralee festival budget boost- Thursday 6th December 2001 senator Dan Kiely today reacted to the news that the rose of Tralee festival is receiving a once off grant of 320,000 euro or 252,000 pounds in the budget fears had been expressed over the festivals future as a result of its debts and a difficulty of attracting sponsors in the current economic situation. Senator Kiely had organised a private briefing between representatives of the rose of Tralee festival, himself and the taoiseach on the 22nd November when he visited north Kerry to open Senator Dan Kiely's office. the purpose of this meeting was to secure the future of this wonderful event. Senator Kiely has also had talks with members of the rose organizing committee about different ways in, which the festival could be marketed. Senator Kiely is talking to some well known people in the entertainment industry about a whole new marketing approach.
---
Bertie's big bash


Listowel came to a standstill last week with the arrival of Bertie. One stranger to the town wondered if there was a circus after arriving, such was the fanfare and fuss.

A huge crowd turned up to see the Taoiseach at the UDC offices. Dominic Scanlon had everything in order and I spotted Karen Lynch, former town clerk darting in and out. There too was Tony Curtin, Clounmacon who was delighted with Clounmacon
Community Council's recent fashion show, Pat Loughnane, Dirha East and Bryan Ó Connor, Bedford, David Ó Brien, Tanavalla, Xavier McAuliffe and Johnny McGrath, Convent St. swelled the ranks.

Listowel UDC employees Tom Enright, Ballydonoghue, Christy Hartnett, Clieveragh and Vincent Carey, Market St. were taking a well-earned break during Bertie's visit. There too, ensuring that everything was blooming, was David Toomey, town
gardener from Dirha.

Keeping the thirsty throats at bay were Miriam Carey, Convent St. and Maureen Flavin, Market St. Disappointed not to have met Bertie in person during his trip to the UDC offices were Chris, Tadgheen, Marianne and Sinéad Foley from Tarbert.
Two men who did the entire tour with Bertie were John Neville from Carrigcannon, Lyreacrompane and Paddy Brosnan from East End, Ballybunion. They were still going strong late into the night.
Later on, Charles St. traffic came to a standstill as supporters, onlookers andvisitors alike waited for the 75-strong Presentation Convent Primary SchoolBand, led by Principal Joan Mulvihill and teachers Anne Brosnan and Liz Quinn to lead Bertie to Dan Kiely's new offices.

Among the throngs waiting there were Pat Doody, Tullig Upper, Margaret Lennon, Ballybunion, Kathleen Ó Connor, Carrigane, Asdee, Eileen Ó Sullivan, Asdee, Róisín Ó Connor, Betty Heaphy, Dirha East, Danielle Ó Sullivan, Asdee, LiamCollins, Duagh, Seán Lyons, Cahirdown, Ann Moloney, Gurtinard House, DJ & Eileen
Ó Sullivan, Dromclough, Sheila, Deirdre and Niamh Horan, The Square, Margaret Coffey, Woodford, Margaret Horne from Kay's Café, Margaret McBrien, Tarmons Cross, Moyvane, Mary Langan, Tarbert, Chrissie Ó Keeffe, Charles St., William
Foley, Kilcolgan, Tarbert, Micheál Ó Connor, Craughdarrig, Asdee, Jackie Egan, Tarmons East, Tarbert and Mary Ó Donoghue, Knockane, Listowel.

A big contingent came from Moyvane and they included Teddy Keane, Murhur, Michael Culhane, Eileen Carmody, Jim Fitzgerald, Lower Aughrim, Mike Greaney, Leitrim Middle, Joe Kearney and Mike Windle.
---
Dan Kiely
05/12/2001 04.08 p.m.
Health Board is "dragging its feet" on Tralee hospital issue

SENIOR Southern Health Board officials have been told to stop dragging their feet and get on with providing a new community nursing unit at Tralee General Hospital.

At a meeting of the Board in Tralee on Monday December 3rd Fianna Fail Senator Dan Kiely called on the officials to speed up the planning application for the
new unit.

He said that the money for the unit is available and a site has been identified.

"All that remains to be done is for planning permission to be obtained and contracts placed, before construction can commence," Senator Kiely stated.

He explained that the funds and site had been earmarked for over six months.

"Consultants' reports have been obtained and a Board committee has studied similar units in other areas and this to had reported, so the board's officials could be expected to have their plans and specifications ready for the new unit," said Senator Kiely.

"Any further delay is just the board dragging its feet," he said.

"They must get on with the planning and tendering processes before a sod can be turned. It has already been delayed six months," he remarked

PRESS RELEASE: 13-11-2001

SENATOR KIELY WELCOMES APPOINTMENT OF NEW LOCUM DOCTOR IN LISTOWEL: 13th November 2001


Senator Dan Kiely member of the Southern Health Board is pleased to announce that after numerous representations made a new locum doctor to look after medical cardholders has been appointed for Listowel.

The new doctor is Dr Howard Baker and he will be working in conjunction with the other doctors in the area.

This issue has been extremely sensitive and Senator Kiely is delighted that he has been able to play a vital part in providing such a positive outcome.

For further details please contact
Senator Dan Kiely:
068 23556
087-2606270
01-6183081
---
PRESS RELEASE: 6-11-2001

KIELY ANNOUNCES LATEST CHILDCARE GRANTS FOR NORTH KERRY

Senator Dan Kiely today announced grants totalling almost £894,963 under the
Department of Justice Equality and Law Reform Equal Opportunities Childcare
Programme for Kerry. The applicants receiving funding are:

Tralee Comm. development programme: staffing grant £45,000-Capital Grant-£232,600

Coco's Pre-school and day care, Tralee: Capital Grant-£31,584

Duagh Family Resource Centre: Staffing Grant- £95,037

Causeway Comm. Economic, social and Development Committee: staffing grant-£125,000

Scartaglin Pre-school Assoc. Staffing Grant- £125,000

Naoinra Aine, Tralee: Capital Grant- £1,982


---
PRESS RELEASE: 19-10-2001
Minister Martin issues protocol for dealing with suspected anthrax attack 17 October 2001

The Minister for Health and Children, Mr Micheál Martin, TD, has today (17 October 2001) issued a protocol for dealing with a suspected anthrax attack in Ireland. The protocol was finalised today by the expert committee established by the Minister to develop a contingency plan in the event of a biological attack.

"There is no reason to believe that Ireland is likely to be a target for biological or chemical warfare. Nevertheless, these guidelines are being issued as a precaution," said the Minister.

The protocol deals with the procedures to be adopted in the event of a suspected anthrax attack and in particular patient treatment and management, post exposure guidelines etc.

Included with the protocol are guidelines for individuals and companies on how to deal with a suspect package believed to contain anthrax. The guidelines (attached) will be available on the Departments web site - www.doh.ie

The protocol has been issued to the Fire Services, the Garda Síochána, the Defence Forces and the Directors of Public Health.

"Hospitals already have sufficient quantities of penicillin. Sufficient stocks of the antibiotic Ciprofloxacin have also been secured to be used to treat patients in the event of an attack," said the Minister.

He advised that if a suspicious package or letter is received it should be placed the package in a plastic bag or other sealed container in order to prevent leakage. The room or premises should then be vacated and the Gardaí contacted immediately.

---
PRESS RELEASE: 17-10-2001
Oration by the Taoiseach Mr. Bertie Ahern TD
at the Reinterment of the Remains of Volunteers
executed during the War of Independence,

Glasnevin Cemetery, Sunday, 14 October 2001

A mhuintir na hÉireann agus a cháirde timpeall an domhain. Táimid bailithe anseo inniu in ómos don deichniúr Óglach a fuair bás ar an gcroch i bPríosún Mhoinseó ar son na saoirse agus ar son na hÉireann. Táimid uilig i láthair chun a dtaisí daonna a chur i gcré sa deireadh le honóir agus le dínit.

Tuigimid go léir cé chomh mór is atáimid faoi chomaoin ag an deichniúr fear óg seo chomh maith le hÓglaigh uile na hÉireann an ama sin, idir fhir agus mhná. Níl an íobairt a rinne siad á ligeant i ndearmad ag muintir na hÉireann agus ní ligfear go deo.

An cogadh a throid siad, bhí cúltaca amháin acu nárbh fhéidir neamhshuim a dhéanamh de. B'shin Ollthoghchán 1918. Bhí a fhios acu go raibh na daoine leo. De thoradh an olltoghcháin sin tháinig ann don Chéad Dáil. Ar Faisnéis Neamhspleáchais na hÉireann a aontú acu dúirt an Ceann Comhairle leis na Teachtaí uilig gur thuig chuile dhuine acu go dtiocfadh cogadh ann de thoradh na Faisnéise.

Thuigeadar san. Bhí siad sásta an cath a chur chun saoirse na tíre a bhaint amach. Bhí sé ráite ag na cumhachtaí móra gur ar mhaithe leis na náisiúin bheaga an Chéad Coghadh Domhanda. Bhí muintir na hÉireann daingean de go gcaithfí prionsabal an fhéinchinnidh náisiúnta a leathnú chomh fada le hÉirinn.

Cuireadh chun báis na fir óga seo le linn Chogadh na Saoirse. Bhí an tír go mór faoi bhrú ag an am agus bhí chuile dhuine aontaithe. Tofa ag muintir na hÉireann, bhí Dáil Éireann ag forbairt léi d'ainneoin cogadh a bheith ar siúl.

Bhí an daonlathas á thabhairt i réim sa tír. Bhí solas na saoirse feicthe ag an deichniúir óg seo sula bhfuair siad bás. Thuig siad go mbeadh Éire arís saor agus neamhspleách.

Ní iontas ar bith é mar sin gur mór ag muintir na hÉireann go bhfuil an lá seo tagtha. D'ainneoin go bhfuil deacrachtaí de chuid ár dtréimhse féin againn níl duine féireáilte sa tír seo nach gceapann gur maith an rud é go bhfuilimid ag cur na bhfear seo anseo inniu agus gur mithid é a dhéanamh.
-
People of Ireland and friends around the world. We are gathered here today in honour of the ten Volunteers who died on the scaffold in Mountjoy Prison in the cause of freedom and the cause of Ireland. We are all here to lay their remains to rest in this soil at last with dignity and honour.

We all understand how much we owe these ten young men and all the Volunteers of that period, both men and women. Their sacrifice is not being forgotten by the people of Ireland, and it never will.

In the war they fought, they had one support that could not be ignored. That was the mandate for independence from the General Election of 1918. They knew the people were with them. Dáil Éireann was formed from those who were elected, and who were willing or able to attend. When the Declaration of Independence was passed, the Ceann Comhairle of that First Dáil said to the Deputies present that they all understood that war would be the consequence of the Declaration.

They understood that. They were satisfied, if necessary, to fight to liberate the country. The big powers had said that it was for the small nations that the First World War was fought. The people of Ireland were determined that the principle of national self-determination must also be extended to the Irish nation.

During that first session, the Democratic Programme, addressing the economic and social needs of Ireland, was also adopted, at the request of the Labour Movement, 'with a view to a general and lasting improvement in the conditions under which the working classes live and labour'.

These ten young men were executed during the War of Independence. The country was under tremendous pressure at the time. There was a united effort. Meanwhile, elected by the people, Dáil Éireann was developing, in spite of a war going
on. Democracy was being put to work. Independent civic institutions, including the Dáil courts, were beginning to function. Before their deaths, the ten had seen the light of freedom. They understood that Ireland would be free and independent.

The ten men were Kevin Barry, a UCD medical student of 18, with roots in County Carlow; Thomas Whelan from Clifden; Patrick Moran from Roscommon; Patrick Doyle, Bernard Ryan, Frank Flood and Thomas Bryan all from Dublin; Thomas Traynor of Tullow; and Edmond Foley and Patrick Maher, from Galbally, County Limerick.

It is no wonder to the people of Ireland then that this day has come. Although we have difficulties of our own time, there is no fair person in this country but thinks that it is good that we bury these men with State honours here today, and indeed that it is time we did so.

The Irish State today is discharging a debt of honour that stretches back 80 years. Here in Glasnevin stand the memorials to Irish patriots of the past two centuries, statesmen, soldiers, all those who contributed in many different ways to the onward march of a nation.

Nine of the ten Irish volunteers executed in Mountjoy in 1920 and 1921 belong here, in accordance with the wishes of their families. Patrick Maher will be interred next week in County Limerick.

This is a day that has been sought for many years, with the support of successive Governments. All of us wished this to be a unifying occasion, in accordance with the wishes of the families today, who have assented to there-interment.

The men we honour belong to a period, when the entire national movement was united in a tremendous effort to achieve Ireland's independence that was desired and voted for by a large majority of the people.

War, for whatever cause and whatever circumstances, always has cruel consequences. But every nation, both large and small, has a right to defend and vindicate its freedom in accordance with the will of its people. If an Irish national democracy could have been established peacefully, through elections, or by passive resistance, that would have been preferable. But a realistic reading of history shows government determination to prevent that, by force, if necessary.

The ten Volunteers executed in Mountjoy died defending and upholding the independence proclaimed by Dáil Eireann on 21 January 1919. The British Government of the day, who would relinquish control of this part of Ireland in 1922, were seeking in vain to maintain their continued rule by force, long after popular consent had been definitively withdrawn. Erskine Childers, who with Desmond FitzGerald was charged with explaining the Irish case to a wider international audience, stated that Kevin Barry was doing precisely what Englishmen would be doing under the same circumstances and under the same provocation, and that what was involved was 'a national uprising, a collision between two governments, one resting on consent, the other on force'.

The area of Ireland outside of six Ulster counties, having rejected the limited home rule offered by the Government of Ireland Act 1920, was ruled by a crown colony form of government with martial law declared in many places. The situation was not greatly different from that of the thirteen colonies, that went on to form the United States, when they decided to throw off tyranny in 1776. George Washington was a soldier-statesman, and the American War of Independence was one of the principal inspirations of the independence struggle, led by New York-born Eamon de Valera, Cork-born Michael Collins, who had worked for some years in London, and Arthur Griffith, the founder of Sinn Féin.

The Irish struggle was a legitimate inspiration to national independence movements in the colonies of the European Empires, and in many cases curtailed the sacrifices for freedom that colonised peoples elsewhere would have to make.

The Indian Congress leader Nehru wrote letters from prison about Ireland's independence struggle to his daughter Indira in the 1930s. Ireland has a right to be proud of its role in the liberation of oppressed peoples around the world, which has given us a continuing empathy with countries struggling to achieve peace and higher development.

Before the Truce, the Dáil, and the Government, all members of the Dáil, took formal responsibility as the elected representatives of the people for the actions of the Volunteers, and recognised them as their army. They explicitly acknowledged the democratic legitimacy of the campaign that they had fought, and accepted accountability for it. So those of us who are proud of our national independence should have no reservations about honouring those Volunteers.

On the other hand, it would be quite wrong to apply without distinction any such presumption to other times and circumstances, and to a quite different situation, or to stretch the democratic mandate of 1918 far beyond its natural term. Conversely, the memory of the Volunteers of 1920 and 1921 does not deserve to be burdened with responsibility for terrible deeds or the actions of tiny minorities that happened long after their deaths. People of common sense and goodwill understand all of that perfectly.

How the principle of self-determination was to be applied, particularly in local situations where majority and the minority were different from elsewhere in the country, was open to argument. But by 1920 it was accepted everywhere that alocally strong minority could not be allowed to block indefinitely self-government in the rest of Ireland.

Not everyone on this island, then or now, sympathised with or supported Ireland's independence as a separate and self-governing country. Minorities within came to accept and give loyalty to the State, and in time a broader pluralistic culture in place of toleration has developed. The ideals and experiences of Irish-Ireland and of Ulster Unionism were so far apart, as to make mutual comprehension difficult. Irish Nationalism itself took many legitimate forms, including the honourable, constitutional tradition, going back to Daniel O'Connell, which had greatly advanced the cause of self-government. In 1918, Sinn Féin and the Irish Parliamentary, Party Eamon de Valera and John Dillon, stood on the same platforms opposing conscription.

The Government of Ireland Act, 1920, was never accepted in the South, but was not a satisfactory settlement for other than the Unionist community even in the area designated as Northern Ireland, where it was implemented. Today, it is gone. Revisiting the problem of relations between North and South and between the islands, and creating a new, just and equitable system of democratic government throughout the island, has been the difficult task that our generation has had to take up, after much trauma. The Good Friday Agreement has moved us to a new stage in our history, but that certainly does not mean we forget or repudiate those who founded our State.

This State has abolished the death penalty, and lives by the rule of law. There is neither need nor excuse for the extra-judicial use of force by anyone today. The same is true of Northern Ireland, and beyond dispute since the Good Friday Agreement.

Today's ceremonies relate to the circumstances that led to the foundation of this State, and the sacrifices involved. We have much to be proud of, and the achievement, however incomplete, is considerable. We all look to a future in which the people of Ireland can conduct warm and friendly relations with each
other and with our neighbours in Great Britain on a basis of equality and partnership, in an atmosphere free of force and coercion, and in which people of all traditions can live and cooperate together for the common good.
---
PRESS RELEASE: 21-9-2001

MISS IRELAND TO ATTEND LISTOWEL RACES AS GUEST OF SENATOR DAN KIELY

Senator Dan Kiely is delighted to announce that Miss Ireland Catrina Supple will attend the Listowel races as his guest on Wednesday September 26th 2001.

Catrina who captured the coveted title a couple of weeks ago is a daughter of Fianna Fail Councillor Art Supple from Youghal, Co. Cork.

Councillor Supple is an old friend of Senator Kiely and worked with him in the ballrooms of Kerry and New York.

---
PRESS RELEASE: 30th July 2001
KIELY DELIGHTED ABOUT FUNDING FOR NORTH KERRY CULTURAL AND HERITAGE SOCIETY'S TINTEAN PROJECT
Senator Dan Kiely today reacted to the news that the North Kerry Arts cultural and heritage Ballybunion based Tintean project has qualified for funding.
While the project is not going to be funded under the Department of Arts, Heritage, Gaeltacht and the Islands Access scheme-Minister Sile deValera has ensured Senator Kiely that other funding will be made available.
Senator Kiely stated that he had arranged a meeting between himself, the Tintean finance committee and Minister De Valera to discuss the 400-seat theatre in early September. He expects the final details to be in place in October.
"The Tintean project is vital for the economy of Ballybunion and the surrounding area. It will be marvellous to have Irish song and dance performed in such a glorious setting.''said Kiely.
Senator Kiely the Fianna Fail candidate in the forthcoming General election continued " The promotion of the arts in North Kerry is a major policy platform of mine and through my good relationships and representations with Minister De Valera a project such as Tintean is now about to become a reality''.
---
31th July 2001:KIELY PLEASED WITH NEWS FOR TUATHA CHIARRAI TEO.
GROUPS TO DELIVER THE LEADER PROGRAMMES
IN THE PERIOD TO 2006 ANNOUNCED

The Minister of State at the Department of Agriculture, Food and Rural Development, with responsibility for Rural Development, Mr Éamon Ó Cuív TD, today announced details (attached) of the groups selected to implement the LEADER Programme and the Leader area based National Rural Development Programme.
LEADER is the EU Community Initiative which fosters links between actions for the development of the rural economy and promotes a bottom up strategy for Rural Development.
Senator Dan Kiely today welcomed the good news.''As a Board member of Tuatha Chiarrai Teo I am delighted with the news that over £3 million is being made available for rural development in the North Kerry area. I am further pleased that my representations to Minister O'Cuiv has yielded such a fruitful result. Funding for rural infrastructure in North Kerry is a central policy of my campaign for the next Dail Election.I believe that none of the other prospective candidates have sufficient muscle or connections to achieve these aims."
LEADER AREA BASED NATIONAL RURAL DEVELOPMENT PROGRAMME - GROUPS AND INDICATIVE ALLOCATION
Tuatha Chiarrai Teo £3,088,038
---
1st August 2001:KIELY THRILLED AT ANNOUNCEMENT OF £12,000 FUNDING FOR St JOHN'S ARTS AND HERITAGE CENTRE LISTOWEL
Senator Dan Kiely today welcomed the good news that £12,000 is being made available by the Minister for Arts, Heritage and the Islands Sile de Valera for St John's Arts and Heritage Centre Listowel.
The money is being made available through the Minister's Access Fund."I believe that this type of funding is vital for the Arts in the North Kerry region."Senator Kiely- Fianna Fail candidate in the next General Election added, "I will do all within my power to seek the maximum funding for all cultural projects in the constituency and will use my unique contacts and representations to achieve this aims."