elephant are a six piece acoustic band based in Cork, Ireland. Formed in October 2002, the band have played venues throughout Ireland and beyond during their short time together. Their debut album 'in the moon' was released this April 31st on well known Cork singer-songwriter Niall Connolly's c.u.records label.
The elephant sound has been described as "unlike anything on the Cork music scene" (Evening Echo) and "miles away from what any of their contemporaries are doing in the currently fertile Cork scene" (whisperinandhollerin.com) . Positive reviews of the debut album refer to the songs on the album "superb, heartbreaking pieces of work" and an album which is a"thoughtful, well-crafted debut from a band who are truly different from the norm" (whisperinandhollerin.com)
elephant have had plenty of airplay on Cork's local radio stations; 96fm, REDFM and CampusFM with a live session last May on Michael Carr's Green Room show on 96fm. Airplay of tracks from the album on the national airwaves culminated with the full band doing a live set on national daytime radio with John Creedon on RTE Radio 1 in the summer of 2004.
The band have played all the top venues in Cork including The Half Moon Theatre, The Lobby, Cypress Avenue, An Cruiscin Lan, de Barra's and Pine Lodge. elephant have toured extensively with their debut album throughout Ireland playing in top venues such as The Temple Bar Music Centre and The Sugar Club in Dublin as well as Dolans in Limerick. The band have also featured as acts at the Cork Midsummer Festival, The Dublin Fringe Festival and the Cork Jazz Festival.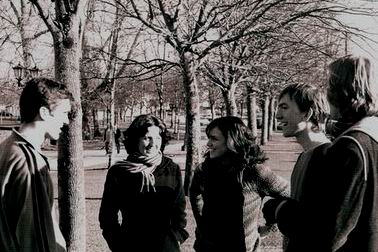 elephant are (from left to right): Keith O'Donoghue, Mary-Ellen O'Shea, Catherine Ireton, Michael-John McCarthy & Ciaran O'Conaill. Ciaran Fitzpatrick refused an invitation to be photographed in such a ridiculous pose and so has been ommitted!