Sheane Formula Vee
Owner Gerard O'Connor
Formula Vee is a low cost single seat racing car based on Volkswagen Beetle components. The cars are mainly used for racing in Ireland, but a small number also enter Hillclimbs and Sprints
This car was manufactured by David Sheane in Blainroe Co. Wicklow 0404 67189. For a number of years Sheane was the only manufacturer of Formula Vee racing cars in Ireland. In 1993 Leastone in Kilmeague Co. Kildare started making cars in competition to Sheane.
Hillclimbs and Sprints are the main events planned for the car. Some races may be entered if the budget allows. Racing for Formula Vee cars takes place at Mondello Park and Kirkistown (0284 277 1325). Another event is The Phoenix Park Motor Races,a festival weekend held on closed roads in the centre of Dublin.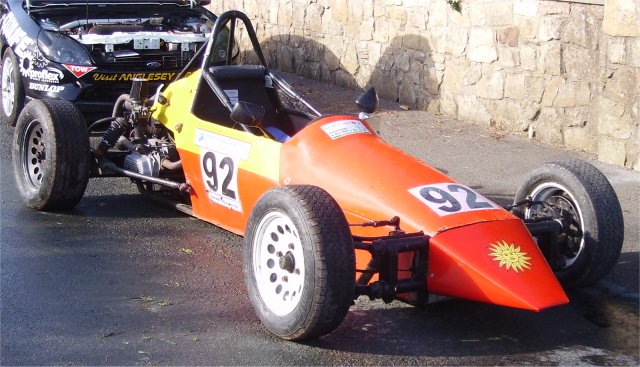 This picture was taken in the paddock of the Carrick-on-Suir hillclimb 2007. The sun graphic on the nose cone is the Incan god Inti protector of creation, my wife wanted this after I demolished 3 nose cones in as many months!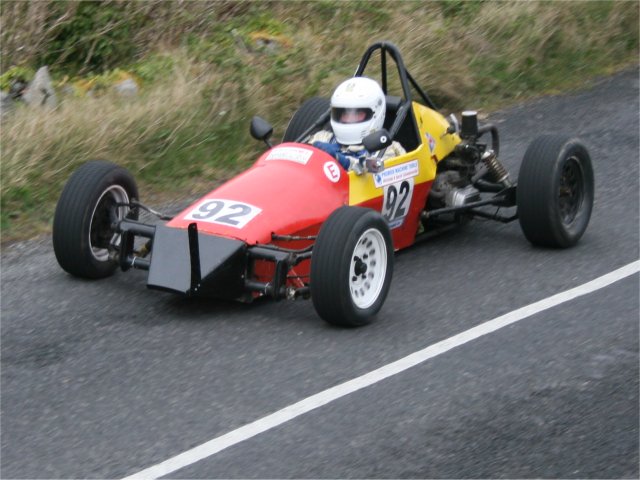 Photo taken by Denis Hogan Jnr at the 2007 Galway MC hillclimb at Ballyallaban, Co. Clare, the black nose cone was number 2!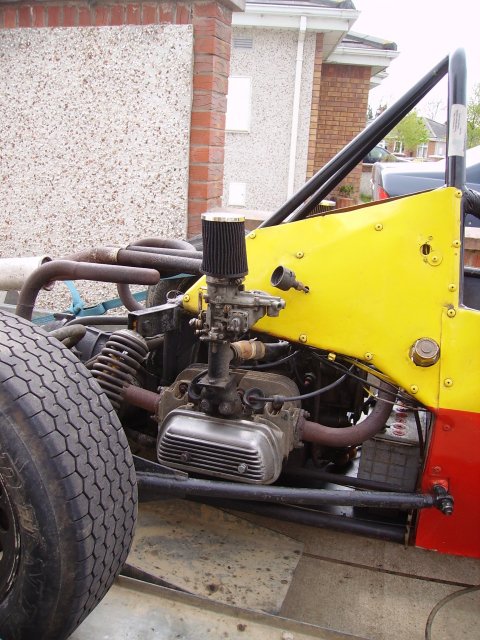 The engine used is a 1600cc Volkswagen Beetle engine. The carburettors used are 2 single choke Weber 34 ICT with a choke size of 29mm, linked by a balance tube.
Exhaust tubular into a single silencer. Ignition points (electronic is allowed) in a centrifugal advance only distributor.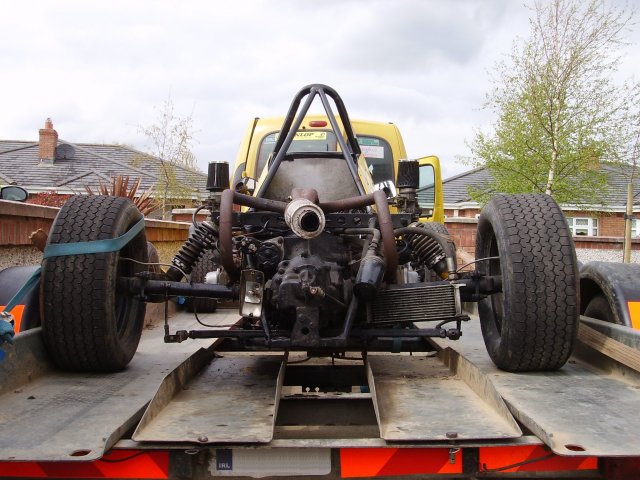 The gearbox is Volkswagen Beetle with the crown wheel repositioned to reverse drive direction to allow engine to be mid rather than rear mounted. Standard Beetle ratios must be used for gears and final drive. No Limited Slip Differential is allowed.
These ratios in combination with the 13inch wheels means that the car is very low geared with 1st gear being of no use.
The rear suspension is based on the Beetle swing arm system with coil over shock absorbers and an adjustable anti roll bar.
Rear brakes Beetle drums.
An oil cooler can be seen at the right side of the car to help to control the temperature of the air cooled engine.
The original cooing fan, alternator/dynamo and associated pulleys have been removed.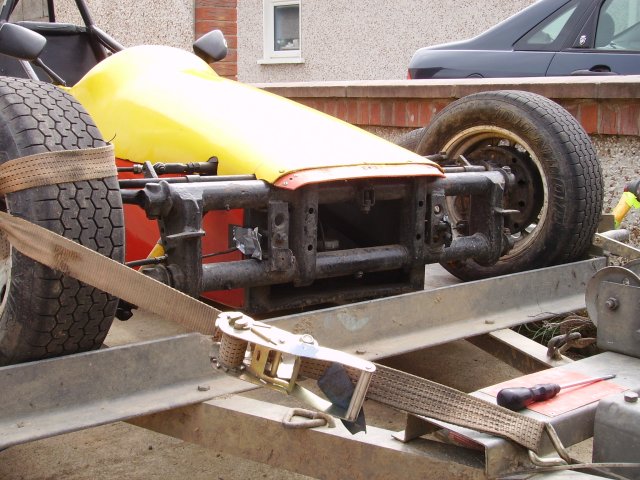 The front suspension is the twin torsion bar set up off the front of a Beetle. Rack and pinion steering is used as well as an adjustable anti roll bar
Front brakes on this car are Beetle drums, (current regulations allow disc brakes on the front).
Front/rear bias on the brakes can be adjusted from the cockpit.
The tyres used are a classic Formula Ford specification this was chosen because of continued availability and low cost.
Front Dunlop135/545/13 Rear 165/580/13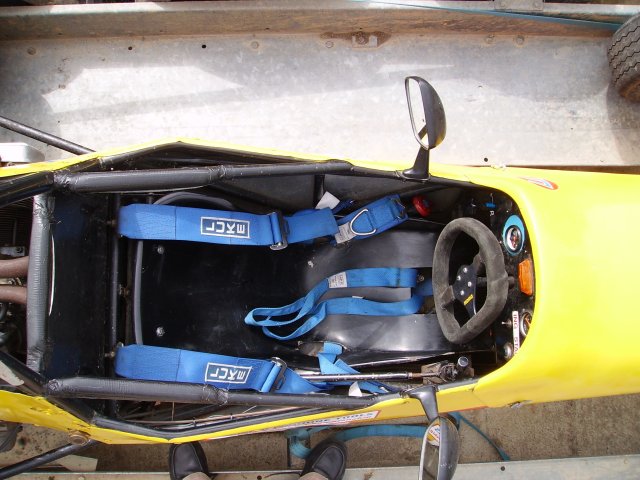 Birdís eye view of the cockpit showing 6 point seat belt.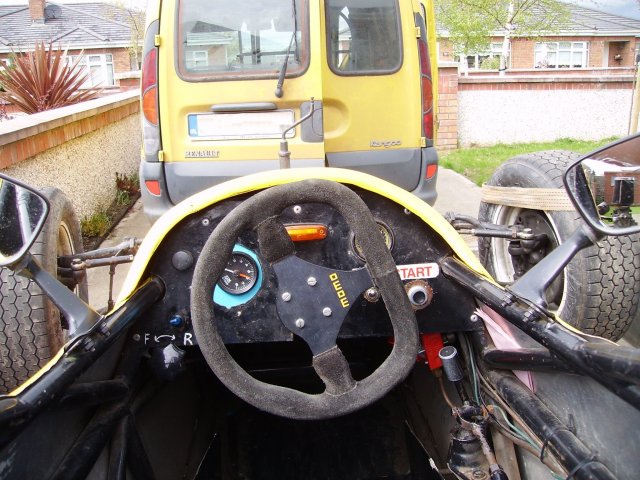 Driverís view, showing rev counter on left and oil pressure gauge on right. Also note right hand gear change. Red lever in front of gear change is fire extinguisher operated by pull knob on dash. F-R at lower left of dash is brake bias adjuster. Big orange light in middle is for oil pressure.
The minimum weight for the car is 375kg, minimum weight with driver 475kg, probable on the road weight 500kg.
Below are on board videos shot with a 4 megapixel digital camera in 320x240 movie mode. The camera is mounted on a piece of aluminium held on by the mirror mounting bolts. It can be seen on the Ballyallaban photo above

Day 2 Limerick Hillcimbs 2008
Wexford Hillclimb 2008 Sunday (3m42s)
Galway hillclimb 2007(5m59s long)
Run 2 Sunday Wexford Hillclimb 2007
Run 3 The Incident Sunday Wexford Hillclimb 2007
Wexford Saturday Hillclimb 2007
Donegal Hillclimb 2006
Phoenix Park Motor Races 2006
Dungarvan Hillclimb 2006
All My Videos On YouTube
For more information e-mail Gerard O'Connor