Gerard O'Connor
A Personal Motorsport History
I was born 1960 in County Limerick my father made an income from farming but was passionate about anything mechanical. This transferred in a small way to me. I remember starting to read motoring magazines and following Formula One in my early teens. Below is the story since then.
1984 Thomond Rally came down past home took my first motor sport photos
1989 Started working at Interbalco (manufacturer of Balco brand Wheel Balancers and Aligners at Shannon, Co. Clare from 1983 to 1999)
1990 Pit crew for Balco Formula Ford Team. There were 3 for cars Donal Griffin, Colm Hynes and Richard Cullen.
1991 Pit crew for Donal Griffin/Colm Hynes Formula Ford Team
1992 Joined MG car club at Mondello and got first competition licence, never used it though, continued as pit crew for Donal Griffin/Colm Hynes.
Apr                  Joined Limerick Motor Club
22-May            Went to IMRC race meeting at Mondello, enquired about Ritmos, I was told by Michael Cullen that his father Des was selling his at that time and that he would be at the Galway hillclimbs the following weekend.
28/29 May        Looked at Ritmo, negotiated, bought and took delivery of Ritmo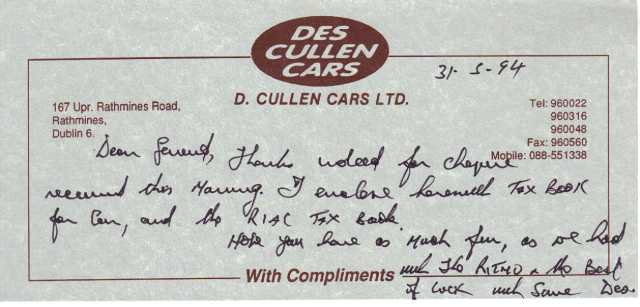 6-Jun                Marshaled service area on the Circuit of Munster
26-Jun              First race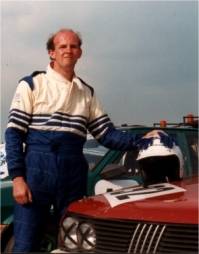 Novice Racer!
9/10 July          Tipperary/Carrick on Suir hillclimbs at Millvale and Dungarvan, I decided to do the hills to get signatures on my licence for the Phoenix Park races. At that time there was no separate grades for race rally and speed. Until 1998 there was a class specifically for competition Fiat Ritmos and 128s. In both racing and hillclimbs (Class 3)
At Dungarvan on Saturday I finished 4th of the 4 class finishers with a time of 85.93s The class winner was Oiosin O'Brien in 81.22s.
At Milvale on Sunday I was 3rd in a class of 4 with a time of 74.44s. The class winner was Enda Cassidy with a time of 67.20s.
17-Jul               Race Meeting Mondello Reverse Grid, I set second slowest time in qualifying which meant I started second on the grid. I didn't finish second though. During the race I turned in too soon on Alan Byrne light panel damage on both of us.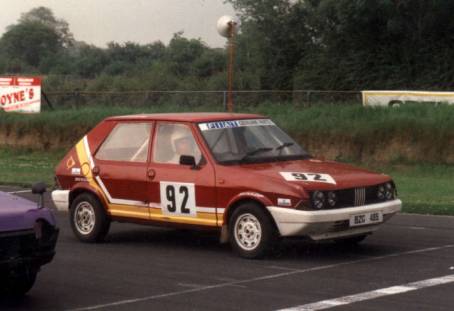 Outside of Row 1
1-Aug              Race Meeting Mondello. As best as I can remember I ran out of petrol during this race
13/14 Aug        Not enough signatures on my licence to upgrade so I watched the Phoenix Park races and helped at changing gearboxes. No accommodation arranged so slept in Kadette.
10-Sep             Leinster Trophy International races Finished 11th in B race my fasted lap 1:17.89 race 1:15.73, Qualified for A race finished 18 of 24 starters my fast lap 1:18.85 race fast lap 1:15.31
11-Sep             Leinster Trophy International races B Practice 12th of 15 1:19.14 pole 1:15.81 B race 11th of 15 
24/25 Sep        Formula Ford Festival I think I was punted into the sand trap on the inside of Turn 1 causing the cam belt to jump a couple of notches.
16-Oct             Race Meeting Mondello 2 driver race with Colm Hynes, Colm drove the first part after the driver change I had only done one corner when the engine blew
19-Mar            Race Meeting Mondello New engine built by Seamus O'Connor, took it handy in race to run in engine, race was in torrential rain. I finished second because everyone else slid off at some stage, I even had the lead for a while!
8/9 Apr            Wexford Hills Did not enter
16-Apr             Race Meeting Mondello
22-Apr             MGCC Sprint at Mondello 6th in class 259.65s class winner 243.46s
1-May              Race Meeting Mondello Finished 17 of 19
21-May            Race Meeting Mondello Did not enter
27-May            Galway Hills Corkscrew 7th of 8, 140.58 class winner 133.79
28-May            Galway Hills Ballyallaban 7th of 9, 129.11 class winner 121.97 Pat Dowling double drove with a time of 137.92
4-Jun                Circuit of Munster assistant stage commander to Pat Dowling
10-Jun              DU Hills Cruagh 3rd of 5, 61.27 class winner 57.08
11-Jun              DU Hills Laragh 4th of 5, 67.37 class winner 61.36
18-Jun              Race Meeting Mondello
15-Jul               Tipp C on S hills Dungarvan 3rd of 7 79.72 winner 77.73
16-Jul               Tipp C on S hills Millvale 5th of 7 74.92 winner 67.49 Coming home wheel fell off borrowed transporter, Denis Hogan stopped and helped me get going again.
30-Jul               Race Meeting Mondello Did not enter
6-Aug              Race Meeting Mondello Did not enter
19-Aug Phoenix Park Races Denis Hogan loaned me his transporter to go to event,
20-Aug            Phoenix Park Races 14 of 22 Fasted lap 1:37.58 race 1:30.86
9/10 Sep          Leinster Trophy Practice 1:17.55 pole 1:13.02 Race 20 of 22, my fastest lap1:24.01 race 1:19.88
16/17 Sep        Donegal Hills Did not enter but still ended third in championship class
23/24 Sep        Formula Ford Festival practice 1:18.13 pole 1:13.13
15-Oct           Race Meeting Mondello 2 driver race with Denis Hogan Practice GOC 1:18.95 DH 1:27.02 Pole1:14.48 Race 10th of 13 fast lap GOC 1:20.00 DH 1:22.84 Race 1:15.53
Bought Brian James Trailer from Southern Trailers in Cork
27-Feb             Limerick Pathfinder Night Navigation Rally 1st Novicewith Ed O'Callaghan in his Austin Montego
13-Apr             Wexford Hills 4th of 7 75.87 winner 73.86
14-Apr             Wexford Hills 6th of 7 110.56 winner 102.24
20-Apr             IMRC Night Navigation with Ed O'Callaghan event was part of Retro Rally the Navigation section was based at the Woodlands Hotel in Adare
25-May            DU/MEC Hills Cruagh 6th of 9 58.91 winner  56.82
26-May            DU/MEC Hills Laragh 1st of 8 winner  67.36 My only class win with the Ritmo
8-Jun                Galway Ballyallaban 3rd of 8 142.96 winner 141.01
9-Jun                Galway Corkscrew 3rd of 7 132.43 winner 129.15
13-Jul               Tipp C on S hills Dungarvan Intl 7th of 8 97.83 winner 94.77
14-Jul               Tipp C on S hills Dungarvan Intl 7th of 8 97.79 winner 94.21
17-Sep             Phoenix Park Races Practice 12 of 16 1:37.03 pole 1:30.49  Race 14th of 14 fastest lap 1:36.17 race 1:30.76
18-Sep             Phoenix Park Races 10th of 16 fast lap 1:35.54 race 1:30.69
14-Sep             Donegal Hills Glengesh 5th of 5 70.70 winner 67.74
15-Sep             Donegal Hills Glengesh 3rd of 4 71.46 winner 67.58 double drive Ronan McGarry 73.45. 3rd in class championship
30-Nov            ALMC Canbog beginners Night Navigation rally with Ivor Miller in VW Golf 2nd in Novice class
I think sometime during 1996 I double drove Sebastian Stacpoole's Peugeot 205 in the Limerick Motor Club Autocross at Monard quarry , Co. Tipperary. I enjoyed my practice run but did not get a timed run as Sebastian rolled the car into a small river on his first timed run
22-Mar              ALMC Jumbo Night Navigation Rally at Moyvalley Co. Meath with Ivor Miller in his VW Golf 1800 GTI Finished event then drove to Longford for event below
23-Mar              Midland Single Stage Finished event extremely tired and hoarse(no batteries in the intercom on the first stage)
5-Apr               Wexford Hills 8 points
6-Apr               Wexford Hills 7 points
24-May            DU/MEC Hills Cruagh 7 points
25-May            DU/MEC Hills Laragh 6 points
7-June              Galway Ballyallaban 7 points
8-June              Galway Corkscrew 7 points
12-Jul               Tipp C on S hills Dungarvan 7 points
13-Jul               Tipp C on S hills Dungarvan 7 points
16-Aug            Phoenix Park Races Practice ?? of  ?? pole 1:31.35 Race was scheduled to be last of day but due to FVee crash it was postponed. Fortunately for me as I had had a drive shaft problem in practice, which was fixed for the rescheduled race on  Sunday
17-Aug            Phoenix Park Races Race 1 15th 0f 19 Fastest lap 1:36.43 race 1:31.34 Race 2 14th of 17 fastest lap 1:37.90 race 1:30.41
24-Aug            ALMC Stages Rally Navigated with Ivor Miller finished last stage with left rear puncture
13-Sep             Donegal Hills Grianan 4th of 7 Time 81.00 A time of 78.27 was set in practice, winner 75.13 Double drive Sean Sweeney won the class on run 2 and crashed it on run 3. when he put the right front into large round hay bale
14-Sep             Donegal Hills Grianan withdrew entry as a result of the previous days excursion
27-Sep             Carrick-on-Suir Night Navigation Rally with Bernard O'Neill in his Toyota Celica went well until we slid into a bank.
The year I entered class 1 for 1600cc cars
I had not beaten out the damage from Donegal!
16/17 Mar        West Cork Rally Navigated Ed O'Callaghan in his Avenger 1st in Post Historic class
5-Apr               Wexford Hills Drove Ivor Millar's Ritmo.If I had entered class 3 I would have been 3rd in class 3. Result 27 of 34 My time 98.54 Ivor's 99.75
25-Apr             Galway Corkscrew 3rd of 5
26-Apr             Galway Ballyallaban 4th of 4
23-May            MEC Cruagh 10th of 11
24-May            MEC Laragh
13-Jun              Tipp C on S hills Dungarvan 7 pointsEntered Class 2 in John Whitley's Golf My first experience of a front wheel limo My time 92.83 John's 91.55
14-Jun              Tipp C on S hills Dungarvan Did not enter
1-Aug              Cork Hills 8th of 8 Ritmo is back multicoloured! My time 117.42
2-Aug              Cork Hills 8th of 8 My time 116.64Ritmo resprayed bright red with blue bumpers.
15-Aug            Phoenix Park Races Practice 14 of 14 at 1:36.82 pole 1:31.49 Race Finished 6th of 11, 2 were disqualified so officially 4th Fasted lap 1:35.77 race 1:32.13
16-Aug            Phoenix Park Races 9th of 10 fastest lap 1:36.44 race 1:31.22 1998 was the last year for the Ritmo Class in racing and on the hills
12-Sep             Donegal Hills Letterkenny 9 of 9 75.35
13-Sep             Donegal Hills Letterkenny 9 of 9 Slowest time of day gearbox would not select 3rd 84.36s Finished class 1 4th of 8 registered in championship
6-Dec              Killarney Historic Stages Rally Navigated Ed O'Callaghan in his Avenger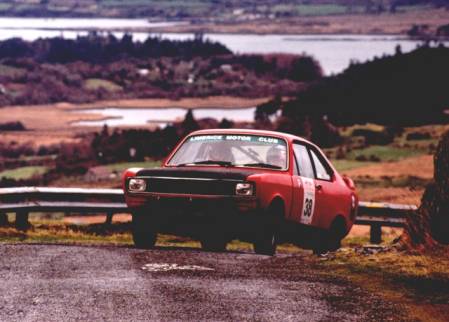 1998 Historic Rally of the Lakes Co-driving with Ed O'Callaghan
10-Jul               Tipperary/Carrick on Suir Hills Dungarvan Entered Class 2 in Denis Hogan's Avenger My time 90.90 Denis' time 88.59
11-Jul               Tipperary/Carrick on Suir Hills Millvale. Drove Michael Melia's Fiesta My time 65.61 Michael's 66.10
21/22 Aug        Phoenix Park Spectator
12-Sep             Donegal Did not enter Denis Hogan drove Tony Murtagh's Corsa Denis 64.61 Tony 59.36
5-Dec              Killarney Historic Stages Rally Navigated Ed O'Callaghan in his Avenger
15-Apr             Wexford Hills Ritmo stopped on first run Rotor cracked
16-Apr             Wexford Hills only 1 run due to weather 6 of 7 My time 94.62 Class winner Tony Murtagh 79.64
25-Apr             Galway Corkscrew 8 points
26-Apr             Galway Ballyallaban I only set a practice time I got within 10m of the line on my first Run when the altenator killed the battery and I rolled to a stop, Eoin Noonan double drove that day and only had a practice run
27-May            MEC Cruagh Did not enter
28-May            MEC Laragh Did not enter
17-Jun              Limerick/Kerry Hills Kilfinny Clerk of Course
18-Jun              Limerick/Kerry Hills Old Mill Assistant CoC
30-Sep             MG Car Club/Irish Shell Economy Run Finished last in the Diesel Class at 56.8mpg class with the Renault Kangoo van, class was won by a VW Passat at 99.30mpg
The Rear Wheel Drive Year
7-Jul                 Tipp C on S hills Dungarvan Entered Class 2 in Dermot Harrington's Toyota Corolla Twin Cam
21-Jul               Phoenix Park Sprint competed in rented Sylva Stryker thanks to Sponsorship from Tech Plus 2nd of 10 75.03 Winner 74.37 quick run was after getting baulk
21-Jul               Phoenix Park Race Practice 1:33.00 pole 1:23.74 Race 14th of 17 fastest lap 1:29.33 race 1:24.34
22-Jul               Phoenix Park Sprint 5th of 7 77.95 winner Paul O'Connell 74.55
22-Jul               Phoenix Park Race spun off at Mountjoy (corner onto start finish straight)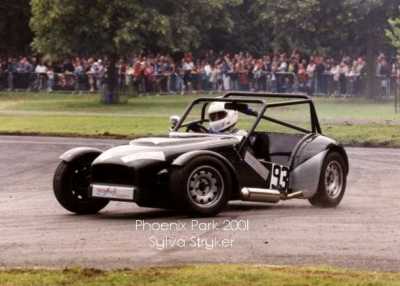 Sylva Stryker at the Phoenix Park

Mondello Sprint Brought up Ritmo but it would not run properly so I withdrew my entry

Third in hillclimb Challenge after Denis Hogan Jnr. and Paul O'Connell

Donegal Did not Enter

 

13-Apr             Wexford Hills Slowest time of day in any class! 13th in class @68.20 Winner 53.27 Ignition timing out

14-Apr             Wexford Hills Dick Bailey killed on second run in his Dax Rush.Event cancelled with results based on first run 11th in class @1:15.40 Winner 1:04.37

Galway Rain Rain Rain 6th in class @1:17.94 Winner 1:07.33

Galway Ballyallaban 5th in class @2:30.42 winner 2:14.48

25-May            MEC Hollywood 12th in Class @73.94 Class winner 54.64 Car was misfiring and sputtering

26-May            MEC Hollywood 12th in Class @61.91 Class winner 53.14 Time improved after adding petrol and changing coil

15-Jun              Limerick Kilfinny helped Cecil Orr with timing

16-Jun              Limerick Old Mill controlled top of hill

13-Jul               Dungarvan 99.53 10th of 11class winner 87.74

14-Jul               Dungarvan 98.00 10th of 11 class winner 86.92

7-Sep               Donegal  2 entered in class 66.31 class winner 58.95

8-Sep               Donegal  2 entered in class 65.81 class winner 59.17

12-Oct             Killarney 48.34 4th of 4 class winner 41.68

13-Oct             Killarney 50.85 5th of 8 class winner 43.84

Season Finish 4th in class

15/16 February

Midland Night Navigation Trial with Eoin Noonan in his Golf went well until clutch died

Various Dates

Worked at timekeeping and results on the Clare, Galway, Limerick Hills and the Gordon Bennett centenary Sprint

6 September

Donegal Hillclimb at Knockalla in Matt Clarke's Mini Marcos 2nd in Historic class handicap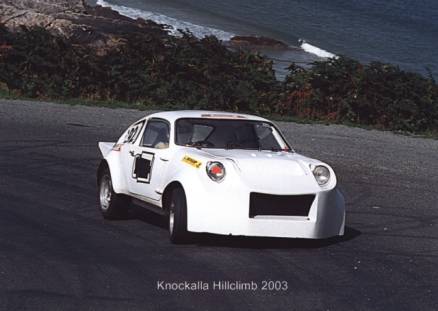 Mini Marcos
3/4 April
Wexford Hillclimbs, Start Timekeeper
24/25 April
Galway Hillclimbs, Finish Timekeeper and Results
6/7 June
Carlow Historic Sprint Finish Timekeeper and Results
12/13 June
Clare Motor Club
Saturday, 99.68, 5th of 7 in class, winner 94.93s. Eventful start to day, first exhaust fell off, then the bonnet opened in practice run due to forgotten bonnet pins.
Sunday 99.40, 9th of 9 in class, winner 90.01
10/11 July
Entered but unable to go
31 July/1 August
Limerick Motor Club
Saturday at the Old Mill 1st and last in class 1!
Sunday at Sugar hill 1st and last in class 1 again. Beaten by Katie Hogan both days
2/3 April
Wexford Hillclimbs at Fethard-on-Sea
Saturday 7th of 10 74.40s Class winner David Shirley 64.08s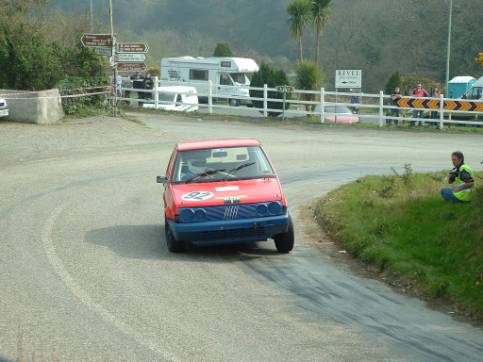 First Corner at Fethard-on-Sea
Sunday was not championship so I helped at finish line
23/24 April
Galway Motor Club
Saturday Ballyryan 9th of 9 68.21s class winner Ray Cunningham 54.50s
Sunday not championship helped at finish line
15 May
Did not enter championship round at Llys y Fran in Wales
5/6 June
Carlow MC at Bagenalstown
Sunday Non championship did not enter
Bank holiday Monday at Athy 6th of 7 in 51.12s
11/12 June
Clare Motor Club
Saturday 8th of 9 in 64.74s at Carron
Sunday 7th of 8 in 63.78s at Carron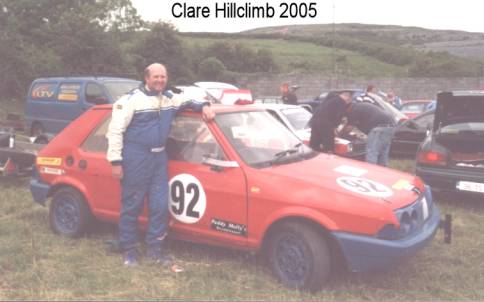 New Suit at last (let's say the first one had got a little tight)
9/10 July
Tipperary Club at Dungarvan
Saturday 3rd of 4 98.20s
Sunday 3rd of 5 97.25s I had a time of 96.97s on the fourth run, but this was disallowed because I was deemed to have hit a chicane.
30/31 July
Limerick Motor Club
Saturday at the Old Mill 6th of 7 57.28s
Sunday MC at Sugar Hill 6th of 6 63.54s
20/21 August
Carrick-on-Suir MC
Saturday at Piltown 8th of 9 57.84s
Sunday at Catsrock 8th of 11 73.36s on the first run. I set a time of 69.06s in the second run. The event was abandoned part way through the second run due to heavy rain bringing mud onto the course.
3/4 September
Donegal Motor Club at Knockalla
Saturday 5th of 7 63.49s
Sunday 5th of 5 63.16s
Class 1 Championship Result
1.     Ian Quinn                          Mini                94 points
2.     Ray Cunningham                Mini                90
3.     Stefan Walsh                     Rover Metro    88
4.     Gerard O'Connor              Fiat Ritmo        76
There were 4 other competitors in the class
The Ritmo is gone, long live the Vee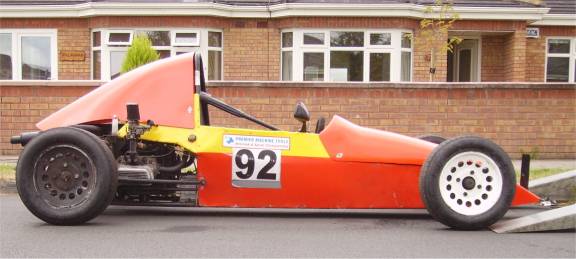 Early in 2006 I bought a Sheane Formula Vee single seater racing car from Declan McNamara. I took delivery of the car and did my first event at Tynagh. I spent a lot of the time doing pirouettes. Reasons tyres were a bit tired and of course the driver.
I next used a pre race day test session at Mondello to get used to car. Fvee was not quick due misfire and slow driver
I did a morning test session 6 May. at Mondello. Enjoyed it greatly (no misfire!) But boy was I slow! I was setting consistent 67 second (1m 07s) laps of the national circuit. The quick guys were doing 61 second laps and the mid field guys were doing 63/64 second laps.
My main diagnosis of the problem was that I need to improve my confidence on the brakes. Other things that would make the car slower than a regular race car are 1 using old spec drums on the front, whereas all race cars now have discs on the front. 2 higher ride height for the rougher roads of the hillclimbs. But most of my lack of speed was down to lack of bravery on the brakes.
Carlow Motor Club
Sunday and Monday of the June Bank Holiday Weekend at Bagenalstown and Athy.
Clare Hillclimb Weekend 10/11 June
A sequence of three photos from the Clare hillclimb at the Corkscrew near Ballyvaughan
What happens when you hit a bump with a Vee!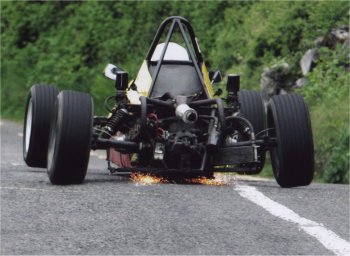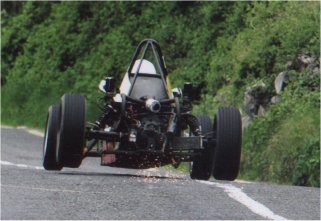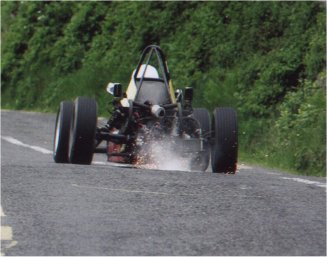 | | | |
| --- | --- | --- |
| Front wheels launched in the air and rear grounded. | Now three wheels in the air | Thud! Heavy landing! |
Good Fun Eh!
You should see the polished underside on the car! And remember my posterior has only a fibreglass seat and a sheet of aluminium between it and the road!
Soaked and Sizzled
Tipperary Motor Club
8/9 July at Dungarvan
The club uses the same piece of road each day, which can be a little boring. But not this year! The Saturday practice run had a few drops of rain falling. By the time we got to the first timed run it was flogging out of the heavens
It was my chance to take a result from the Formula Fords in my class and after the first timed run I was 2nd of 6 in class 5A (this class is specifically for Formula Fords and Formula Vees running in racing spec.). On the second timed run 2 of the FFords improved more than I improved so I ended up 4th in class. As conditions got worse the third run was abandoned, so the result stood after run 2
A closed car rarely wins overall these days on the hills but Seamus Morris in his Darrian T90 beat Pat Roche in his single seater (OMS Hayabusa) by 79.22s to 79.28s. Class 5A winner was Declan McNamara in a FFord Mondial in a time of 93.11s my time was 96.86s
Other competitors of note were Paul O'Connell (Delta T79) 3rd overall 80.55s, Simon McKinley (Escort MK II) 2nd class 3B 86.70s, Denis Hogan Jnr (BMW M3) 3rd class 3B 90.79s
Sunday just a few pretty clouds in the sky. No chance now for the FVee against the power advantage of the FFords. One driver had a suspension breakage on the practice run so that left 5 in the class of which I was 5th! On Board videos from Sunday Run 2 and Run 3
The Times 1st overall Pat Roche 64.27s 2nd Overall Paul O'Connell 66.01s 2nd class3B Simon McKinley 74.02s 3rd class 3B Denis Hogan Jnr 81.38s
Winner class 5A was Lee Stanworth in a FFord in 75.79s my time for 5th in class 82.38s
A Difficult Weekend!
Phoenix Park Motor Races
12/13 August
Scrutiny (Friday Evening) went well. Only 3 points to be rectified. One was a missing sticker to indicate where the fire extinguisher pull is, another was low brake fluid. The third took a little bit of work. This was some play in a spherical rod end on the steering. John Mahon who runs a number of racing Vees changed this for me.
Practice Saturday Morning
Went around at a fairly safe speed (i.e. slow) until engine went bang. I coasted to the side and got out to investigate. What I found was one of my spark plugs swinging on the end of its lead.
I was towed back to paddock after practice was over. I showed the damage to John Mahon, he said he might have a spare head. I went for a walk! When I came back my pit crew (Killian Bannon) was working with John putting my engine back together.On Board video from Saturday Practice
Saturday Race
Went well for 3 laps then power vanished so I pulled over. They were a great 3 laps. At the start the car ahead of me made a poor start so I backed off and the 2 cars behind me passed me ( I was now last). My time the engine power dropped off I had passed the 3 cars I just mentioned and was closing in the next. A loose exhaust manifold was diagnosed.
Sunday race
Eventful start! The car behind me gets a good start and his right front is by my left rear when I have to move because of another car, he went for a 2 foot high flight through the air and had to retire with suspension damage. Coming into the first corner knowing the carnage that can happen at the first corner, I went the long way round and picked up 4 places! On the second lap one of the cars I passed outbraked me coming into the Furry Glen hairpin. So I gave him room, but he left getting on the power a bit late coming out of bend so I modified my nose cone on his gearbox and tyre. Then it happened again the power dropped off so I was passed by everyone and had to retire. I was towed to the edge of the track area after the race and Killian used my van to tow me back to the paddock.
And many thanks to my pit crew Mr. Killian Bannon. Without him my weekend would have major pressure.On Board video from Sunday race
Donegal Motor Club hillclimb at Knockalla Mountain
2/3 September.
The weather was dry on the day after rain during the night. The start line had very low grip and the right hand hairpin still had water flowing across the road
I came into the weekend on equal points for theclass championship with 2 other drivers. The engine was still on its emergency rebuild at its outing at the Phoenix Park races. One of the consequences of this was the right side of the flat 4 engine having low compression. So I planned to mind the car on the first day.
The other 2 drivers on equal points with me were in Formula Fords so I did not expect to beat them. The maths of the situation meant that if I recorded a time each day I would get 3rd in the class championship.
Saturday I just did practice and one timed run to get my points. My time was 57.87 to the class winner's time of 50.35s.
Sunday My first run time was 55.96s second run 54.95s I got no time for the third run as a penalty for hitting a cone in the chicane. The final run was 54.26 compared to the winner's 51.49s On Board video
I modified the nose cone in the hit on the cone. You should of heard the bang! I think the nose cone was about 2 inches shorter, I beat the cone somewhat straight before the final run.
My wife and I camped in a caravan and camping site near the paddock. My wife enjoyed the weekend as the paddock is also near one of the best beaches in Ireland Stocker Strand near the village of Portsalon
Also at the event was Denis Hogan in his E36 M3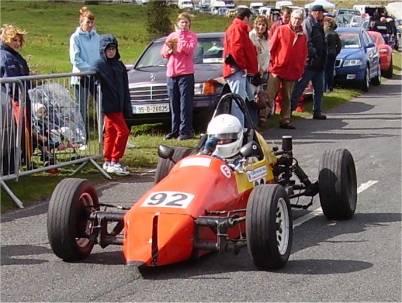 Hillclimb Championship prize giving
This was held in conjunction with Clare Motor Club on 13 January 2007 at the West County Hotel, Ennis. A good night was had by all.
Class 5A
Declan McNamara               85 points 2 wins 5 second places

Lee Stanworth                      85 points 2 wins 4 second places

Gerard O'Connor                  80 points
Mondello Test Day 9 March
I got the FVee back from John Mahon (near Gorey Co. Wexford) on Wednesday after having had its engine rebuilt . This was convenient as I had received a notice that there was a test day at Mondello that Friday. Now since my current working hours are 10am to 1 pm in Blessington I decided to do the afternoon session. I dropped the FVee at Mondello on my way to work now that was eventful journey, a Hit and Run driver hit the back of my transporter damaging the lights.
The battery was flat on the FVee so I charged it off the van while I was signing on and changing clothes. Took the first session handy with limited revs to run in the engine. Second session a bit more on the revs but I noticed the handling a bit funny coming out of the double apex rights. Braking at the first part of the Esses I got a wobble and ended up in the gravel trap. The reason for the handling malady revealed itself as a rocker cover bolt missing and causing oil to be dumped on the left rear tyre. Towed back to paddock.

The gravel had bent the poor nose cone under the car. All I can say is it will not polish out!.

In the third session I ran without the nose cone, toes were frozen! Took engine near max revs, running very smooth. 4th session was a blast, although took it a little cautious with the braking, I did step the tail out a few times under power in some of the corners.

As I was on my own I have no laptimes, but I would say they were not great, as I was taking things a little on the safe side
OOPS!Wexford hillclimbs 1/2 April
Video from last run Sunday 2 April
Maybe that bend was not flat in top. I was easily doing a minimum of 75mph when I lost it. Hit the bank between the bushes and trees. A video camera man got the end of the incident, quite spectacular. I just bounced off the bank. The front axle tubes on the left were bent back about 4 inches. The left rear trailing arm was bent.
I survived without a scratch, although I had that "this is going to hurt" thought in the middle of it. I was lucky, the Vee was strong, Thanks Mr. Sheane
The full run videos from the Sunday and the Saturday hills
The Saturday hill was short but with more variety of challenge, Sunday was a pure high speed blast. Look at the finish fast bend then downhill. I reckon I was doing about 95mph over the finish the quick guys were doing 130mph
Saturday winner overall 2.4litre single seater 32.61s my quick time 38.95
Sunday was won by a 2.4 Escort (the 2.4 single seater had gearbox problems and was 2nd) time 44.92s my time 53.43s
Car Repaired Ballyvaughan Co. Clare Galway Motor Club 21/22 April 2007
6 minute on board video of the weekend's driving
Put down the power too heavy at the left hander before the mid point services and spun into the wall (not on video due to batteries flat in camera). Damaged front suspension again.
My runs were not the fastest for two reasons
1.        I was lacking confidence after my high speed off on the Wexford event
2.        The car felt totally different after the rebuild. It turned in better and the brakes had a way better feel. On the negative side the back felt a little more skittish.
My 2nd run on Sunday was 131s against 128s last year. Maybe I was trying too hard to equal last year's time on the last run!
The Rain Stayed Away Carrick on Suir Motor club Hillclimb weekend.
Rounds 5 and 6 of the Premier Machine Tools Hillclimb Championship 19/20 May
We were very lucky with the weather at Millvale near Rathgormack on Saturday and Garryduff near Piltown on Sunday.
Saturday had 3 entered in my class I managed to take 1st place even with my driving cautiously. I did not want to make it 3 events in a row where I was bringing home a damaged car!
The Saturday Hill at Millvale is a combination of a slow start opening out to quick last section with a tricky right hander before the finish
The Sunday hill had been nick named the M50, it is so fast the incline of the road is the only thing that keeps the speeds from going ballistic. The car that finished 5th overall was on max revs in top which equates 136mph. I doing about 102mph, the Beetle engine just did not have the grunt to hit max revs up that incline.
Pictures on the PeeSpeed Photography website of Sunday event
Photo 1 Photo 2 Photo 3
Unfortunately I did not set up the on board camera on the car.
Overall a good weekend.
Carlow Car Club's event at Bagenalstown and Athy 3/4 June
The first day of the Carlow event at Bagenalstown was long straight with 2 chicanes followed by a square right into a narrow twisty bit. That's the nice bit. The not nice bit is IT RAINED.The day was a big gamble so I started slow and improved to set a reasonable time for the conditions on my last run.
The second day was a narrow bumpy road near the Moate of Ardscull out side Athy. I was 2.6 seconds slower than last year which was frustrating, I am blaming gearchange problems see below
Mechanical WoesClare Motor Club's event at Ballyvaughan and Carron 9/10 June
More gearchange problems on practice and First Run. Second Run got off start line and no more gears. Caused a red flag as a result and had to be rolled back to startline and out of the way. The next day I offered my services to the organisors and spent the day in glorious sunshine about 1/3 of the way up the hill as a flag marshal.
The rain didn't stay awayTipperary Motor Club Premier Machine Tools Championship
Dungarvan 7/8 July
Each day began with the threat of rain. Saturday had glorious sunshine in the morning. The practice run was dry on the revised from last year course. The second chicane was abandoned for 2007 bringing back the high speed blast that the Dungarvan hill is famous for. The first chicane was changed from a 2 element to a 3 element, this did not change speeds through the chicane much.
The single seaters as a group had just finished their first timed run and were waiting at the top of the hill to return to the paddock when the rain arrived. Having learned from previous experience I keep a bin bag under the seat to provide shelter while waiting.
On returning to the paddock every single seater driver put their car on the trailer. The saloon competitors continued for a further 2 runs although times were greatly reduced.
My time was 82.01 seconds which I was quite happy with.
Sunday started overcast a practice and 2 timed runs were in the dry. The rain then arrived and runs 3 and 4 were wet only 22 of the 68 competitors did the 4th run. Again no single seaters went up in the wet.
My time 81.91s
Both days I was the only competitor in my class so took maximum class points.
I had picked the car on the Friday before the event from the workshop where my suspected gearbox problem was repaired. The problem turned out to be the lightened flywheel had broken.

What a standard flywheel looks like


It can been seen from the machining and drilling done that there was not much of the standard flywheel left in this lightened version
There is still a 3rd gear synchromesh problem to be sorted
Time to rest
Limerick Hillclimbs 4/5 August
I only competed on the Saturday. I just needed the points from that day to clinch victory in Class 5A in Premier Machine Tools National Hillclimb and Sprint Championship.
The Saturday hill was near The Old Mill outside Newcastle West. It is a quick course with only one slow corner near the start and fast kinks after that. I drove practice and 1st run cautiously to gather my points. Dean Laffey also in a Vee was my only competition in the class on the day, so on Runs 2 to 5 I tried my hardest to beat him, but in the end he beat me by 2.1 seconds. Final Result Dean 47.68s me 49.84s
Sunday I marshalled on the Boula hill near Broadford on the Limerick Cork border. One of the drivers when walking the hill said that I had the most significant corner on the hill and it should be interesting
He sure was right. First a Corsa couldn't straighten and mounted the ditch across from me, then an Uno spun just before that spot and finally a Puma ended up in the spot that Corsa had been in previously. The rear wheel drive saloons were very entertaining with their tail out antics.
Donegal 1/2 September
I relaxed and helped competitors at the spectacular Knockalla venue.
MEC 15/16 September near Ashford Co. Wicklow
Start line timekeeper for the weekend.
The championship prize giving
Grand Hotel Wicklow Town
A good time was had by all.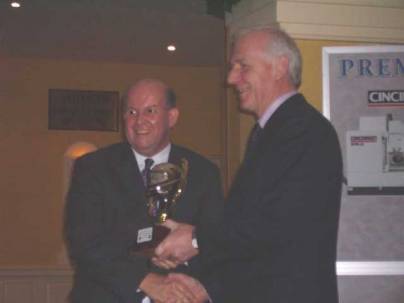 Receiving my First in Class 5A trophy from Peter Dwyer owner of championship sponsor Premier Machine Tools
Wexford MC at Barnstown
The first of the event of the year was at Barntown outside Wexford town. Saturday started very wet and dried as the day went on. I finished 2nd of the 6 drivers in my class. The winner was a younger driver in a Formula Ford (about 30bhp more than my Vee).
Sunday had one shower in the morning but cleared up. Same result as previous day.
Before that I had tested in Mondello with the end result of a broken valve spring.
Soon after that I helped some hillclimbers at the Formula Libre testing at Mondello. As a thank you I got to drive one their cars (slowly!). The car was a 2 litre mid 1990s Formula Renault with wings and slicks. Comment, I want one! The grip of the slicks was amazing. As I said I drove it slowly, the regular driver was doing 57/58 second laps I was doing 63/64 second laps, not helped by a fuel starvation problem on the first part of the Esses. Less than a litre of petrol in the tank when I finished.
But I have to admit I thoroughly enjoyed my 15 laps
Galway Motor Club at Ballyryan and Ballyallaban 19/20 April
Finished 3rd to the Formula Fords of Cormac O'Brien and Colm Dunphy both days.
Clare Motor Club 7/8 June 2008
This was a difficult event. On Saturday at the Corkscrew outside Ballyvaughan, I had an oil pipe blow off as my double drive for the weekend Cillian Bannon (a first time competitor) brought the car to the start line. Some emergency repairs had to be done as the oil cooler was also damaged. I ended up 2nd of the 4 competitors in the class, Siobahn McCann achieved her first class win.
Sunday at "the scalp" near Carron, Cillian and I had to keep the car cool having no functioning oil cooler so a lot more pushing the car around the paddock. Cillian discovered his natural talent finshing 2nd after Siobhan with me in 3rd!
Tipperary Motor Club at Dungarvan 5/6 July 2008
Both days were in very changeable conditions, Saturday I finished 2nd after Colm Dunphy in a Formula Ford with Siobhan in 3rd.
Sunday I did a good first run with no one near me on time, so I sat there watching as the rest of the class tried to beat my time. Siobhan came close on the 4th run. This was my first class win of the season with Siobhan 2nd and Colm 3rd
This gave me the lead in my class in the Magnus Technology National Championship,
My Home Event
Limerick Motor Club's rounds of the Magnus Technology National Championship were held on the 2nd and 3rd of August at the Old Mill near Newcastle West on Saturday and Boola Hill near Broadford on Sunday.
The start line on Saturday had to be moved because of recent rain. The start area never dried so starting technique was vital to maximise speed on the quick course. Siobhan had the lead on runs 1 and 2, she had spin on run 3 which allowed me to take lead for runs 3 and 4. Siobhan took the win on run 5.
Sunday at Boola hill was another quick event. Learning which fast sweep was which was vital. The day started with very variable weather conditions. Scott Milligan took the class lead on run 1 after both Siobhan and I had wet runs. Siobhan took the lead for runs 2,3 and 4. With the road dry for run 5 Siobhan improve by 1 second, but I improved by 2.5s to take the win.
Eventful Event
MEC 23/24 August 2008
The first day of the Motor Enthusiasts Club Sprint at the Cullenmore bends near Ashford Co. Wicklow started with rain on the horizon. Everybody started exploring their limits from the practice run. I went beyond my limit and spun exiting the second chicane. Being a little cautious on the 1st timed run led to a time of 53.23s 3rd place behind Richard Dunphy in a FFord 52.18s and Siobhan McCann FVee 52.84s. On the slightly damp second run I spun again at the same spot! The weather worsened so the first run times determined the final result.
Sunday was completely different weather wise with the sun splitting the stones. Richard Dunphy took the early class lead and was not caught. The battle for 2nd was a bit more exciting. Siobhan set a time of 49.99s on her first run to my 52.32s. Then catastrophy struck for Siobhan, Scott Milligan who shares her car, lost control at the first chicane and made a bit of a mess of the car, Scott was a bit sore afterwards! I offered Siobhan the drive in my car, which she accepted and duly started beating me in my own car. I rectified things on the final run to pip her for 2nd place with a time of 47.65s to her 48.07s
No YouTube video of my spins, but here are Runs 3 and 5 from Sunday
The Battle to the end
Donegal 6/7 September 2008
My wife and I headed for Donegal on Friday evening. It was a miserable drive, we were following a torrential band of rain!
Saturday dawned a beautiful sunny day. As we headed out from the hotel to Knockalla mountain where the event was being held, about 15 miles, there was a loud bang from the back of the Kangoo. Investigation showed that the left rear torsion bar had broken and the rear of the van was resting on the bump stop.
In the battle for the championship I had to finish ahead of Siobhan on just on day. After a close battle Siobhan beat me by 0.25s. One sillyness that happened to me on the practice run was I lost power coming out of the tight right. Panic had the engine developed a problem, then I noticed I had knocked off the ignition switch. I turned it on and bump started the car just before it slowed to a stop. Of course I tried too hard on the final run and demolished a cone at the chicane!
Sunday Last chance for me! Siobhan got off to a flier, nearly 2 seconds quicker than me! She improved on runs 2 and 3. After a few bits of advice on where I losing time (braking to early at the chicance and too late at the right hander) I managed to get to within 0.39s of her time.
We were beaten both days by Colm Dunphy in the Formula Ford. Denis Hogan in his E36 M3 finished 2nd and 3rd in class 3B each day

The Vee, the Kangoo and Denis Hogan Jnr's BMW M3 in the Knockalla paddock
The Times
Saturday FTD Paul O'Connell 40.39s. 20th overall Denis Hogan 49.45s. 42nd Overall Me 52.99s
Sunday FTD Paul O'Connell 40.24s. 24th overall Denis Hogan 49.35s. 38th Overall Me 51.10s
John Mahon took the FVee to his base in his truck (a crankshaft oil seal needs to be replaced). The Kangoo came back from Donegal with a block of timber propping up the rear!
The championship ended 93 points for both Siobhan and I, Siobhan took the championship by virtue of having 1 more 10 point score than me!
2008 Prize Giving Night
Hodson Bay Hotel, Athlone, 13 December
I received my award for second in class 5A from Darryl Ramsay of the championship sponsor Magnus Technology.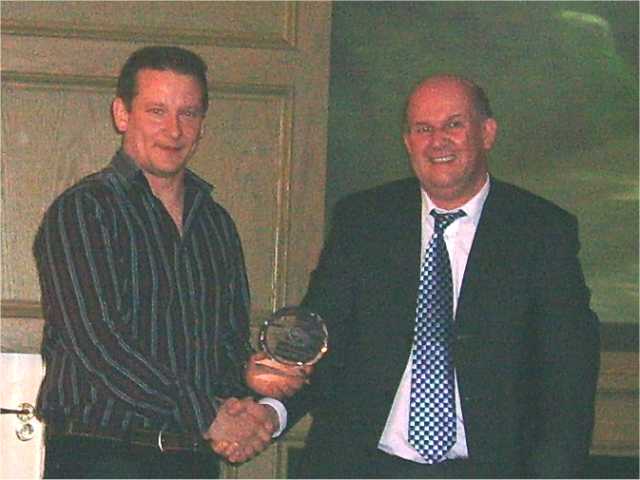 Darryl Ramsay presenting award to Gerard O'Connor
Fellow Limerick Motor Club member Paul O'Connell received the overall championship award and Michael Melia received his award for 3rd in class 3B. Denis Hogan Jnr was unable to attend and his 1st in class 3B award was collected by Paul for him.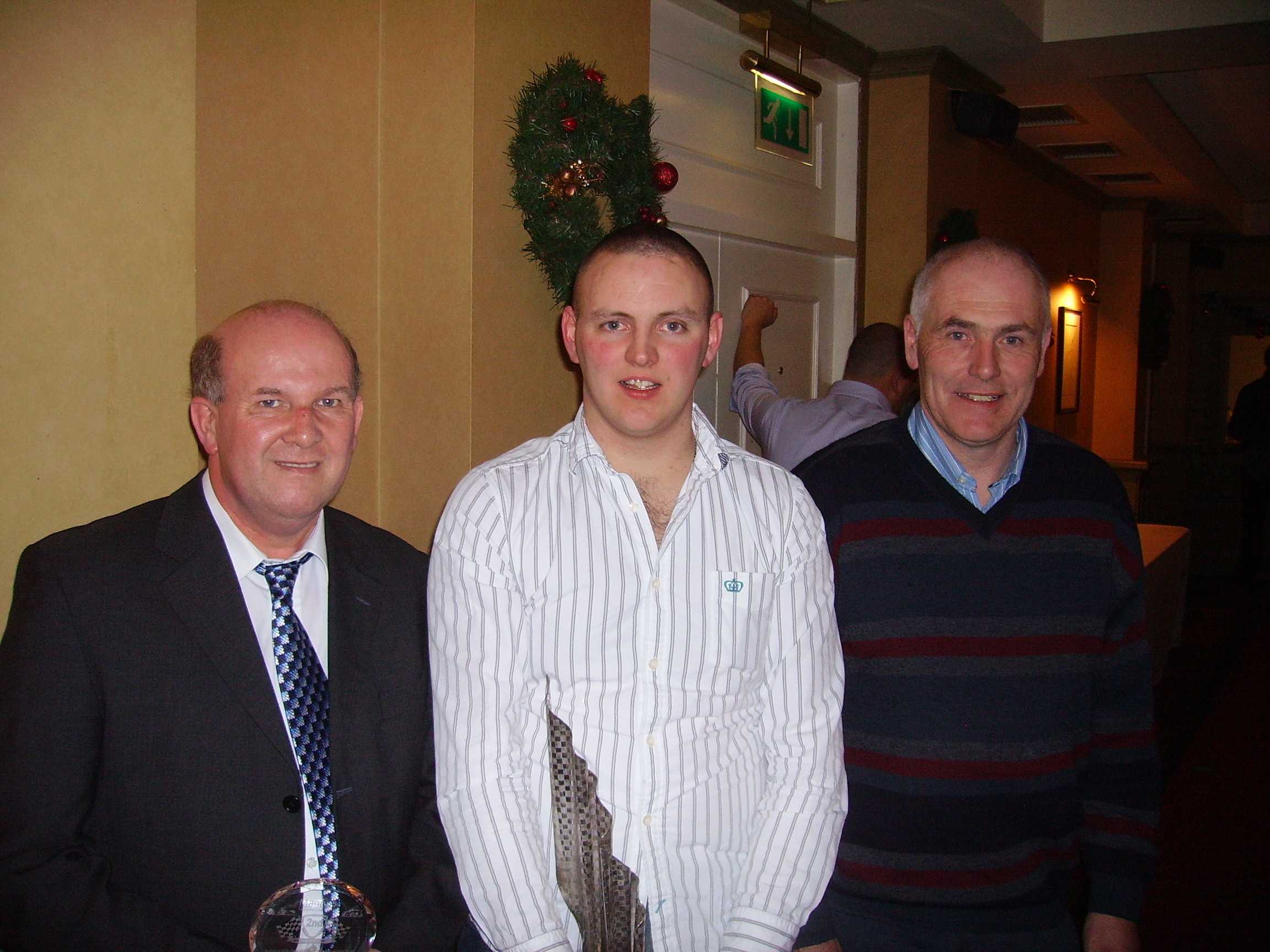 Limeric Motor Club award winners Gerard O'Connor, Paul O'Connell and Michael Melia
A Destructive Year
A sore shoulder has deterred me from entering events this year. Not because of the driving but because of the pushing and pulling involved moving the car in the paddock and on the trailer.
Physiotherapy is a great help, full movement is back, but I really have to keep doing my exercises.

The best Laid Plans of ......................
Since I was not doing any hillclimbs and the shoulder had improved, I decided to enter the Phoenix Park Motor Races on the 8/9 August. 2009 is the 80th anniversary of the first international Grand Prix and to honour this the main race on Sunday was to be the Dublin Grand Prix. I decided that I would rent a car for this race.
I spoke to Alan Kessie about a car, he said he had two available. One was a Crossle Formula Ford that had been modified with wings and slicks the engine also had 160bhp (1700cc and twin carbs) the other was a a beast of a car, a Ralt RT22 this car is a Formula 3000 chassis with a 3.8 litre Holden (340bhp)
I opted for 160bhp not so much of a jump from the bhp of the Vee
Saturday of the Park started difficult, clutch slip in the Crossle during qualifying. Tried it in the race same again retired after 2 laps.
Alan had no clutch for the Crossle so he offered me the Ralt for Sunday, I accepted although a number of people advised me not to. The car was not available for Warm Up (it needed an oil pump belt change) So the first time I drove it was from Paddock Assembly to the grid. I did the warm up lap getting familiar with the car. Stalled on grid for start restarted with a boost pack. Completed first lap OK. On second lap at Furry Glen found it hard to get second, turned in too late and not hard enough, hit barriers on exit of corner. Race over, now waiting for damage bill. In the end the bill was not  too bad. I will be back in the Vee for 2010
Some Photos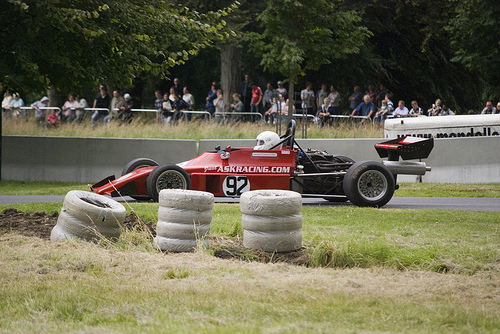 Car used on Saturday Crossle 30F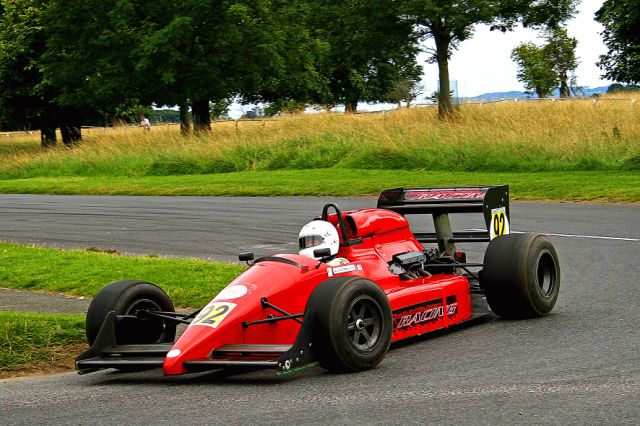 Sunday Car Ralt RT22 before I modified it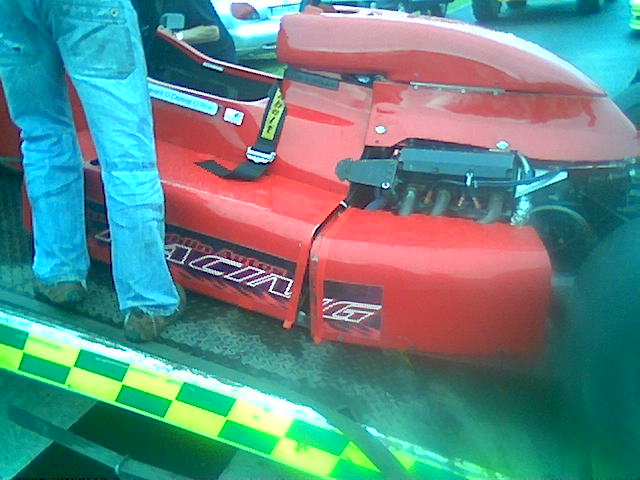 The bend in the middle is due to the engine mounts breaking
Due to work and financial commitments I did not compete in 2010
16 January 2011 I spectated at the TDC multivenue autotest at Mondello Park. Here is the video I made of the new Cento Challenge cars
19 February 2011 Marshalled at the ALMC Endurance Trial
17 March 2011 Again went to spectate at IMRC multivenue autotest but was conscripted for timekeeping. But I did have enough time before that to make another Cento Challenge video
7/8 May 2011 Helped as flag marshal at the James Pringle International Autotest on Saturday. Most of my video was made using a tripod as I marshalled. At the novice autotest on Sunday I was promoted! to timekeeper so had no chance to make a video
4/5 June 2011 Carlow Sprint weekend. First in class both days, there was only 3 in the class, I won by about 4 seconds each day. Senan O'Connor's video  shows me at 2m28s and 7m26s 
Full Results for Saturday near Moat of Ardscull outside Athy and Sunday just outside Bagenalstown
 Some photos taken by Peespeed Photography.and Caora Dubha.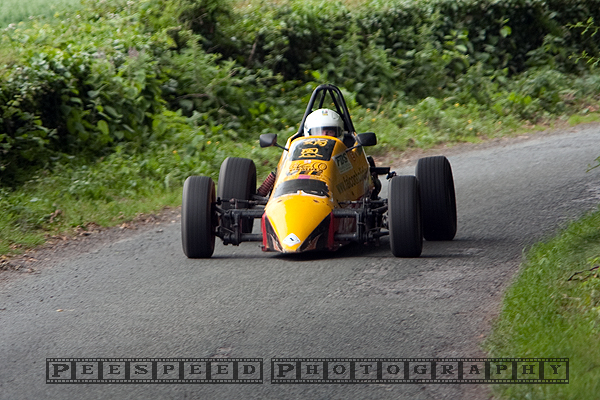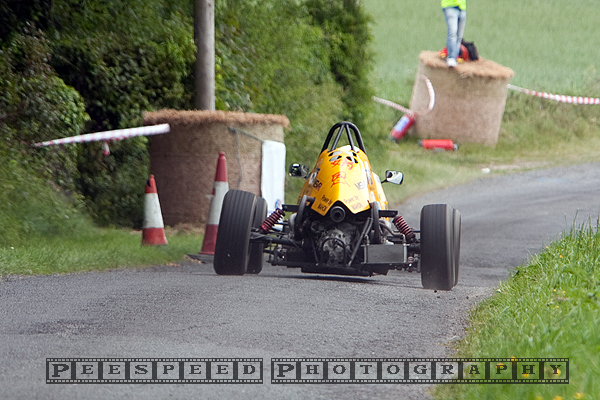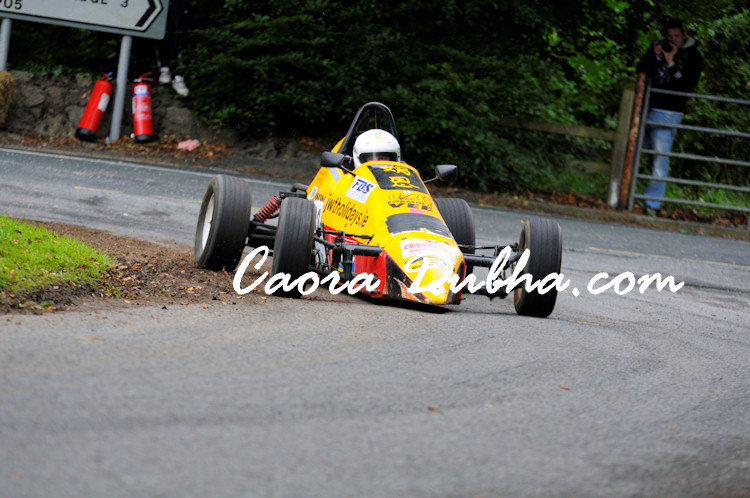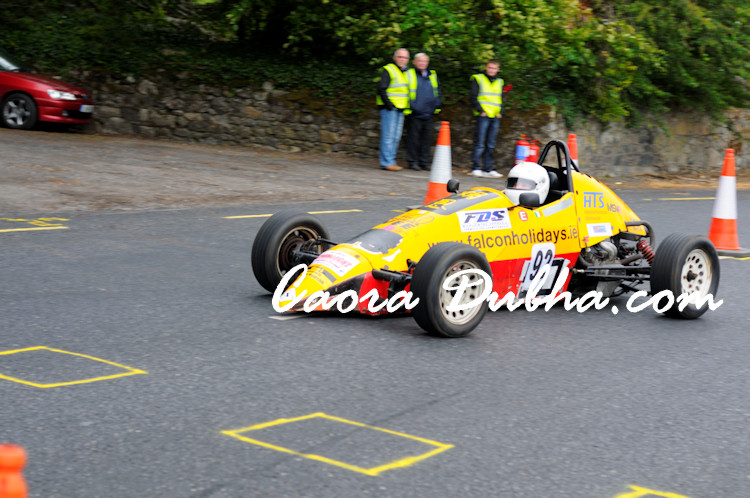 17/18 September 2011 Gave a hand to some drivers in the Formula Libre class at Mondello, Donal Griffin mentioned above was amongst them, not in a Formula Ford but a 5litre Reynard
24 September 2011 Motorsport Ireland steward at the ALMC Endurance Trial. A short video I made towards the end of the event

14 April 2012 After attempting to get my own car running for Ballyvaughan, I rented the same car as 2011 Carlow for the Corkscrew Hill finished second in class 3.3s behind winner. Time 65.08s
15 April 2012 Marshalled on Ballyallaban Hill

12 May 2012 finished 2nd in class at the MEC hillclimb using my own car
13 May 2012 finished 1st in class

2 June 2012 finished 5th in class at the Carlow Sprint at Kilrush Airfield Athy Co. Kildare
3 June 2012 finished 3rd in class at Bagenalstown Co. Carlow



Video of the event with a number of onboard videos including some of me
30 June 2012 Kirkistown Sprint, short course. 6th in NI class 13 (66th of 91 overall) Full Result
1 July 2012 Kirkistown Sprint, long course. 4th in NI class 13 (56th of 78 overall)Full Result

Onboard at Kirkistown
1 September 2012 Donegal Motor Club at Knockalla, Day 1 Full Result
2nd in class behind Eugene French
There was a delayed start due to timing equipment problems. Practice and 1st run were in the dry, then the rain came. Eugene's time on the first run was not going to be bettered in the wet. Eugene and I agreed to do one run in the wet, I was the quicker driver in the wet.
2 September 2012 Donegal Motor Club at Knockalla, Day 2 Full Result
1st in class
Eugene did not compete on Sunday giving me the chance to take a win. The event had 5 dry runs. I improved my times significantly on Saturday.

There is about 10s about me at the 5 minute mark

My second quickest run from Sunday (0.17s slower than fastest run, and that was probably due to the wheelspin off the line)>br>

Go To Top of Page
For this year's event Wexford Motor Club had found a new road at Castledockrell. There was a nice surface on the fast flowing course of 1205meters. The good surface was as a result of the building of wind turbines nearby.
There were only two competitors in class 5, Eugene French and myself, the event started in damp tricky conditions without incidents until the fourth run when things were drying, a number of people had "moments" a the second last and last corners, myself included.

I was a bit shaken by the crash, but other than a flattened nose cone there was very little damage to the car.
The car was repaired for Sunday, I did and practice and two timed runs on Sunday to collect championship points.


18 May 2013 The Corkscrew hillclimb
This event was moved to 18 May after the sudden death of PJ Vaughan the previous month. Practice was on a dampish road. Runs 1 and 2 were dry but the rain arrived for Run 3.I was the only competitor in class 5


1/2 June 2013 Carlow Car Club at Johnswell Co. Kilkenny and Bagenalstown Co. Carlow
Two in class. I finished behind Eugene French both days.

Johnswell 1 June

Bagenalstown 2 June>

20/21 July 2013 Carrick on Suir I did not enter

3/4 August 2013 Limerick Motor Club sprint at the Irish Festival of Speed
I entered this non championship event as it was my own club. I had an eventful Saturday setting up the timing system and competing. Sadly I forgot to tighten the wheel nuts after fitting newer tyres. The left rear passed me on the first run. Sunday I concentrated on the timing system, but John Whitley made good use of my Vee for his first single seater drive.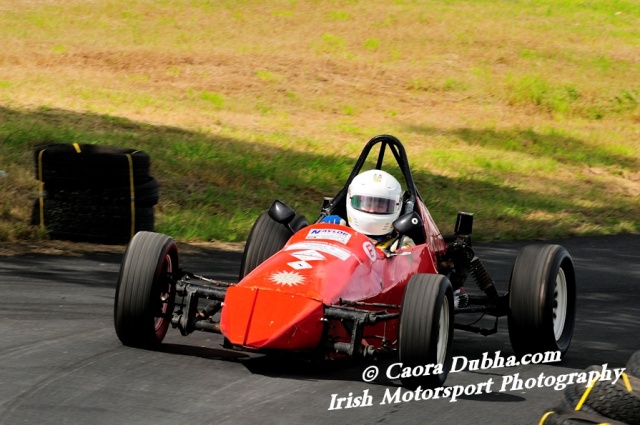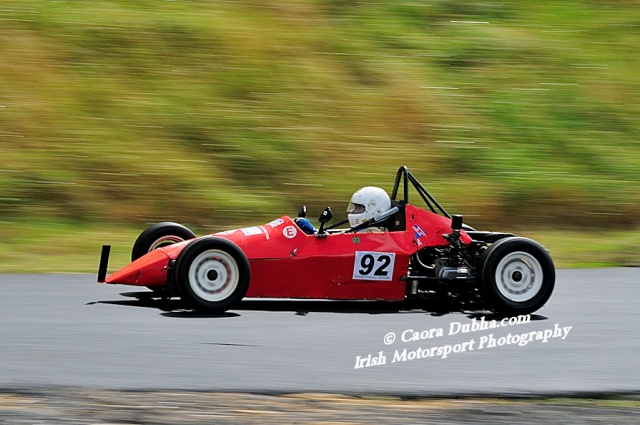 17/18 August 2013 Motor Enthusiasts Club at Naul
More loose nuts! It was spotted on Saturday that my engine was moving about. A quick check on Sunday morning revealed that every engine mounting bolt was loose. Started getting into the swing of things on Sunday

My quickest run from Sunday

My oops moment from the last run on Sunday
7/8 September 2013 Donegal MC at Knockalla, Did not enter Money ran out!
26 October 2013 Prize giving night for the 2013 Naylor Engineering Hillclimb and Sprint Championship. Attracta and I attended at the Kileshin hotel, Portlaoise. I very surprised when I heard my name called for the Colin Bradley sportsmanship award. The award was presented by his parents.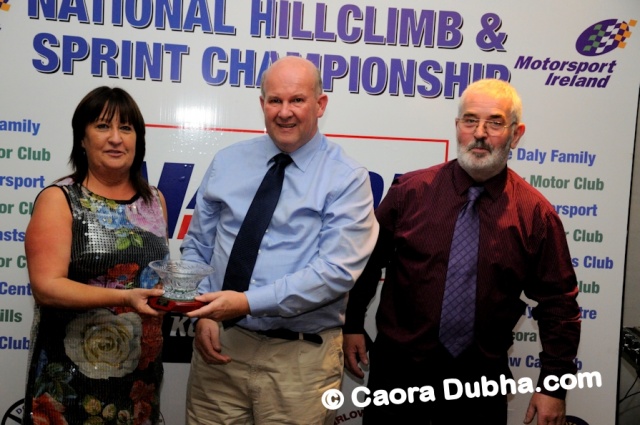 12 April 2014 Wexford Motor Club at Fethard on Sea 3rd in class
13 April 2014 Wexford Motor club at Carrick on Bannow 2nd in class
26 April 2014 Clare Motor Club at the Corkscrew 2nd in class. My double drive Philip O'Connor (first cousin once removed down)took the win
27 April 2014 Galway Motor Club at Ballyallaban, I crashed on first timed run. Philip my double drive won the class with his first run.
5/6 July 2014 Wexford Motor Club at Carrick on Bannow. I marshalled both days.
2 August 2014 Limerick Motor Club at Effin. Difficult day for my double drive Adam Craughan (Philip above's first cousin) and myself. The car was refusing to run above 4000 rpm. The problem was a small component in the ignition called a condensor had failed.
3 August 2014 Limerick Motor Club at Effin. Car ran perfect with new condensor from fellow class 5 competitor Eugene French. Adam took the class win by 0.02s. I was not confident after my crash in April so I finished fourth.


Competing at Effin Co. Limerick
Finances meant that I would not be competing for the rest of the season.
16/17 August MEC at Naul. I did not attend as I was on holidays in Wales. I did go to Shelsley Walsh for the British Hillclimb Championship 17 August 2014
6/7 September 2014 Donegal Motor Club at Knockalla. Money was tight so did not enter or spectate.
1 November Prize giving at Seven Oaks Hotel Carlow received the "Spirit of the Championship" award presented by Martin Gallagher of Onsite-event Photography
7 December 2014 Limerick Motor Club Autocross. I had told event organisor Eamonn Barrett that if there was a double drive available I was interested. A few days before the event in Jody Ryan's quarry near Rearcross, he phoned with an offer from Eddie Walsh to drive his 250bhp 4wd Subaru. I met Eddie on the day enjoyed a practice and three timed runs.
My best time of 2m 30.27s was nearly 20 seconds slower than Eddie's best of 2m 10.88s

The Scalp hillclimb on 25 April 2015 was a tragic occasion multiple hillcimb champion Simon McKinley lost his life on the final run after his car left the road. I was helping Cecil Orr with results and will never forget the radio call from start line time keeper Scott Milligan "Worst news possible".
The hillclimb community was out for the next event at Carlow, which I missed as I had made a PR commitment to Limerick Motor Club's Circuit of Munster rally that weekend. The first event I entered in 2015 was Limerick Motor Club's Effin Spint.
1 August 2015 50th overall second in class 5 due multiple issues, dirty carbs, bad plugs and binding brakes
2 August 2015 33rd overall second in class 5 much improved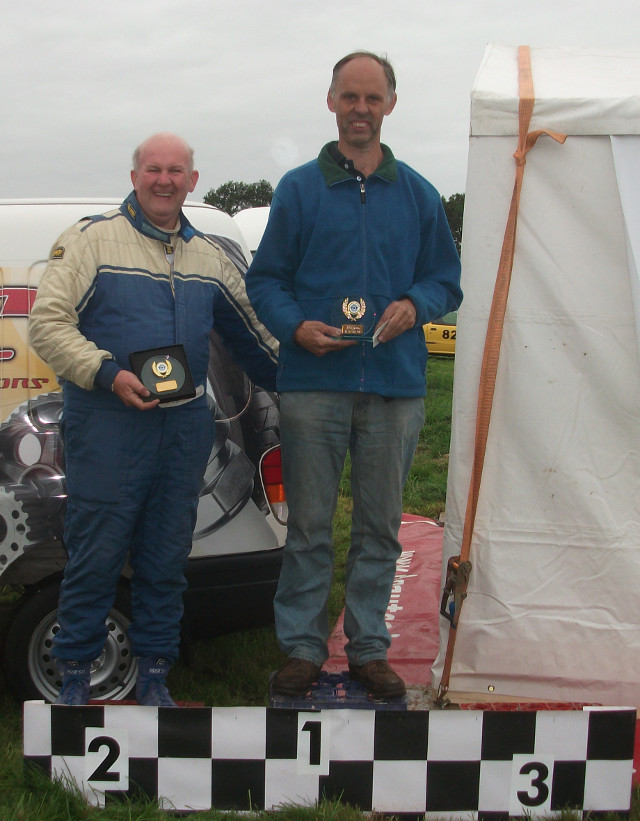 My wife and I made a long weekend out of the Motor Enthusiasts Club event at Naul
15 August 2015 36th overall second in class 5
16 August 2015 37th overall third in class 5
I needed one more result to qualify for second in class as there were only two competitors registered John Whitley and myself. My wife and I made the long trip to Donegal for the second day of the Knockalla hillclimb weekend.
6 September 2015 57th overall second in class 5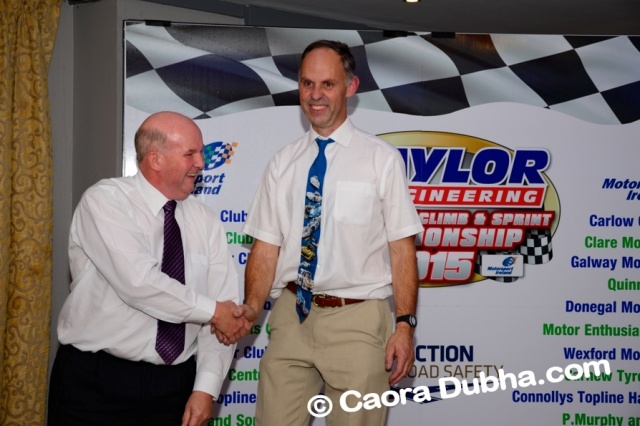 With John Whitley at the 2015 Naylor Engineering National hillcimb and sprint championship awards night at Carlow
13 December 2015 Limerick Motor Club Autocross near Rear Cross Co. Tipperary Drove Ed Walsh's Subaru again and did not get any faster compared to the previous year, but it was fun.

23 April 2016 The Corkscrew. Three competitors in the class. Finished second behind Cormac O'Brien in his Ray Formula Ford and ahead of John Whitley in his first compeitive outing in his recently purchased Swift Formula Ford
24 April 2016 Ballinalacken. A new hill for 2016. I was beaten by the two Formula Fords, this was a hill where power was needed. John whitley took the class win
21 May 2016 Clohamon near Bunclody Co. Wexford. Two entered in class I was second.
22 May 2016 Clohamon near Bunclody Co. Wexford. Russell Stanworth arrived on Saturday evening with an entry for Sunday but no car (water pump problems on his Reynard) I offered him a double drive on my car which accepted. On Sunday Russell foound the Vee very different from his Reynard but by Run 4 he was up to speed only 0.3s slower than my time. On Run 5 he tried a bit too hard and went for a spin damaging the nose cone. I went for my fifth run and improved another 0.2s to finish second of four drivers in the class behind John Whitley in his Formula Ford.
11 June 2016 The Sweep Dungarvan Co Waterford. Hit chicane cones on both practice and first runs. Took it handy on second run to get championship points. Event was running late so there was only two runs.
12 June 2016 The Sweep Dungarvan Co Waterford. The event was organised much better on Sunday with four runs. John Whitley had broken a drive shaft on the second run on Saturday so double drove my car for championship points. I took my first class win for a number of years from the three entered in class 5

2/3 July 2016 Carlow Car Club near Gowran Co. Kilkenny. John Whitely had some difficulty with the chicanes on Saturday allowing me to take the class victory.
Sunday A quick time on the first run threw down the gaunlet to John Whitley, unfortunately his challenge finshed in the ditch allowing me to take the win.
30/31 July 2016 Limerick Motor club sprint at Effin. After repairing an oil leak, level was not checked, engine blew up on Saturday's practice run. Gathered championship points with a run in John Whitley's Swift Formula Ford. I sat it out on Sunday and just relaxed.
13/14 August 2016 MEC sprint at Mondello Park. Rebuilt engine arrived and was fitted Friday evening. I was not able to compete due to flywheel and clutch pressure plate not being compatible with existing clutch release bearing and fork. Tried to get things going on Saturday without success and relaxed on Sunday.
3 September 2016 Donegal Motor Club at Knockalla Class 5
1 51 John Whitley Formula Ford 53.79
2 519 Michael Nicholson VW Formula Vee Sheane 54.93
3 92 Gerard O'Connor 56.49
4 September 2016 Donegal Motor Club at Knockalla Class 5
1 519 Michael Nicholson VW Formula Vee Sheane 52.78
2 51 John Whitley Formula Ford Swift 52.97
3 92 Gerard O'Connor Sheane 54.79
11 December 2016 Limerick Motor Club Autocross. This was my third year driving Ed Walsh's Subabru Impreza and my first year getting a bit of speed out of the car. Ed's best time 1m 53.47s, my best time 2m 4.91s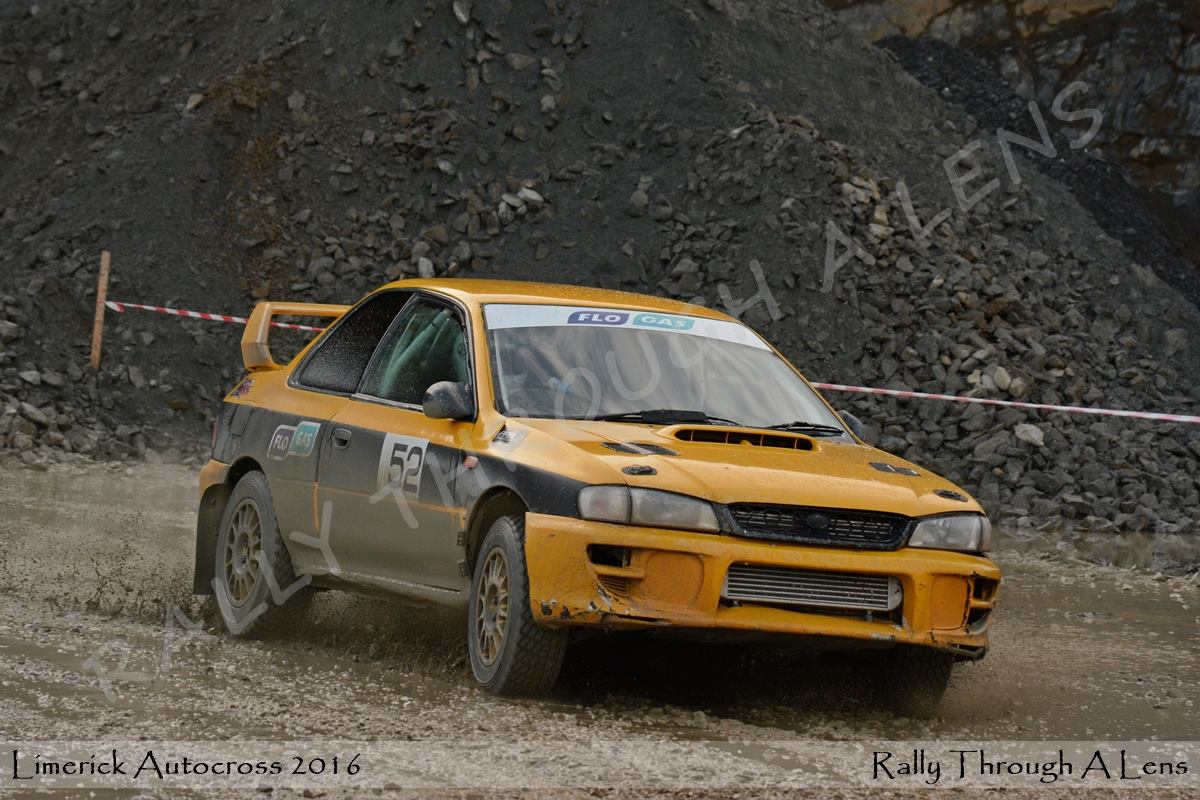 Finished second in class 5 behind John Whitley in the 2016 championship
A work accident in February meant I was unable to prepare for the 2017 season. Later in the season I helped with event organisation as Results officer at the Limerick hillclimb weekend at Glenroe, Start line timekeeper for the MEC at Mondello and chicane judge at day one the end of season Carlow hillclimb.
Drove Ed Walsh's Subaru at the Limerick Motor Club autocross in December.
2018 Another quiet year (Only for driving though)
Leg still not back to full strength.
25 February Line Judge at MEC autotest.
11 March Line Judge at TDC autotest Mondello Park
25 March Press Officer Limerick Forest
22 April Startline timekeeper at Tynagh for the Galway Motor Club sprint.
29 April Press Officer Limerick Autotest
3 June Co driver in Road Closed at the Circuit of Munster.
7/8 July Marshal at Carlow hillclimb.
25 July Judge at TDC production vehicle trial in the foot hills of the Dublin mountains.
5/6 August Startline timekeeper at Limerick Sprint at Glenroe.
17/19 August Startline timekeeper at Wexford
26 August Timekeeper at TDC multi venue autotest at the old NET plant, Arklow.
15/16 September Helping Colm Hynes and Paul O'Connell at the Leinster trophy race meeting
22/23 September Startline timekeeper Limerick Racecourse sprint
7 October Competitor Liason Officer at the Birr Endurance Trial
14 October Timekeeper at TDC autotest at Mondello Park.
and
1 September James O'Rourke gave me a double drive on Saturday at Knockalla in his Honda engined Fiat Punto.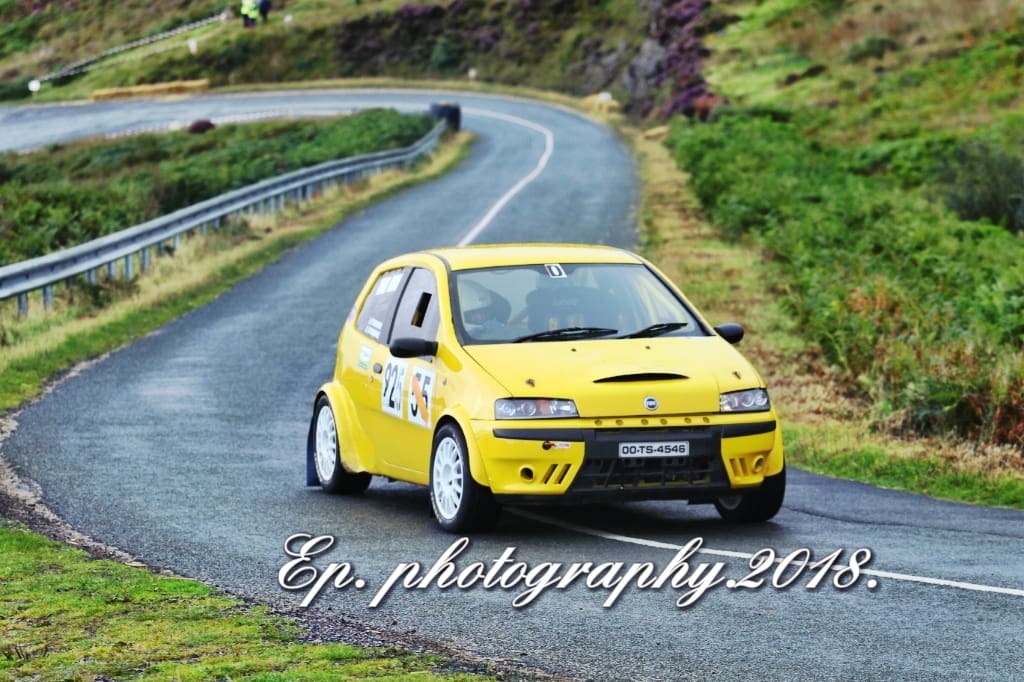 9 December another drive in a quarry in Ed Walsh's Subaru Impreza. This time near Bridgetown, Co. Clare
30 December working on results at Birr Multi venue autotest (MVAT) at Garahy's yard


16 February Navigator for Ray Heney in his 1 litre Nissan Micra at the ALMC Spring Lanes Endurance Trial. This event is untimed road navigation between "Selectives" which are timed
Selectives are held on private grounds using farm tracks, quarries and car parks. Typically taking between one and five minutes. Areas where speed may be excessive are slowed using "code boards" where you have to slow to read a six or seven character code from a board or "stop boxes" where a judge of fact hands your a ticket if he deems you have stopped in the box.
At the end our day which ran from 1pm to after 8pm we finished third of 6 in the A1 1 litre class.


Double Driving is allowed in hillclimb, i.e. two drivers sharing a car. Because of this I have had the opportunity to drive other peoples cars and other drivers have driven mine.
Other Cars I have Driven
1996? Sebastian Stacpoole's Peugeot 205 Limerick Motor Club Autocross
1998 Ivor Millar's Fiat Ritmo Wexford MC at Inistioge
1998 John Whitley's VW Golf, 1800cc at Dungarvan
1999 Michael Melia's Ford Fiesta 1600cc Carrick on Suir MC at Millvale
1999 Denis Hogan's Hillman Avenger, 1600cc at Inistioge
2001 Dermot Harrington's Toyota Corolla GT Twin Cam, at Dungarvan
2001 Sylva Stryker, 1600cc Sponsored by Tech Plus at The Phoenix Park
2003 Matt Clarke's Mini Marcos 1275cc at Knockalla
2008 Bryan McMahon's Formula Renault testing at Mondello
2009 Crossle 30F at Phoenix Park
2009 Ralt RT22 at Phoenix Park
2011 Sheane Formula Vee rented from Johm Mahon at  Carlow
2012 The John Mahon car above was rented for the Corkscrew hill
2014 ,2015, 2016, 2017, 2018 Ed Walsh's Subaru at the Limerick Motor Club Autocross
2016 John Whitley's Swift Formula Ford at Limerick Motor Club Effin Sprint
2018 James O'Rourke's Honda engined Fiat Punto at Knockalla

People who have driven my cars
The Ritmo
1994 Colm Hynes 40 minute endurance race
1994 Donal Griffin testing at Mondello
1995 Pat Dowling at Galway MC Ballyallaban
1995 Denis Hogan 40 minute endurance race
1996? John Whitley at Ballyvaughan
1996 Ronan McGarry at Donegal
1997? Sebastian Stacpoole at Ballyvaughan
1997 Sean Sweeney Donegal MC at An Grianan
2000 Eoin Noonan at Ballyvaughan
2002 Norman Williams Killarney MC at Rockchapel
2005 Ian Quinn at Knockalla
And the Vee
2008 Cillian Connole at Clare MC Corkscrew and Scalp
2008 Síobhan McCann at the MEC Cullenmore Bends
2013 John Whitley at the Limerick MC sprint held during the Irish Festival of Speed
2014 Philip O'Connor at Ballyvaughan
2014 Adam Craughan at Effin
2016 Russell Stanworth at Bunclody
2016 John Whitley at Dungarvan