Ipswich, a City in south-east Queensland which I have visited many times to see my brother and his wife and many friends, continues to fascinate me. 40 minutes drive south west of Brisbane, Ipswich is Queensland's oldest provincial city and is more than just a city with an infamous Chip-Shop!, due to its history and many historical buildings and dwellings, is commonly called 'The Heritage City'.
There are more than 1600 historical homes and buildings in Ipswich which are 'heritage' listed and proudly preserved.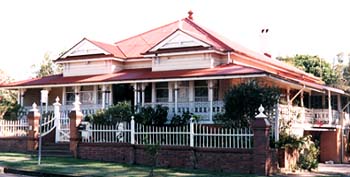 One of the many beautifully preserved houses to be found in Ipswich
One such building is the Ipswich Grammar School which was opened by the first Governor of Queensland, Sir George Ferguson Bowen, in 1863. It was the first secondary school in the state.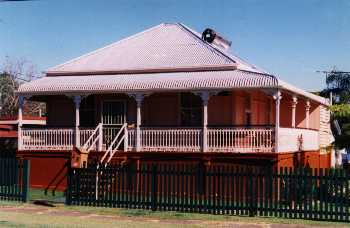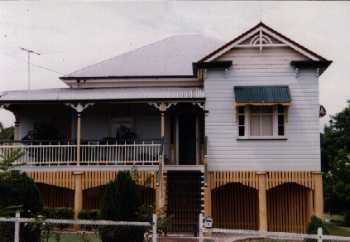 Two examples of "Queenslander" houses commonly found in Ipswich. Mostly set above-ground on "stumps" and with sweeping verandah's these houses suit the climate perfectly.
Early in its history, Ipswich was proposed as the capital of the new state of Queensland and as a result, host to a lot of the state's 'firsts', including the first railway which ran from Ipswich to Grandchester in 1866.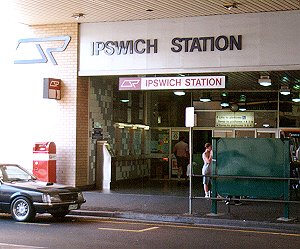 Ipswich Railway station, Bell St., Ipswich.
The Ipswich local authority covers 1770 square kilometres and the quality lifestyle enjoyed by the 135,000 residents stems from the city's strategic regional location in South East Queensland.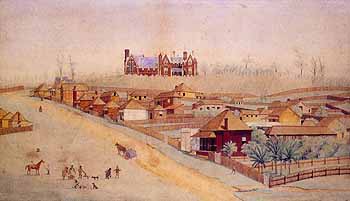 Ipswich Grammer school,circa 1865.
Mountain ranges, beautiful lakes, rivers and dams, rest within 30 minutes of the city in a wide western radius and the beautiful Gold and Sunshine Coast beaches and their hinterland's are only an hours drive away.
As well as providing a wealth of leisure activities to choose from, Ipswich is a convenient place of residence for both Ipswich and Brisbane workers offering housing and rental opportunities which are substantially cheaper than their Brisbane equivalents.
Ipswich has all the infrastructure of a major city in its own right and is well known for its many Quality schools, hospitals, TAFE and new University campus.
Home to Australia's largest RAAF Base (Amberley) and the internationally acclaimed Global Info Links Project, Ipswich is a prime prospect for developing industries and business.
A solid foundation for the many new and exciting business developments happening in the city is provided by a strong existing industry base which includes steel fabrication, medium and heavy engineering, coal mining, railway technology, mining research, clothing, food, soft drinks, meatworks, furniture and furniture components, plywood, hardwood and clay products.
A wide range of clubs, sporting facilities and shops to suit all ages and tastes are on offer as well as a large variety of cultural and community organisations which provide entertainment and service opportunities to the City's residents.
With such a variety of business opportunities, educational facilities, affordable places to live and places to relax on offer, every visitor, resident and community member find's something to celebrate about the Ipswich region.
View of Ipswich from Limestone Hill, artist unknown.
   about me      gallery     petra kelly     stoneybatter  fraser island   webcam