New
Listen to various radio broadcasts from Monitor FM interviews by Andrew Mwenda
All Andrew Mwenda Live clips are in streaming Real Audio Format. To get your free Real Player, visit www.real.com and click on the link for the "Free RealOne Player" in the upper right corner.

---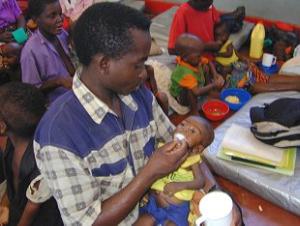 UN must enter Congo in force 21 May 03
A humanitarian catastrophe is unfolding by the minute in Bunia where the Hema and Lendu are on the verge of unleashing genocide on each other. Thousands of people have already died in the most macabre circumstances while others have been displaced either into neighbouring Uganda or deeper into the unexplored and dangerous Ituri forest.

Amnesty Decries G8's Arms Sale to Nigeria, Others 21 May 03
Human rights body, Amnesty Internatio-nal (AI), has criticised the G-8 countries including the United States of America, the Russian Federation, France, the United Kingdom, Germany, Italy and Canada, for selling arms to Nigeria and other developing countries, involved in human rights abuses. The list of the beneficiary countries includes Uganda

US To Resume UPDF Training 20 May 03
THE US government will resume training programmes now that the last batch of 1,000 UPDF soldiers withdrew from the Democratic Republic of Congo (DRC) yesterday.



More refugees enter Uganda
as army completes pullout 20 May 03
A further 5,000 refugees from the troubled Ituri region of the eastern Democratic Republic of the Congo (DRC) walked into Uganda's Nebbi District between Sunday night and Monday, government sources and international observers told IRIN.


New reports of atrocities in Congo 20 May 03
New evidence of atrocities surfaced Tuesday in a northeastern Congo region that has been riven by tribal fighting, while French military officers arrived to assess deploying peacekeepers there.

Anti-3rd Term MPs Go Rural 20 May 03
Members of Parliament opposed to the proposed no-term-limit for a president are set for nationwide mobilisation campaign against changing article 105 of the Constitution. The article limits a president to a maximum of two-five year terms.

Museveni to Quit UPDF 19 May 03
President Yoweri Museveni is set to retire
from the Uganda Peoples' Defence Forces (UPDF).

MONUC military observers confirmed dead 19 May 03
Two UN military observers reported missing from Wednesday have been confirmed dead, the spokesman of the UN Mission in the Democratic Republic of the Congo (MONUC), Hamadoun Toure, told IRIN on Monday.

Civil society sets terms for peace in the north 19 May 03
The Ugandan government has been urged to adopt a consistent approach in dealing with the rebel Lords Resistance army (LRA), and avoid contradictions which have so far undermined trust between the parties during peace efforts for northern Uganda.

Col. Mugenyi Denies DR Congo Plunder 17 May 03
Justice Porter recommended that government should carry out a "careful inquiry" into Col. Noble Mayombo's alleged involvement in mining, with Gen. Kazini, Lt. Col. Mugenyi, Col. Sonko and Lt. David Okumu.

Donors and civil society groups slam corruption 15 May 03
"Uganda continues to rank amongst the most corrupt countries in international indices," the statement added.

Refugee influx could worsen cholera epidemic 15 May 03
A cholera epidemic, which has affected parts of western Uganda since January, is persisting amid fears that a fresh influx of refugees from neighbouring Democratic Republic of Congo could exacerbate the situation.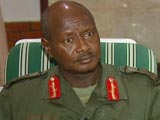 Is Museveni still popular? 11 May 03
Now, although some of the laws attributed to Moses (in collaboration with God) are untenable, Kony's respect for the good ones is as questionable as Museveni's adherence to the famous Ten Point Programme. But the AFP and its clients happily carry on with the song: "Mr. Kony who wants to establish a government based on the Ten Commandments."

Exiles step up plot to oust Museveni 11 May 03
An opposition alliance amongst Ugandans in the diaspora hovers over the horizon as debate intensifies about what many interpret as President Yoweri Museveni's intentions to stand again for presidency in 2006.

Annan urges international
response to violence in Bunia 11 May 03
Warning that rising violence in the Congolese town of Bunia could lead to massive civilian deaths, United Nations Secretary-General Kofi Annan today urged action by the Security Council and Uganda to calm the situation.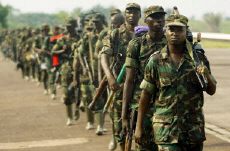 Fighting rages in Congo 11 May 03
Tribal militias armed with spears and guns have fought in the streets of the eastern Congo town of Bunia and the United Nations has warned that the volatile region is on the verge of a humanitarian catastrophe.




Bid to Kickstart Flagging Northern Peace Process 9 May 03
A two-day Northern Uganda Peace Workshop - a conference devoted to resolving the conflict in the troubled region - kicked off in the town of Gulu on Thursday in an attempt to breathe life back into the flagging peace process.

Museveni, Kagame Meet in UK 9 May 03
UGANDA and Rwanda yesterday moved a step to towards the normalisation of their strained relations after a meeting of Presidents Yoweri Museveni and Maj. Gen. Paul Kagame in London.

Alert Over Ebola Outbreak in Neighbouring Sudan 9 May 03
The Ugandan government is urging against all non-essential travel across the country's northern border after a fresh outbreak of the deadly Ebola virus killed 45 people in southern Sudan.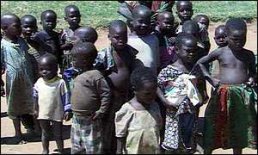 More Children Seeking
Refuge in Gulu At Night 8 May 03
The number of children seeking refuge in Gulu town centre, northern Uganda, has dramatically increased following a spate of rebel Lord's Resistance Army (LRA) attacks and abductions in the area, officials said on Thursday.



Museveni Names Team to Talk With Opposition 7 May 03
President Yoweri Museveni has appointed National Political Commissar Crispus Kiyonga to head a government team that will hold discussions with all opposition groups on several crucial political matters.

Saleh, rebels clash on radio 5 May 03
REBEL chief Vincent Otti has warned the UPDF to lay down its arms or his forces will unleash terror on civilians.

Refugees protest over relocation 5 May 03
"The attack on Acholi Pii is still with us," said Abiti, a Sudanese camp leader. "Many of the people here had relatives killed in that attack. The blood is fresh in our minds."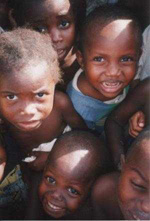 Stop Fighting, Unicef Urges LRA, Government
5 May 03
THE UNICEF executive director has urged the Government and the Lord's Resistance Army to agree on a ceasefire and guarantee unimpeded humanitarian access to northern Uganda, reports John Kakande.

Government Lost $ 1m in Ugil Sale; MPs Want Probe 5 May 03
According to the Auditor General, government bought UGIL at US $ 1.5 million (Shs 1.98billion) during the 1996/97 financial year and sold it to Phenix Logistics Limited at US $ 500,000 in 1999/2000.

Ex-ADF Demand to Meet Museveni 5 May 03
Former Allied Democratic Forces fighters have threatened to leave the country if President Yoweri Museveni does not grant them audience.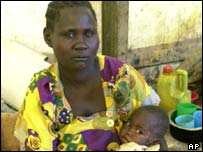 Monuc Deplores Renewed Hostilities in Bunia 5 May 03
The UN Mission in the Democratic Republic of the Congo (DRC), known as MONUC, said it "greatly deplored" renewed hostilities in Bunia, the principal city of Ituri District in the northeast of the country, where fighting on Saturday resulted in at least five deaths and many more wounded and displaced.

EU Warns Uganda Against US Agreement 5 May 03
The Head of the European Union (EU) Delegation, Sigurd Illing, yesterday cautioned Ugandans against being lured by the United States into signing the article 98 agreement granting diplomatic immunity to a certain category of people not to be tried by the International Criminal Court (ICC).

Rwandan Troops Leave Border 3 May 03
The Kabale LC5 chairman, Adison Kakuru, has said the Rwanda army was withdrawing its troops from the Uganda border.

Parties Wasting Time 2 May 03
The Uganda Peoples Congress, the Democratic Party and the Conservative Party are refusing to register on the grounds that their existence was implicitly recognised by the 1995 Constitution.


---

Dr Corti is laid to rest 4 May 2003
The body of Dr Piero Corti was laid to rest on Friday in the ground of St. Mary's Hospital, Lacor after a funeral Mass held at Gulu Cathedral presided by Archbishop John Baptist Odama and celebrated by Apostolic Nuncio in Uganda Christophe Pierre.

GuluFuture.org tribute to Dr Corti
In April 1961 he begins his journey to Entebbe (Uganda) on an old Italian Air Force plane loaded with medical equipment, drugs and some money donated by relatives and by his father's industrialist friends.

'Doctor Corti Was a Son of Acholiland' 1 May 03
ALTHOUGH born in Italy, the late Dr. Piero Corti left the luxurious life in Milan to spend more than half of his life in the impoverished Acholi region practicing medicine. To the Acholi, he is not an Italian, but a true son of the soil.

Dr. Corti Mourned 23 April 03
There was an outpouring of grief and at the same time a celebration of a fulfiling life yesterday as mourners remembered Dr. Corti Piero, the late director of St. Mary's Hospital, Lacor, in Gulu. The 78-year-old veteran Italian doctor died of cancer on Easter Sunday in Milan hospital, Italy, where he was admitted in January.



---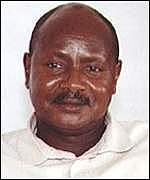 Planned UK Demonstration
Targets Museveni Third Term 4 May 03
The planned demonstration by exiled opposition elements in the UK will focus on what they say is the determination by President Yoweri Museveni to change the constitution and get a third term in office.

Debate Healthy But
Third Term Bad for Democracy 1 May 03
All Ugandans are entitled to present their views to the Constitutional Review Commission. However, those that have made their views public should be ready to engage in further discussion before the Commission writes its report.


Featured Article
2003 a tougher year
ahead of the Acholi people?
Submitted by Anonymous
The Acholi people who are best placed to tell the real situation....READ



Featured Article
THE BLESSED MARTYRS OF PAIMOL
DAUDI OKELO AND JILDO IRWA
By Joseph Okumu
10th Jan 2003....READ




Archive: March - April 03

Archive: Late Dec-Early Jan

Archive: October News

Archive: September News

Archive: August News

Archive: July News