Turlough O' Carolan, (1670 -1738) the blind Harper and composer, often referred to as the last of the Irish bards or minstrels, is buried in the vault of the Mc Dermott-Roe family in Kilronan cemetery just outside Keadue. Although he was born in Co. Meath, O'Carolan's family moved to North Roscommon area when he was a young boy and he came under the tutelage of the Mc Dermott -Roe family of Alderford House located two miles from Keadue.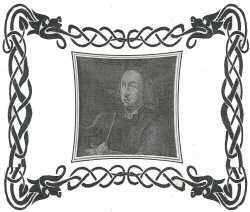 Mrs. Mc Dermott Roe educated the young O'Carolan with her own children. He learned both English and Irish, and it was during this period that he acquired his proficiency in the harp. Whilst in his teens, O'Carolan contracted small pox disease and became blind.
Undeterred, when he was 21 years old, he set off on a horse and guide thus his life as a travelling harper and composer began............

The life of a bard was taken up with travelling among the aristocracy and the big houses
and families, composing songs and tunes in honour of their hosts and entertaining them.
O' Carolan was welcomed by many and by all accounts, he was not found wanting when
itcame to composing melodies and entertaining his patrons. It has been said that O'Carolan's songs are like a list of the remaining stately homes of the 18th century, paticularly those in the western and northern parts of the country. Uniquely, O'Carolan also came into contact with mainstream European classical music, probably figures such Geminiani, through his circulation in Dublin music circles. Many of his tunes reflect the influences of both the Irish music and the modern continental music/ Italian baroque prevalent at that time.
One of his more famous compositions "Carolan's Concerto" is reputed to have been composed when O'Carolan was staying in the same house as an Italian composer.
( maybe even Geminiani ) O'Carolan, in reply to the piece of music played and improvised by the Italian, not only performed a similiar piece himself but also then composed and played an entirely new piece of music, which we now know as Carolan's Concerto. O'Carolan's popularity and fame was considerable in his lifetime. Fortunately, over two hundred of his compositions have survived, which is unusual given that only a small number of harper tunes composed before O'Carolan have survived.

Since the 1960's there has been a resurgence of interest in the music of O'Carolan, one of the more well known exponents being the traditional Irish music group, the Chieftans. Here in Keadue in 1978, the first O'Carolan Harp and Traditional Music Festival was held to commemorate the works of O'Carolan and the harp and the tradirional music of the area.
In the 1990's a harp school was established and to day there is a new generation of harpers in Keadue who continue to enjoy and play O'Carolan's music.
The International appeal of O'Carolan and his music soon became apparent from the
significant numbers of overseas visitors who attended the Harp Festival and the number the enquiries received throughout the year.
Further evidence of his influence and impact in
modern times is that during four and half years as a hostage in Beirut, Brian Keenan was inspired
by the presence of Turlough O'Carolan.

He imagined he had visitors in his desperate isolation, but the one imaginary visitor whom he felt he would not let go was Turlough O'Carolan. To repay the debt, in 2000, some years after his release, he wrote a novel called "Turlough". Here in Keadue, we too feel indebted and grateful to O'Carolan for the inspirational person he was as a blind harper and composer and for his wonderful legacy of music and song.
.......