A very wet, windy and cold day, today. I've worked a lot on other areas of the website, most notably the plant list and a new section called "Your Hedgerow", which explains how you can start your own hedgerow project. I've also added a few spare pictures from last Sunday. That should brighten things up.
Two pictures from the hedgerow: On the left Tubaria furfuracia - a mushroom that did very well almost everywhere over the winter. On the right, a liverwort - Lunularia cruciata.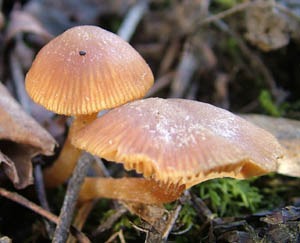 On the left a close-up of the hairy Bittercress. Each flower is around 2-3 mm across. On the right a green lichen growiing on the Hawthorn trunk. Perhaps Lecidella elaeochroma.