A trip to the original Hedgerow.

Frogs are out and about...there were a few flat ones on the lane. A neighbour reports frogs in his pond since late January.

Bright but cold.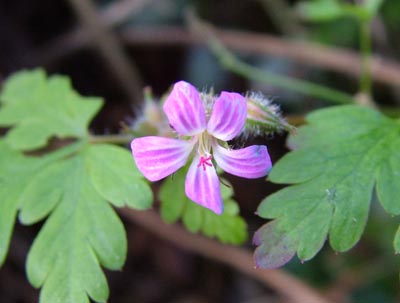 Yet another Herb Robert flower, just to show the continuous flowering that we have had. Geranium robertianum.
Navelwort leaves have been present all winter, too, but are now beginning to achieve their full size. Umbilicus rupestris.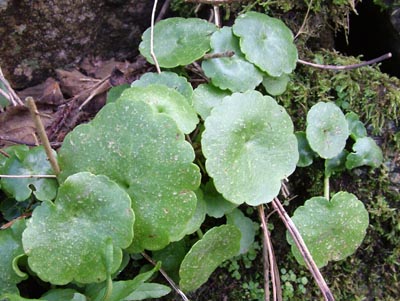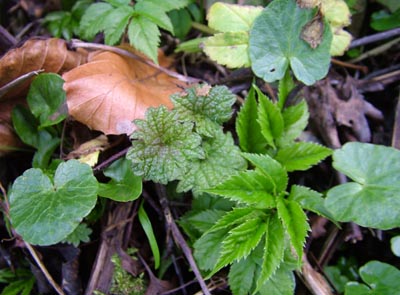 Nettle seedlings are making themselves visible, too. Urtica dioica.
Two shots of Broad-leaved Dock - Rumex obtusifolia. The leaves on the left are about half-grown - about 15 cm. long. On the right, the purple spots are made by a fungal rust. There seems to be a rust for almost all species or families of plants.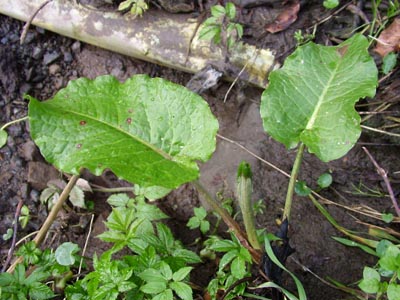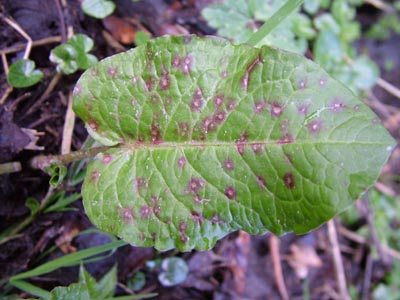 Two shots of an attractive little Daisy - Bellis perennis, showing a couple of the features of the macro facility on the Fuji s7000. The shot on the left had the aperture closed down as far as the light would let me, and the focussed area appears to be about 1 cm. deep. The image on the right had the default aperture set. In this case, the focussed area is about 4 mm. deep. A side effect of the 'normal' macro image on the right is that the background is effectively blurred out of the picture, emphasizing the flower a bit more.