Ballykerogue Church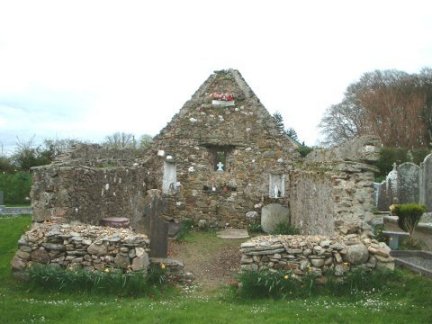 Ballykeroguemore Church from the west
About 200 metres from Ballykerogue castle is Ballykerogue church and graveyard. The castle was the main residence of the Suttons. Roger de Sutton came on the norman landing with Robert Fitzstephen in 1169 and received land from Hervey de Monte Marisco. He probably built the church here. It is a medieval church and was at one time the parish church of Ballybrazil. The church is situated on the north east side of the graveyard. The North, South and East walls still stand and a portion of the West wall.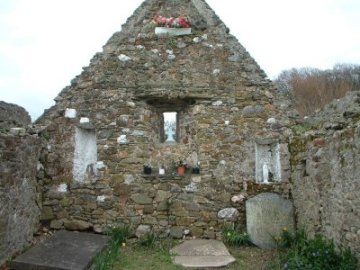 East wall of church
The church measures 8 metres from East to West or 27 feet. It is over 6 metres from North to South or 20 feet. The height of the North and South walls is 2.5 metres or 8 feet. There is a small window on the east wall with two alcoves on either side. There are also two ledges which now have flower pots on them. A number of very old flag stones can be seen on the ground.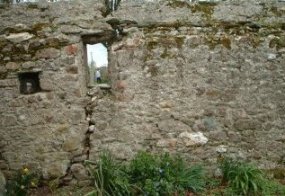 South wall
The south wall also has a narrow window with an alcove to its left. These alcoves could have been used for storing sacred vessels. The north wall has one window as well. There is a parapet on the top of the north and south walls.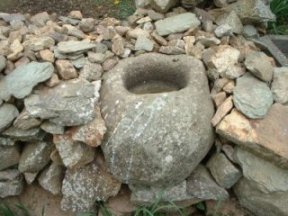 Holy water font
An interesting feature can be seen close to the west entrance. It is a holy water font or a stoup which was carved from granite. It is built into the wall and could also have been the baptismal font.
When Cromwell attacked Ballykerogue castle in 1649 we don't know whether he also attacked the church.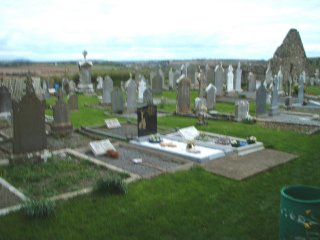 Ballykerogue Cemetery with east wall of church in background
Please remember that this ancient graveyard is still in use. Seán Crowley.